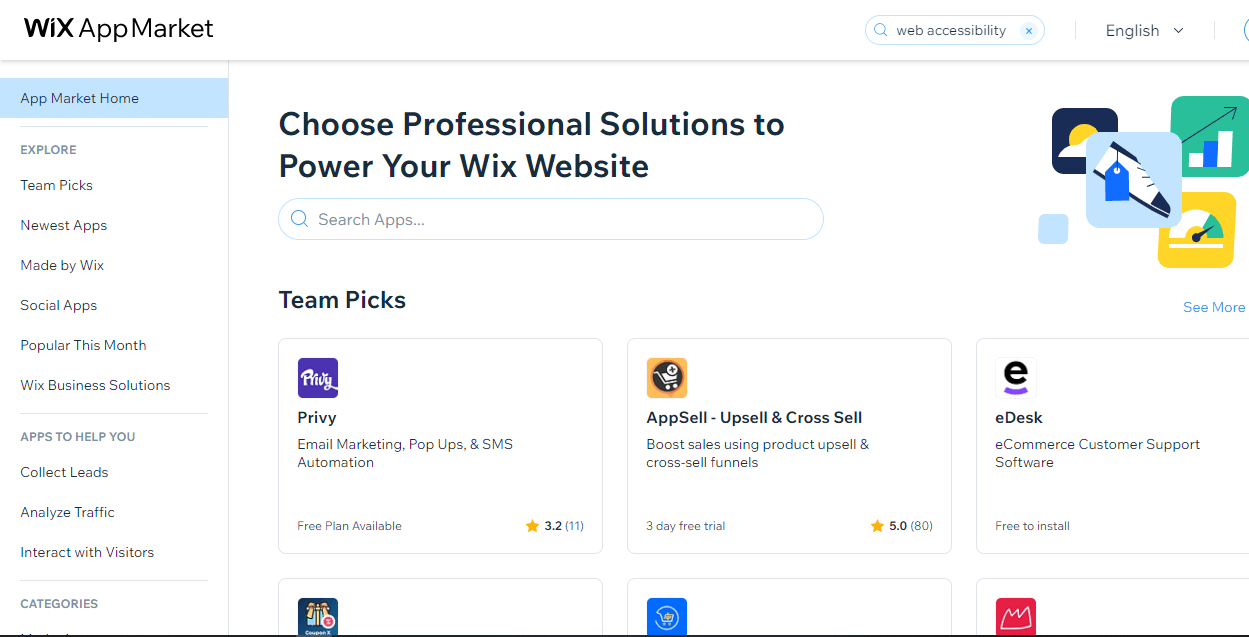 Web accessibility can seem complex and overwhelming if you don't know where to start. Knowing this, Wix decided to integrate a comprehensive web accessibility initiative to help its customers deliver an inclusive experience on their websites.
Wix began developing accessibility features in 2016. After years of developing its accessibility features, it set up an initiative: the Wix Accessibility Wizard. 
Wix Web Accessibility
To help its users, Wix built accessibility functionality into its website builder. Here's a breakdown of what Wix offers its userbase.
With Wix's Accessibility Wizard, all Wix users can easily improve their sites' accessibility step-by-step through a simple step-by-step process. 
Nir Horesh, Head of Accessibility at Wix had this to say about Wix's Accessibility Wizard
"The web is meant to be a place for everyone, and we push our platform and products to serve this vision. As industry leaders in Accessibility, we're proud to provide our users with a solution to help them make their websites accessible. Our dedicated Accessibility team is constantly working to advance accessibility features for our users and those who visit their sites. In developing the first-ever Accessibility Wizard, we hope to encourage our users to build sites that are more inclusive and that everyone can visit and enjoy."
When the Accessibility Wizard is activated, the users' website is scanned and accessibility issues are detected. The user is given instructions and guidelines on how to manually solve each issue based on those issues. Last but not least, the site is rescanned to ensure all issues are resolved and if they are, the accessibility of the site is greatly improved.
Full Keyboard Operability
In compliance with WCAG's POUR (perceivable, operable, understandable, and robust), all Wix products are fully operable with a keyboard— from small buttons to comprehensive online stores.
Automatic DOM Order
The DOM (Document Object Model) organizes itself so that keyboard users and screen readers can navigate your site.
Site Language Definition
This feature ensures that your site is automatically rendered with the correct language so screen readers can understand your content.
Correct Semantics
Every component you add to your site has the correct semantics built in so people with disabilities can better understand your content.
Smart Focus Ring
Smart focus rings automatically appear when a keyboard is being used and feature dual colors so keyboard users better navigate your site.
Aria Attributes
Built-in ARIA attributes provide an enriched accessible user experience. Plus, you can add custom attributes to apps and components you build yourself.
Heading Tags
Heading tags help users who use screen readers understand how your site is organized in order to present the content.
Alt Text
Easily add descriptions of images known as alt text so that visually impaired users better understand the context of the photos on your website.
Skip to Content 
Skip to Content allows keyboard users to navigate directly to the main content of the page. This way they can easily get to the content they need.
The Wix marketplace does not have a lot of accessibility plugins probably due to how comprehensive the platform's Accessibility Wizard is. One brand that has managed to develop a plugin for Wix is Userway.
Userway
With UserWay's Accessibility Widget, you can make browsing easier for your users and increase compliance with WCAG 2.1, EN 301 549, ADA, and Section 508 requirements.
Pricing
Pricing starts at $19/month for up to 10k monthly page views
STANDARD PLAN:$49/month for up to 100k monthly page views
Both plans offer:
Keyboard Nav, Screen Reader & more
AI-Powered, Automated Image Alts
Increases Compliance with ADA & WCAG
Equally AI
Equally AI is a leading web accessibility platform. Although it doesn't have a Wix plugin, the software can be easily installed into your Wix website in a few steps with just one line of code. Equally AI has a 14-day free trial period with no credit card obligation during which you can check out all its features.
Pricing
SMALL: $27/month – up to 1,000 pages
MEDIUM: $47/month – up to 10,000 pages
LARGE: $147/month – up to 100,000 pages
UNLIMITED: $197/month – unlimited pages
All customers get the following:
WCAG, ADA, Section 508, EN 301 549 compliance

Daily automated compliance with unlimited remediations

Accessibility statement and certification of performance

Fully customizable: positions, colors, icons, shapes, sizes, and more