PROS:
Automated accessibility pathway to compliance
Continuous compliance regardless of updates
Customizable interface for web user
Does not affect the website's performance
Secure platform
Accessibility statement
CONS:
No 100% compliance unless combined with a third party
Does not provide warranty
No live chat for quick support or how-to instructions
Make-Sense Review
What is Make-Sense?
Founded in 2016, Make-Sense is one of the contemporary automated accessibility solutions providers reducing complexity and cost of digital accessibility but ultimately ensuring a digital space that is more accessible to people with disabilities.
Make-Sense essentially takes one approach with one product, the automated approach to web accessibility, although it provides a third party recommendation for the businesses that request manual adjustments.
It primarily provides an automated platform that continuously scans both fixed and changing content for all-round accessibility of your website or application. The scan is to discover and automatically fix common issues and improve your website's accessibility. They also provide ongoing monitoring for violations, automatically fixing accessibility issues in real-time, and providing tools to resolve other issues directly from the front-end toolbar. It is with this front-end Digital Accessibility Platform that users make adjustments such as modification of fonts, hiding of flashing contents, color-blind adjustment, and many more.
The Make-Sense digital accessibility platform is easy to use and secure with a user-friendly interface that ensures continuous access to web content.
Make-Sense Service(s) and Features
Make-Sense basically provides automated solutions through its A-WEB platform, a system designed to increase your adherence with the WCAG 2.1 guidelines and remove some barriers to accessibility. 
The automated digital accessibility platform operates by installing a line of code on your website. The accessibility algorithms then perform scans and checks on both static and dynamic content on the website continuously, to increase its WCAG 2.1 compliance.  
The automated system also rescans the web content and continuously monitor to detect changes and updates to content and pages, violations and automatically fix some issues in real-time, making them accessible, regardless of number updates and changes made.
Similar to what we've seen with UserWay or most automated accessibility solutions providers, Make-Sense's automated accessibility tool activates accessibility via its interface through which web users, including people with disabilities, use to adjust the website, making web usage a pleasant experience. Other than maintaining all-round accessibility and compliance, the automated platform is simple to use and is secure. This means you can rest assured your digital information is safe. 
All of the above features will ensure the Make-Sense automated platform can strengthen an organization's overall digital accessibility. The reporting and analysis capabilities especially ensure they can flag ongoing issues and track progress on accessibility projects and compliance efforts.
What better place to see how it works than on the Make-Sense website itself…
Upon entering the Make-Sense website, users can find the accessibility sign on the top left corner.
Like most automated accessibility toolbars, Make-Sense's A-WEB platform has features that allow the user to make the web page suitable, according to preference…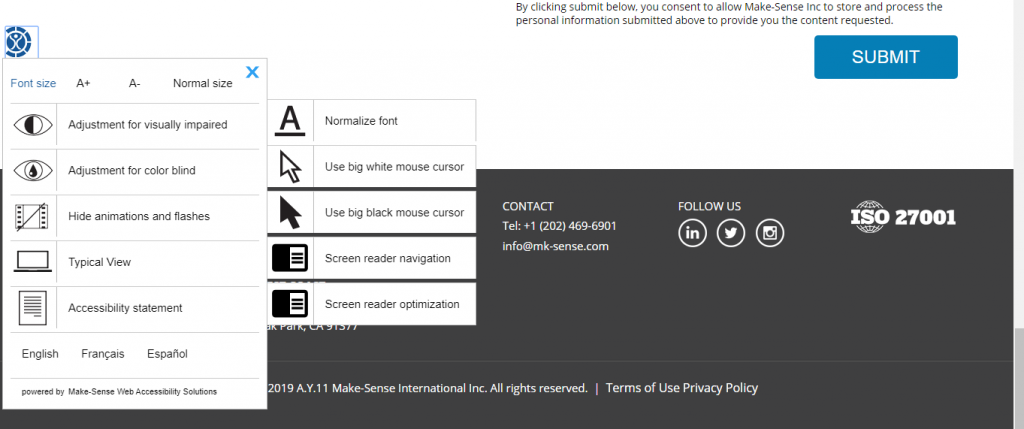 This is where front-end accessibility begins. 
Notice the website footer? Now let's see how it will change when I utilize the font size modification feature the platform provides. Here…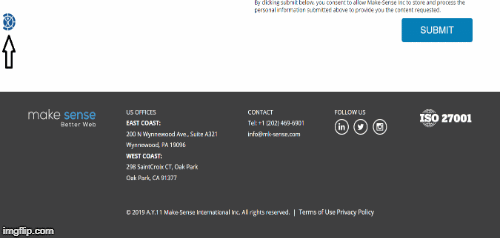 Make-Sense's A-WEB automated platform has features that allow users to:
Make screen readers adjustments (navigation and optimization)

Provide automatic adjustment for the visually impaired

Automatic adjustment for the colorblind

Allow for hiding animations and flashing objects or GIFs

Language alternation with 3 built-in languages in the interface

Adjust font sizes

Cursor alternation (black or white cursor)

Provides an accessibility statement

Remembers customer preferences
The toolbar may not be the most-featured out there but Make-Sense's automated tool can definitely be used by people with disabilities to adjust the webpage to their suitability and have a quality web usage experience. 
Make sense, don't it?
Make-Sense Pricing
Make-Sense offers multiple packages and service levels for its product so you may want to go for the one that mostly fits your needs. As you may have guessed, all its packages are billed annually, and like most automated solutions, the packages are offered as bundles based on the total number of domains or pages managed each month. The same goes for its third party partner for manual accessibility adjustments.
Make-Sense's plans start from a huge 350,000 pages for a bronze package and up to 1,000,000 for its gold package. The good thing is they offer a 7-day free trial so you can get a sneak peek of how they help reduce the time needed to make websites and applications accessible. 
Make-Sense Platform and Support
Make-Sense's digital accessibility platform is easy to deploy. You can automate your accessibility compliance in a few minutes by embedding a secure line of JavaScript code directly into your site's HTML without refactoring your website's existing code.
Although Make-Sense provides setup and general maintenance, and you can get in touch for any bug fix, and malfunctions, for an automated solution, Make-Sense does not provide how-to-guides that can take anyone through installation. They also fail to highlight the content management software (CMS) their platform supports.
Meanwhile, you can get a free assessment of your site's accessibility with  Make-Sense's Accessibility Checker. You can as well reach out via phone call or email to resolve any issues you may have and educate yourself on web accessibility with a few blog posts.
Here… 
| How-to instructions | Live chat | Phone | Email | Address |
| --- | --- | --- | --- | --- |
| No | No | Yes | Yes | Yes |
Why Make-Sense? Pros and Cons
Make-Sense automated accessibility compliance solution is easy to use and it automatically updates to support changes to laws without needing programmers. Flawed? Of course. Let's look at some of the positives and negatives:

PROS:
Automated accessibility pathway to ADA, Section 508, WCAG 2.1 AA or EN 301549 compliance

Continuous compliance regardless of updates and changes made (auto-remediation)

Customizable interface for web user (e.g. language, font size, color contrast, etc.)

Compliance without affecting the performance of the site

Secure platform

Accessibility statement
CONS:
Does not meet 100% compliance unless combined with manual adjustments

Does not provide warranty

No live chat for quick support or how-to instructions
The Final Verdict On Make-Sense
Make-Sense provides a quick path to digital accessibility compliance with its automated, and secure digital accessibility solution without changing your source code.
The A-WEB platform provides automated scans, monitoring, and fix accessibility issues, ensure all-round and continuous access to content, and boost web user experience. It allows for easy accommodation with two accessibility preset features users can apply with a single click without having to go through individual functionalities. This platform allows users to automatically make the website accessible for users with color blindness or visual impairment and to personally customize modify fonts and can work on any website or platform. It also provides three different international language options; English, French, and Spanish and keyboard focus navigation for users with dexterity or cognitive impairments (cursor alteration) and an option for users with epilepsy to hide animations and flashes that can cause seizures.
Of course, Make-Sense's automated platform is not the best I've seen, in fact, the platform caters more for users with visual impairments than most other disabilities out there. It doesn't allow spacing of text content, does not allow users to highlight links, no visible focus nor built-in dictionary, or even built-in feedback forms. At this point, you just may like to check the Make-Sense WCAG success criteria. The Make-Sense digital accessibility platform will not do what other automated toolbars I have seen can't do. The automated solution can only bring your website as close as possible to WCAG compliance and may fail to achieve more than 30-35% compliance, leaving loopholes for a potential lawsuit unless you combine with a manual adjustment. 
The manual remediation professional service will have to be provided by one of their partners, a third-party accessibility company that would fill the accessibility gaps and perform all necessary accessibility adjustments that cannot be achieved automatically but for another fee, depending on the complexity of your website.
Now here's the thing- deploy the automated toolbar, make your website 100% accessible via manual audit and remediation by a third-party, and continue to monitoring with the Make-Sense technology. Right? So why not just audit and remediate your website manually? It would've been nice if they audit at least (see OnlineADA and Adally).
The positives for the Make-Sense solution are that the platform monitors for violations and automatically fix common issues in real-time. It is secure and can strengthen overall digital accessibility programs for your digital assets. Importantly, it will help you increase adherence to WCAG 2.1 AA guidelines and subsequently Section 508, ADA, and EN 301 549 regulations to a degree. They also win it with the 7-day free trial and the free accessibility checker but have a lot of work to do in support. 
Going with Make-Sense web solution will definitely reduce the complexity associated with your website accessibility but you have to be ready to hire another accessibility solutions company for the manual adjustments. It is only this way you can truly ensure compliance with accessibility legislation, and avoid lawsuits.
Facebook
Twitter
Linkedin
Email