PROS:
Accessibility audit to identify barriers to compliance
Free automated accessibility solution
Support Wordpress, Wix, and Shopify.
Easy to configure
Accessibility statement
CONS:
Does not provide 100% compliance unless combined with manual adjustments
No ongoing compliance monitoring
No phone support
UserWay Review
What is UserWay?
Renowned especially for its free accessibility plugin, UserWay combines both its detailed accessibility audit and automated approach for an ADA compliant website. 
For the accessibility audit, UserWay automatically scans your web content for all-round accessibility of your website or application using sophisticated accessibility testing tools to identify accessibility gaps. Their accessibility experts, and expert end users then review the web content, also utilizing software tools and assistive technologies to discover higher-level issues and provide a detailed report along with the recommendations your organization needs to make to have an accessible website and become compliant.
UserWay's automated accessibility plugin is really no different from most we've seen out there. The accessibility widget works without refactoring your website's existing code, and as a front-end toolbar, has various accessibility features with which web users can use to make modifications for ideal web experience. The digital platform includes features such as screen contrast modifier, text modifier, screen reader, links highlight, screen cursor, and other tools people with different types of impairments can use to make web experience meaningful.
As a matter of fact, UserWay's accessibility audit is its selling point while the widget is a free, supplementary product. You can get them to perform a detailed audit, have your development team or a professional service fix accessibility problems meeting ADA, Section 508, and WCAG 2.1 Level AA, compliance, and install the widget. Simple right?
UserWay Service(s) and Features
UserWay basically offers two digital accessibility products/options:
Accessibility Audit

Accessibility Plugins 
Accessibility Audit
UserWay's accessibility audit service is usually performed by a team of accessibility experts. This involves testing and scanning your website using the industry's leading website testing tools and accessibility software to check for the minimal issues on your website and web app. The UserWay audit team then runs your web content, pages, and functions through a comprehensive series of tests, including assistive technologies to detect persisting compliance issues and provide a comprehensive report on your level of WCAG 2.1 conformance.
The audit report will also contain clear and actionable checklists, prioritized recommendations, including structural and code changes where applicable that will guide your development team through the process to improve your website's accessibility compliance level.
Upon remediation, your digital asset can easily be accessible to people with disabilities who navigate web content with the help of assistive technologies and be in compliance with WCAG 2.1 Level AA success criteria, Section 508, and ADA requirements.
Accessibility Plugins
UserWay's accessibility plugin is automated but easy-to-use, flexible to your needs, and pretty robust for a free developer plugin.
Like most plugins, it is a semi-automated accessibility remediation solution that enables you to seamlessly integrate it into your existing platform without necessary expert knowledge. The UserWay accessibility plugins can be installed directly as it supports most website creation platforms and can also be installed by embedding lines of code on your website without changes to your website's existing code. Because it doesn't require integration or download, it is fast and easily customizable, and once set up, it will instantly provide accommodations to web users from the front-end to make modifications that suit their impairment(s), hence increased usability and accessibility compliance.
UserWay's automated widget provides a customizable interface through which web users, including individuals with disabilities, can adjust the webpage to preference without barriers to accessibility, thereby increasing accessibility and compliance.
It is only right we try the accessibility widget on UserWay's website…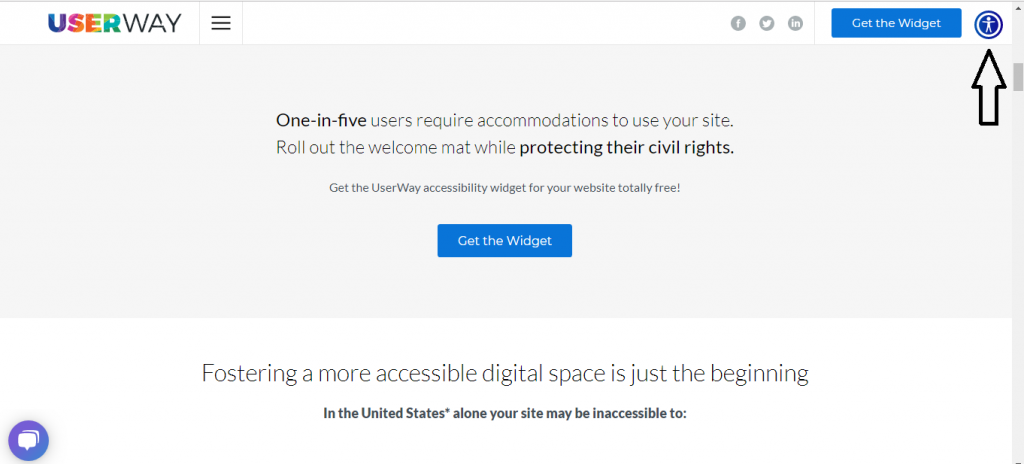 UserWay's accessibility widget sign is just like the regular accessibility icon (it could be customized though) and in this case, it is located at the top right corner of the web page. The toolbar feature menu gives simple allowances for the user to alter web page outlook.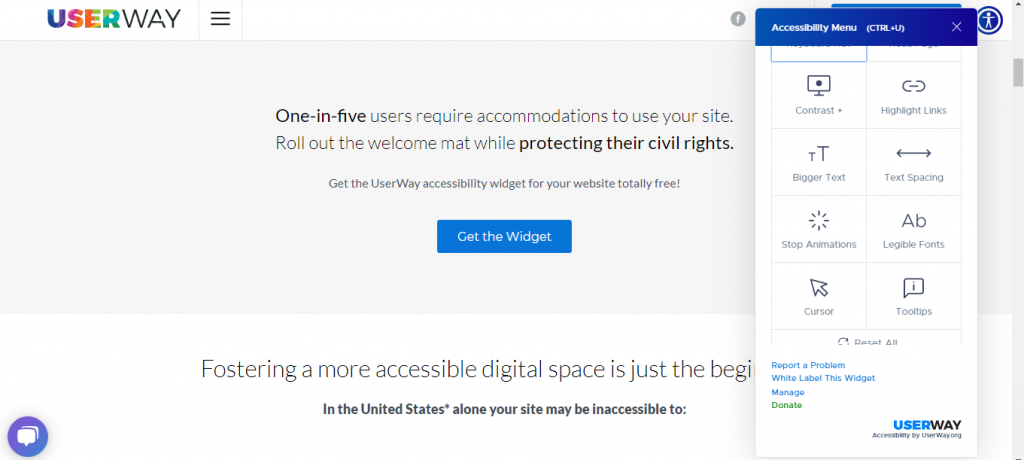 The accessibility toolbar is opened and we can now start to make alterations. Let's adjust the font legibility, highlight link, and font spacing at the same time…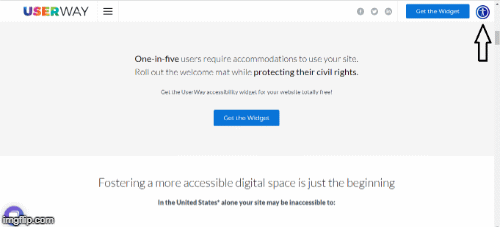 Really cool isn't it?
The accessibility widget has a range of accessibility tools including:
Screen reader with speed adjustments

Keyboard and smart navigation

Hide animations and flashing lights or GIFs

Contrast and color modifier

Adjust the text size

Adjust font legibility

Font magnifier with line and word spacing

Highlight link, font, and headers

Cursor modifier and reading guide

Built-in feedback form

Provides an accessibility statement
As you may have guessed, UserWay does not offer ongoing compliance monitoring, neither do they provide document remediation services. They audit, you fix, and spice things up with the widget!
NB: Don't play yourself by believing going for the widget alone can make you compliant. UserWay's accessibility widget alone cannot make your website accessible. You'd have to manually fix issues based on the audit report to get anywhere close to having an accessible and ADA compliant website.
UserWay Pricing
UserWay offers multiple plans for its accessibility audit. Similar to HikeOrders, the range of solutions and timelines of the audit is based on your plan which is usually determined by your organization or business type or needs. Starting with audit for up to 5 pages and a contact form for $980 which is a bit more than HikeOrders' $700 for the same service to auditing up to 50 pages for $8750. Irrespective of the plan you choose to go for, your pages and forms can be audited against WCAG 2.1 Level AA compliance.
UserWay Platform and Support
UserWay installation is quite easy and straightforward. You can install the plugin by adding and activating it on WordPress or manually through the UserWay website and configure it in the process, adding a few lines of code in your backend.  A similar routine goes for popular content management software out there including Wix, Squarespace, HubSpot, Duda, Tilda, Adobe Muse, Webflow, Joomla, Weebly, Drupal, and many more.
For a free plugin, it is fascinating UserWay's how-to-guides and YouTube videos are more informative and can easily take anyone through installation on most platforms. The videos will also show you, how to customize the widget in terms of position on the screen, the language of the toolbar (over 20 are available), type and color of the icon, and accessibility statement.
Because the plugin is free, one really can't be expecting much for user support. Hence, they don't deserve the sticks for not providing phone numbers to call. Live chat and email or message are enough channels to get in touch should you experience any unexpected technical issues, bugs, or malfunctions if the software does not perform as expected on your website.
Here...
| How-to instructions | Live chat | Phone | Email | Address |
| --- | --- | --- | --- | --- |
| Yes | Yes | No | Yes | No |
Why UserWay? Pros and Cons
While UserWay's recommendation from an accessibility audit can take you far after your website remediation, accessibility doesn't end there. There's a limit to what the plugin can achieve. Let's look at some of the positives and negatives:

PROS:
Accessibility audit to identify barriers to compliance

Free automated accessibility solution

Customizable toolbar (e.g. font size, color contrast, etc.)

Does not affect the performance of the site

Easy to configure 

Accessibility statement
CONS:
It does not provide 100% compliance, hence, the risk of a potential lawsuit

No ongoing compliance monitoring

No phone support
The Final Verdict On UserWay
There are strictly automated solutions to web accessibility and there are manual ones. We also have hybrids that combine the solutions of the aforementioned two, but it's hard to place UserWay in any of these boxes.
Quite a lot of people ignore the fact that UserWay has an accessibility audit service, a professional website evaluation of how well your web or app supports the needs of web users with disabilities. Usually carried out by accessibility experts and people with disabilities, they provide an in-depth analysis of your web using evaluation tools to outline violations to WCAG 2.1 Level AA guidelines. They then provide you with a prioritized checklist with code examples for how to make your product accessible and compliant with WCAG 2.1, ADA, and Section 508 requirements. 
The renowned UserWay ADA Compliance Accessibility Widget is popular for the right reasons. The free add-on help websites to improve their compliance with accessibility standards without requiring code rewrites or affecting performance. The plugin instantly strengthens weak spots on the website and provide tools to help users of various disabilities such as support for keyboard-only navigation (focus indicators), modifying contrast of contents, tweaking of text or font size, a larger cursor (with a reading guide), desaturating content (removing color from text and images) and highlighting of links.
As good as it gets, like most widgets, the UserWay widget focuses on the cosmetic aspects of your website (it's free! You weren't expecting it to be an out of box accessibility solution, were you?). The plugin is more like snake oil and won't get to the root of the problem. It won't provide alt text for images, it won't fix hyperlink, neither will it construct a logical heading hierarchy or caption multimedia amongst many other barriers to accessibility of a web page. In summary, the widget is not an accessibility quick fix, no widget is!
Plugin aside, I believe the real issue here is UserWay not providing ongoing monitoring service since you can remediate your website to be compliant through the recommendations provided after accessibility audit. Another thing is that they do not provide remediation services. As for the UserWay plugin, it can only serve as a great start when it comes to accessibility.
Of course, plugins will lower some generic barriers, hence, increase compliance, but as we have seen many times, they neither address specific accessibility errors nor provide full compliance. 
If you're looking for full compliance, you can remediate and fix issues but it is essential you continue to monitor your site's accessibility by generating regular reports. But then again, UserWay's widget is free, fewer sticks.