PROS:
Accessibility audit to identify issues
Advanced automated widget
Ongoing auto-remediation
Supports many CMS
Easy to configure
Accessibility statement
CONS:
No phone support
AI services are not 100% accurate
UserWay Review
What is UserWay?
Renowned especially for its web accessibility plugin, UserWay combines both its detailed accessibility audit and automated approach for an accessible and ADA compliant website.
For the accessibility audit, UserWay automatically scan your web content for all-round accessibility of your website or application using its unique accessibility scanner to identify accessibility gaps. Their accessibility experts, and expert end users then review the web content, utilizing assistive technologies to discover higher-level issues and provide a detailed report along with the recommendations your organization needs to make to have an accessible website.
UserWay's automated accessibility plugin is now as advanced as any top automated widget out there. The updated accessibility widget is now AI-powered and now auto-remediates while providing a front-end toolbar with accessibility features with which web users can use to make modifications for ideal web experience in real-time. The digital platform includes features such as screen contrast modifier, text modifier, links highlight, pause animations, among other tools people with different types of impairments can use to make web experience meaningful.
UserWay has now gained ground through its organization success formula. This is simply by performing a detailed accessibility audit of your website or app, have your development team resolve accessibility problems meeting ADA, Section 508, and WCAG 2.1 Level AA, compliance, and installing the tool-based overlay.
UserWay Service(s) and Features
UserWay basically offers two digital accessibility products/options:
Accessibility Audit

Accessibility Plugin 
Accessibility Audit
UserWay's accessibility audit service is usually performed by a team of accessibility experts. They test your website using their unique Accessibility Scanner testing engine which now uses AI ruleset to test against WCAG 2.1 AA violations on your website. The UserWay audit team then runs your web pages and functions through assistive technologies to detect persisting compliance issues and provide a comprehensive report on your level of WCAG 2.1 AA conformance.
The audit report will also contain clear and actionable checklists, prioritized recommendations, including structural and code changes where applicable that will guide your IT team through the process to improve your website's accessibility compliance level.
Upon remediation, your digital asset can easily be accessible to people with disabilities who navigate web content with the help of assistive technologies and be in compliance with WCAG 2.1 Level AA success criteria.
Accessibility Widgets
UserWay's accessibility plugin is easy-to-use, flexible to your needs, and pretty robust, even for its free version that offers partial, user-triggered compliance.
Like most, UserWay's full AI-powered accessibility widget is an automated accessibility remediation solution that enables you to seamlessly integrate it into your site without necessary expert knowledge. Upon installation, it will instantly remediate accessibility issues on the site while providing accommodations to web users from the front-end to make modifications that suit their impairment(s), hence increased usability and accessibility compliance.
The intelligent widget is now easier to use and can be triggered through keyboard interaction. It is only right we try the accessibility widget on UserWay's website…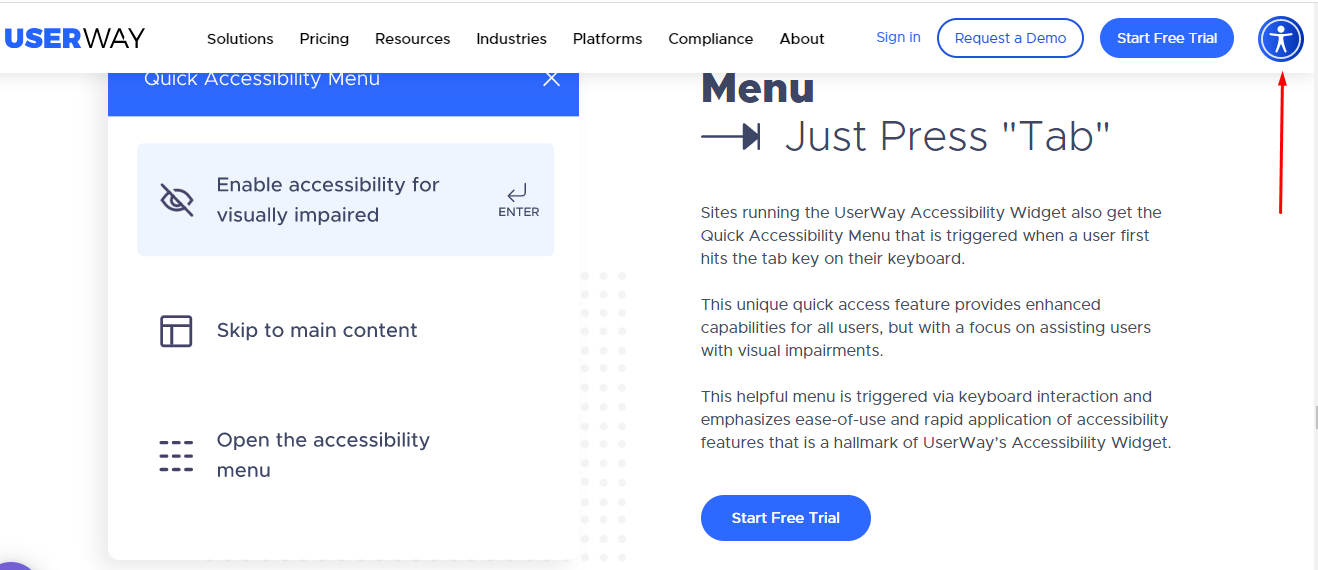 UserWay's accessibility widget sign is just like the regular accessibility icon (it could be customized though) and in this case, it is located at the top right corner of the web page. The toolbar feature menu gives simple allowances for the user to alter web page outlook.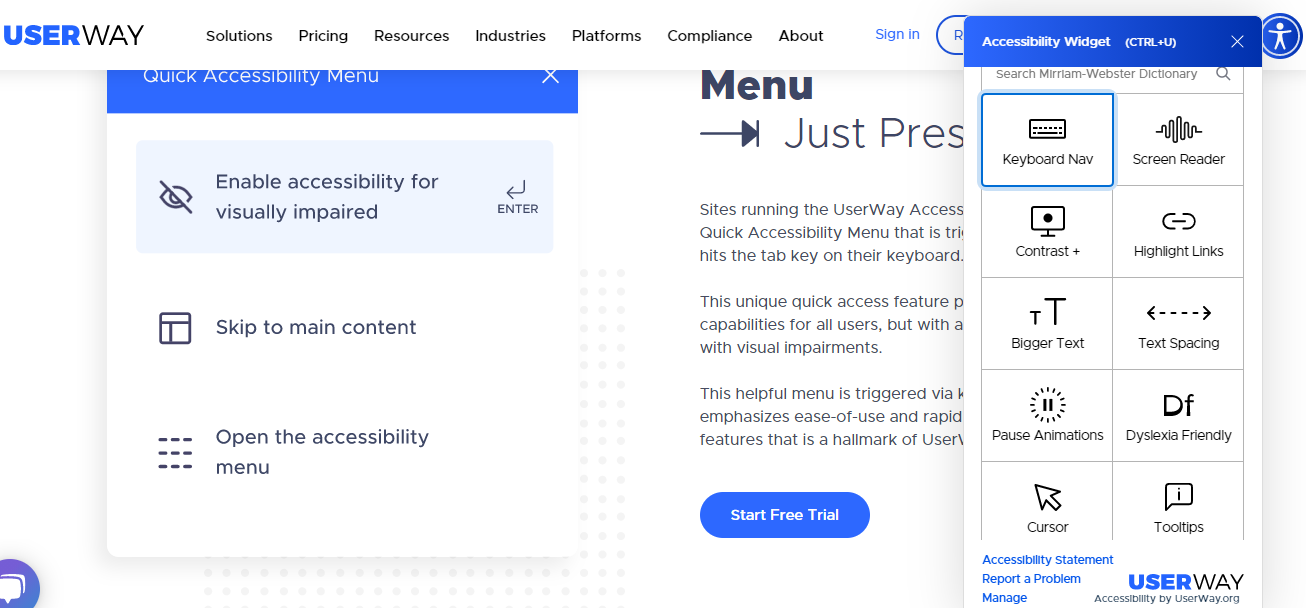 The accessibility toolbar is opened and we can now start to make alterations. Let's adjust the font legibility and change the contrast of the web page at the same time…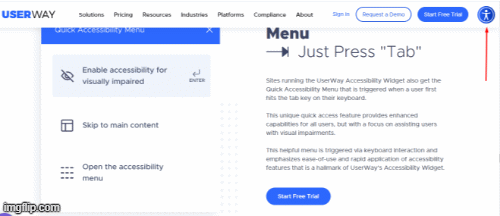 The accessibility widget has a range of accessibility features including:
Screen reader with speed adjustments

Keyboard and smart navigation

Hide animations and flashing lights or GIFs

Contrast and color modifier

Text magnifier and text spacing

Highlight links

Cursor modifier

Built-in feedback form

Provides an accessibility statement
The advanced accessibility toolbar combines the quick accessibility menu with auto-remediation to solve violations with headings, links, titles, etc. Like AccessiBe, UserWay's accessibility widget now makes use of artificial intelligence and machine learning to automatically identify and remediate accessibility issues on the site which makes it suitable for ongoing accessibility compliance. This is why it can describe thousands of images in seconds, providing alternative text for images on your site. Alt-text which is essential for screen readers users with visual impairment and at the same time makes the website SEO performant.
As you may have guessed, the free version of the UserWay accessibility widget is way limited and doesn't come with as many features. It may literally get you into one of these predatory lawsuits while the updated widget covers back and front-end for more advanced WCAG and ADA compliance.
As a separate service, UserWay also offers remediation of documents and multimedia and provides a transcript for audio and video content on the site. This leaves me to suggest that UserWay can somewhat be classified as a hybrid digital accessibility solution. They perform accessibility audit of the site, you fix, and spice things up with the automated widget.
UserWay Pricing
UserWay still offers multiple plans for its accessibility audit except you now have to pay a bit more. Similar to HikeOrders, the range of solutions and timelines of the audit is based on your plan which is usually determined by the size of your website or website needs.
UserWay now charge $1850 to audit 10 (ten) pages with 2 (two) forms which is a bit more than HikeOrders' $1,500 for the same service. The price increase is clearer in its more advanced audit for e-commerce websites. UserWay would usually audit up to 50 pages for $8750 but now charge $9850 for the same number of pages. Irrespective of the plan you choose to go for, ensure you're auditing key pages and forms against WCAG 2.1 Level AA compliance.
The UserWay comprehensive widget is also charged based on website pages or monthly web visits. Starting from $490 annually for websites with up to 300,000 monthly page views (with the two free months for annual plans), you can get:
Full customizable of the toolbar (positions, colors, size, accessibility statement, etc.)
Full suite of AI-powered accessibility functions
Instant auto-remediation for increased WCAG 2.1 AA compliance
Continuous accessibility compliance monitoring
Always-on cloud updates
UserWay's more advanced plans all get all the above, plus a Dedicated Account Manager. It will cost websites with around 3 (three) million monthly pageviews $990 annually while larger ones with 30 (thirty) million monthly pageviews will pay $2990 annually to use the AI-powered widget. There's a 10-day free trial if you wish to know how it works.
Organizations that require remediation of multimedia files, documents or PDF, and video subtitles will have to pay the extra fee UserWay charge.
UserWay Platform and Support
UserWay installation is quite easy and straightforward. You can install the plugin by adding and activating it on WordPress or manually through the UserWay website and configure it in the process, adding a few lines of code to your website's existing code.  A similar routine goes for popular content management software out there including Wix, Squarespace, HubSpot, Duda, Tilda, Adobe Muse, Webflow, Joomla, Weebly, Drupal, and many more.
UserWay's how-to-guides and YouTube videos are informative and can easily take anyone through installation on most platforms. The videos will also show you, how to customize the widget in terms of position on the screen, the language of the toolbar, type, and color of the icon to fit your brand's user-interface, and accessibility statement.
Here...
| How-to instructions | Live chat | Phone | Email | Address |
| --- | --- | --- | --- | --- |
| Yes | Yes | No | Yes | Yes |
Why UserWay? Pros and Cons
UserWay has somewhat created a different level for itself among the popular automated solution. The accessibility audit and remediation can certainly make your website accessible while the accessibility widget can be a source of ongoing monitoring while constantly fixing small issues on the site. Let's look at some of the positives and negatives:

PROS:
Accessibility audit to identify issues

Advanced automated accessibility solution

Automated and manual adjustments for full compliance
Ongoing auto-remediation of accessibility issues

Customizable toolbar (e.g. font size, color contrast, etc.)

Accessibility statement
CONS:
No phone support

AI services are not 100% accurate.
The Final Verdict On UserWay
There are fully automated solutions to digital accessibility and there are manual ones. We also have hybrids that combine the solutions of the aforementioned two and that is exactly where UserWay belongs with its bespoke organizational accessibility success solution.
Quite a lot of people ignore the fact that UserWay has an accessibility audit service, a professional website evaluation of how well your web or app is compliant with WCAG 2.1 Level AA technical requirements. The audit provides your development team with a prioritized checklist with code examples of how to fix your site to be accessible and compliant with regulations. More about manual, UserWay now offer multimedia captioning and document remediation.
Away from being a great start when it comes to accessibility compliance, the renowned UserWay ADA Compliance Accessibility Widget is popular for the right reasons. The toolbar-overlay instantly strengthens weak spots on the website and provides on-screen accessibility tools to help users of various disabilities. With a new proprietary set of rules, the updated UserWay widget now do more than focusing on the cosmetic aspects of your website (still not an out of the box accessibility solution). The AI-powered plugin now provides alt text for images, constructs a logical heading hierarchy although it sometimes returns a description that is not at all aligned with the subject matter (so you want to manually check that). Another plus with the new toolbar is how it continuously auto-remediate regardless of updates which gives it an edge above many automated toolbars out there.
Organizations must, however, not make the mistake of believing going for the accessibility widget alone is enough for digital accessibility. It is recommended you manually fix issues based on the accessibility audit report and get the advanced widget for an ADA compliant website.
Again, audit, remediate, and take the advanced widget. Don't stop auditing!
Facebook
Twitter
Linkedin
Email