PROS:
Fast automated solution
Continuous compliance every 24 hours
Customizable interface
Doesn't affect the performance of the site
Simple installation and enough guides
Accessibility statement
CONS:
No 100% compliance
No phone support
accessiBe Review
What is accessiBe?
accessiBe is one of the foremost accessibility solution providers that provide automated accessibility compliance. Its selling point is its distinctive and fully automated accessibility solution which uses artificial intelligence (AI) and automated compliance checks to ensure your website is accessible to assistive technology users. 
accessiBe's exclusive solution provides daily automated scans of web content without the need for periodic manual checks. It also includes toolbar features (content, fonts, color, and navigation adjustments) users can modify to suit their web user experience. With that said, let's dive right into its services and features!
accessiBe Service(s) and Features?
accessiBe offers two distinct products to ensure web accessibility compliance – its AI-powered accessWidget and accessFlow. 
Let's talk a little bit about the features of each of these solutions. 
accessWidget
This is accessiBe's automated system that operates by installing a line of code on your website.
It then performs scans and checks on the website and provides an automated solution that brings the website as close as possible to a WCAG 2.1 level AA compliant one within a few days from implementation."
Just like that!
How does it work?
In order to provide disabled access, accessWidget combines two components that work simultaneously on your website. 
The foreground application – primarily focused on user interface adjustments to meet about 30% of accessibility requirements (from the toolbar interface). This allows users to change fonts, color contrasts, and several other cognitive adjustments.

The background application – takes care of more complex and technical requirements. It provides a screen reader, form label creation, and keyboard navigation functionalities and constitutes the rest of the accessibility requirements.
accessWidget scans the site to learn its structure and functionalities, detect changes and updates to content and pages, and make them accessible, in an entirely automatic way, every 24 hours regardless of updates and changes made.
The fascinating thing about these two  components is how it activates accessibility via its interface. That means it allows people with disabilities who use assistive technologies or anyone else to adjust elements on the website.
The automated system also suggests alternative text for images, making web experiences richer and more personalized. That's not all. It also allows full compatibility of the interface to the host site's design, from colors, shapes, and sizes to the location of the toolbar.
Let's see the effect…
Upon entering a website that uses accessWidget, users can find the accessibility sign. It works similarly to a food menu and allows a user to make the web page suitable, just how you like it.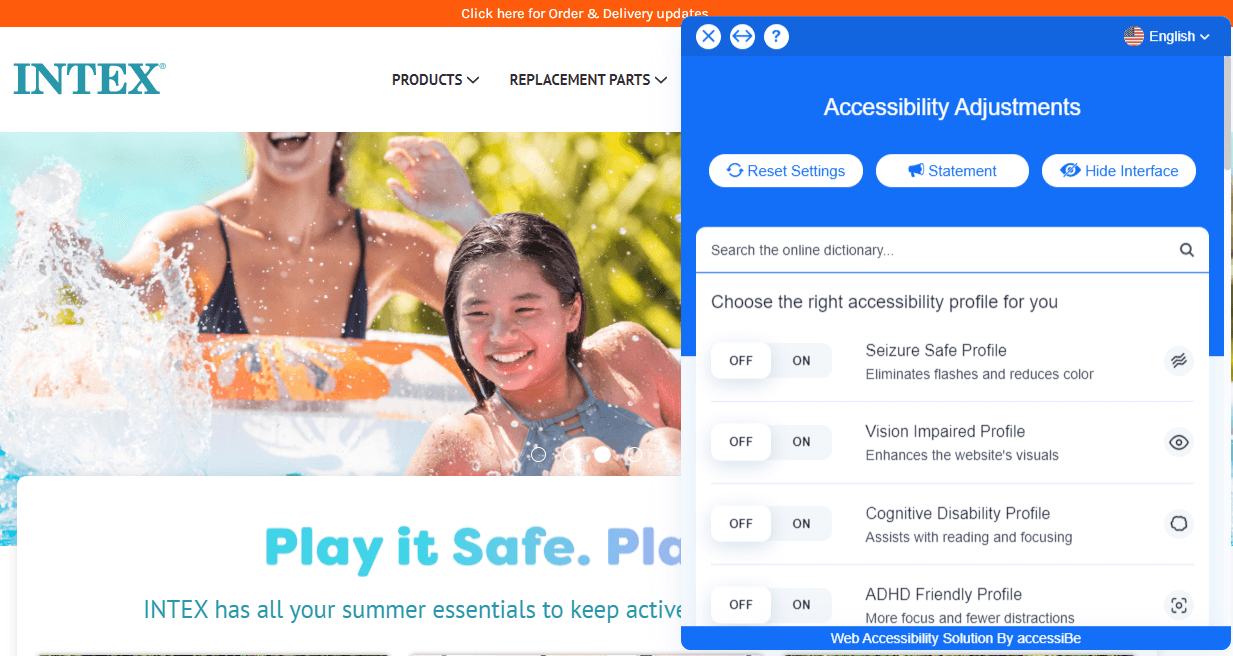 From here on, the ball is in the user's court. accessWidget has functionalities that allow users to:
Make full adjustment to keyboard navigation

Complete adaptation to screen readers including role building

Access accurate ALT tag using image recognition technology (

OCR and IRIS) 

Change language with up to 10 built-in languages in the interface

Provide read-only mode

Adjust font sizes

Hide images and background images (distracting elements)

Alter contrast settings: lighten, darken, inverse or grayscale

Improve accessibility of tables 

Emphasize links

Use the built-in dictionary and feedback forms

Pause animations and flashing GIFs

Use an on-screen virtual keyboard

Get an accessibility statement 
And much more…
As expected, the level of customization you'll have over the accessiBe interface depends on the plan that you're on. The Large plan seems like it for me. It gives full control customization access; allowing you to fully customize interface position, colors, icons, sizes, shapes, and so much more.
There you go…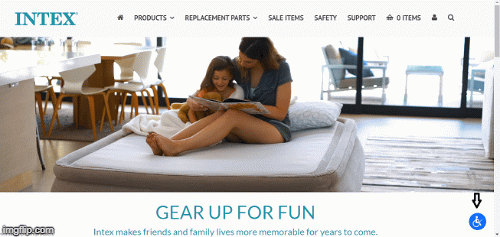 accessFlow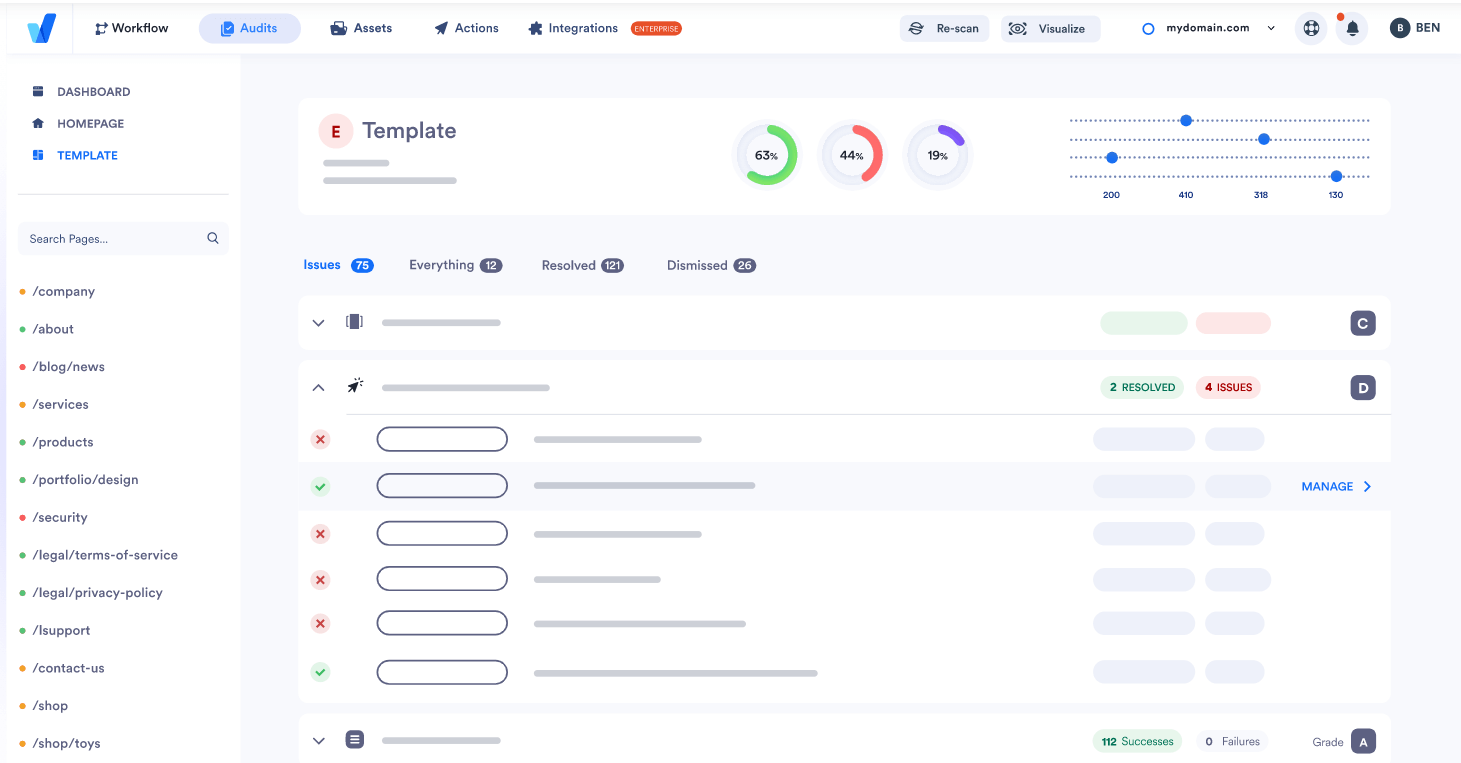 accessFlow is accessiBe's web accessibility platform designed especially for web developers. The tool allows technical teams to test, monitor, and remediate accessibility issues on the source code used to build websites and web applications. 
Today, accessibility is considered an application requirement along with security, performance, and observability. By addressing web accessibility as a separate pillar to address while building for the web, accessFlow makes it easier to build websites that are natively accessible.
With accessFlow, you can include accessibility as a material component of your software lifecycle without doubling your workload. Sounds like a great way to save money and energy down the line, wouldn't you agree?
accessFlow checks your website on a regular basis by simulating an assistive technology session, creating a remediation project process for you and your development team to follow. As part of this process, you get to see the affected source code responsible for each accessibility issue; and learn how it affects users, what to fix and how to avoid a recurrence. 
As you begin fixing your accessibility issues, the platform makes your job easier by automatically grouping your tasks by type (menus, headings, tables, etc) and organizing them by order of priority. You also get constant feedback on your success in the project in the form of ranks and scores. 
accessFlow is especially useful to: 
Developers and engineering teams

Product owners and managers

Accessibility experts and consultants
accessiBe Pricing
accessiBe has different pricing plans for its two solutions. You can decide to either select the monthly or yearly payment plans. It's totally up to you!
accessWidget pricing plans

The accessWidget has four pricing plans:
For websites under 1,000 pages
For websites under 10,000 pages
For websites under 100,000 pages
Enterprise (starts at $990/month)
Websites with 100K+ monthly users 
(I highly recommend you contact accessiBe's support team for more details about this plan before buying it). 
All four plans give you access to:
Free 7-day trial (no credit card required)

Automatic daily monitoring and scans

Accessibility statement & certification

Monthly accessibility compliance audits

Screen-reader & keyboard navigation adjustments

Accessibility interface for UI and design fixes

Compliance with WCAG, ADA, EAA & more

Dedicated litigation Support Package
accessFlow pricing plans

The accessFlow solution also has four pricing options: 
Essentials ($490/year)
With this plan, you get:
Full AI auditing & monitoring

Automatic MONTHLY scans

Max 5 daily on-demand page scans

Max 5 funnel actions

Max 1 user
Advanced ($1,990/year)
With this plan, you get:
Full AI auditing & monitoring

Automatic WEEKLY scans

Max 30 daily on-demand page scans

Max 30 funnel actions

Max 5 users
Super $11,490/year
With this plan, you get:
Full AI auditing & monitoring

Unlimited Automatic DAILY scans

Unlimited Funnel actions

Unlimited On-demand page scans

Unlimited users
Enterprise (flexible payment options)
With this plan, you get:
Everything in Super

Single Sign-On

CI/CD Integrations

WorkOS Integrations

Custom legal terms

Tailored SLA

Solution engineering
AccessiBe Platform and Support
Installing accessiBe's solutions is a simple process. It automates your accessibility compliance by embedding an installation code directly into your site's HTML. So, you don't have to worry about interfering with the site's source code or the system affecting your site's performance. 
The how-to-guides and support categories are easy-to-follow-and-understand, and can take anyone through installation. These help resources contain essential information about the technology, how to customize it, and how to handle and report malfunctions. Thanks to accessibe's ace, you also receive monthly compliance audit reports.
accessiBe's development team is also available to provide technical support. One thing, though. You can only request assistance by filling and submitting a support request form. This is something I believe accessiBe could provide to improve its customer support experience. 
It is also important to note that AccessiBe does not directly provide a warranty should you get served. However, they help with the statement of performance. They ensure your safety by providing steps to go about your case and sending you proof of your website's accessibility. 
| How-to instructions | Live chat | Phone | Email | Address |
| --- | --- | --- | --- | --- |
| Yes | Yes | No | Yes | Yes |
Why AccessiBe? Pros and Cons
While AccessBe innovation posits itself at the forefront of automated accessibility compliance, it comes with its own limitations which I think could be improved over time. Let's look at some of the positives and negatives:
PROS:
Automated accessibility solution to ADA, Section 508, WCAG 2.1 AA or EN 301549 compliance

Continuous compliance every 24 hours regardless of updates and changes made

Customizable interface according to user's preference (e.g. language, font size, color contrast, etc.)

Compliance without affecting the performance of the site

Simple installation and enough guides for support

Accessibility statement
CONS:
Toolbar alone does not provide 100% compliance

No phone support
The Final Verdict On AccessiBe
accessiBe's automated solutions only take 48 hours from installation to making adjustments to your website. It also allows users to customize colors and contrast, modify fonts and font sizes, and play with the spacing between words. In addition, it supports up to ten international languages, including English, French, Arabic, Spanish, and German, all without altering the site's design or performance.
While fascinating, accessiBe's automated solutions do not cover all the accessibility questions. The machine-learning-based technology can easily find and fix issues that involve common website components such as menus, forms, buttons, and dropdowns.
However, you will need to manually fix accessibility issues on specific web elements such as quizzes or ticketing features. Also, accessibe's solutions will not create captions for non-text content (videos or audios) or automatically make PDF files or Word documents on your website accessible. These updates must be done separately and manually.
Finally, accessiBe is no cure-all. But it is definitely a great starting point to fixing accessibility issues on your website, minimizing them to a large degree – something you'll be thankful for if you come under legal scrutiny for inaccessibility. 
This is because accessiBe ensures a high degree of compliance to international accessibility standards such as WCAG 2.1 – AA level, ADA Section 508, and EN 301 549. So, in essence, accessiBe offers great value for your money with its turnaround period, regular testing, customizable accessibility features (you want to check the quick navigation feature), and high success rates. 
Facebook
Twitter
Linkedin
Email