PROS:
Fast automated solution
Continuous compliance every 24 hours
Customizable interface
Doesn't affect the performance of the site
Simple installation and enough guides
Accessibility statement
CONS:
No 100% compliance
No phone support
AccessiBe Review
What is AccessiBe?
As long as your business has a website or web application, and there is content in there, it should be accessible to all users, including people with disabilities. By complying with the accessibility standards in your location, you'll be ensuring web accessibility to the diversity of users with disabilities that affect access to the web, including users with visual, hearing, cognitive, and dexterity impairments.
Created by three good guys, and with a huge presence around the web accessibility solution early in 2019, AccessiBe is an accessibility solution provider at the forefront of automated accessibility compliance. The selling point here is its distinctive and fully automated accessibility solution which employs artificial intelligence and automated compliance checks to ensure any website is accessible to assistive technology users. That is, accessiBe's exclusive solution not only provides daily web content automated scans without the usual manual periodic regular checks, it also provides toolbar features (content, fonts, color, and navigation adjustments) with which users can use to suit their web usage experience. With that said, let's dive in!
AccessiBe Service(s) and Features?
AccessiBe Automated Solution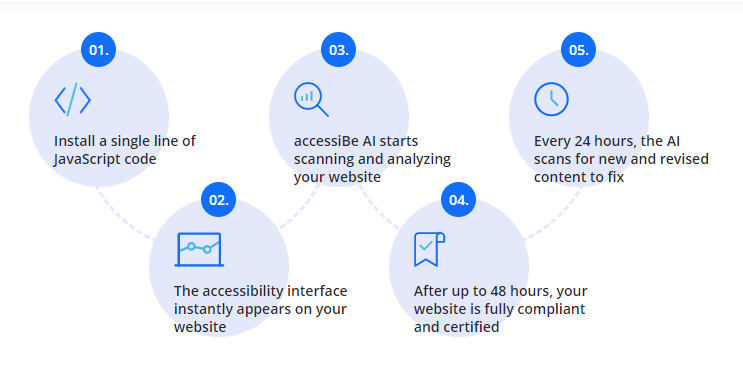 The AccessiBe automated system is AccessiBe's flagship product and it operates by installing a line of code on your website.
It then performs scans and checks on the website and provides an automated solution that brings the website as close as possible to a WCAG 2.1 level AA compliant one within a few days from implementation."
Just like that!
How does it work? In order to provide disabled access, the solution includes two components that work simultaneously on your website. 
The foreground application – primarily focused on user interface adjustments to meet about 30% of accessibility requirements (from the toolbar interface). Allows for change of fonts, color contrasts, etc among other cognitive adjustments.

The background application – responsible for more complex requirements. It provides screen reader, form label creation, and

 keyboard navigation functionalities and constitutes the rest of the accessibility requirements.
The automated system can rescan the site to learn its structure and functionalities, detect changes and updates to content and pages, and make them accessible, in an entirely automatic way, every 24 hours regardless of updates and changes made.
The fascinating thing about the two accessiBe exclusive artificial intelligence components is how it activates accessibility via its interface which provides disabled access, that is, through which disabled people or anyone can adjust the website based on its findings, providing alt text to images (particularly useful for websites with many images) and making web usage an awesome experience. The automated system also allows full compatibility of the interface to the host site's design, from colors, shapes, sizes to the location of the toolbar.
Let's see the effect…
Upon entering a website that employs the accessiBe solution, users can find the accessibility sign. It works similarly to a food menu and allows a user to make the web page suitable, just how you like it.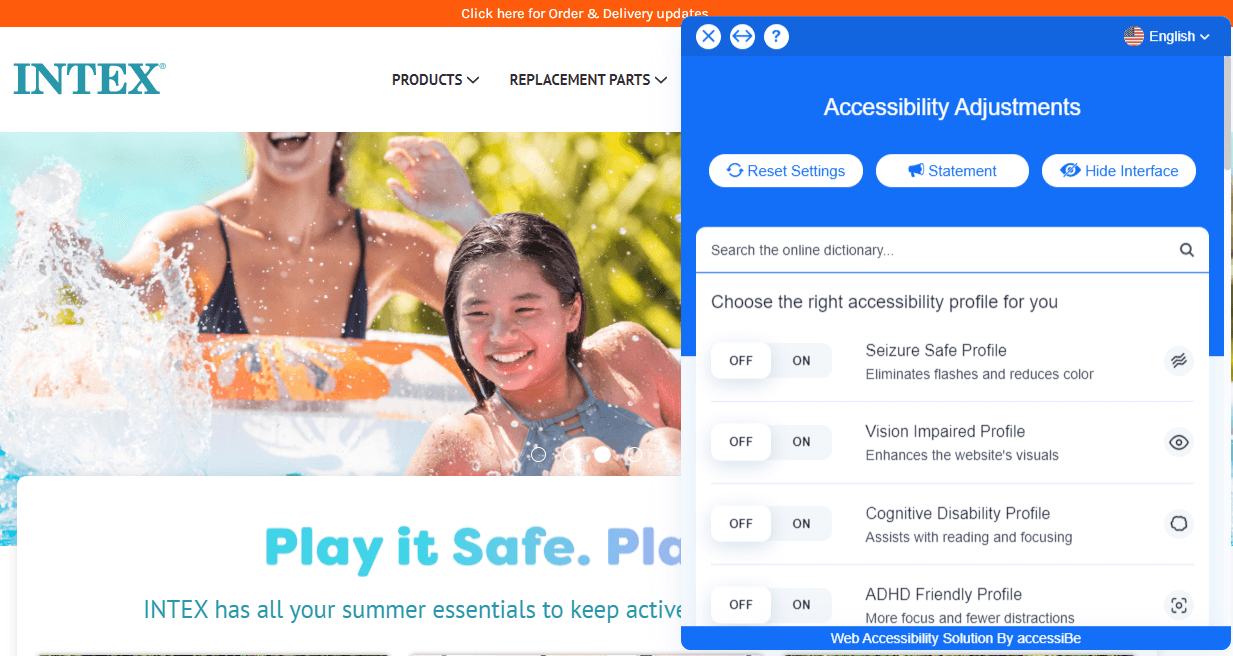 From here on, the ball is in the user's court. The accessiBe solution has functionalities that allow users to:
Make full adjustment to keyboard navigation

Complete adaptation to screen readers including role building

Access accurate ALT tag using image recognition technology (

OCR and IRIS) 

Change language with up to 10 built-in languages in the interface

Provide read-only mode

Adjust font sizes

Hide images and background images (distracting elements)

Contrast alteration: lighten, darken, inverse or grayscale

Comprehensive tables accessibility

Emphasize links

Built-in dictionary

Built-in feedback forms

Allow for pausing animations and flashing GIFs

On-screen virtual keyboard

Also provides an accessibility statement 
And many more…
As expected, the level of customization you'll have over the accessiBe interface depends on the plan that you're on. The Advanced plan seems like it for me. It gives full control customization access; allowing you to fully customize interface position, colors, icons, sizes, shapes, and so much more.
There you go…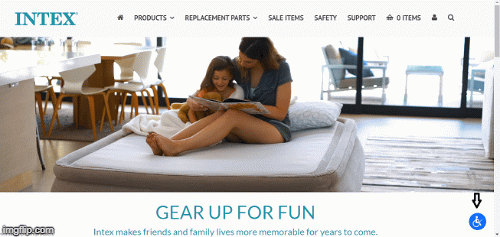 AccessiBe Pricing
AccesiBe solution has ranges of easy-to-determine pricing according to website pages. Starting from $490 annually for websites below 1,000 pages (unique website URLs) with the 7-day trial (no credit card required), some of the things you can get includes:
Daily automated compliance monitoring scans

Accessibility statement and certification of performance

Automatic audits

Automatic remediation

Automatic monthly cloud updates

Fully customizable toolbar: positions, colors, icons, shapes, sizes and more
They also have a more Advanced Plan of $1490/year for websites below 100,000 pages, a Premium Plan for $3500/year and a custom Enterprise plan that covers all features AccessiBe has to offer including PDF, multimedia files, and video subtitles that starts from $990/month and covers unlimited website page count.
Good deal if you ask me.
AccessiBe Platform and Support
AccessiBe installation is simple. It basically automates your accessibility compliance by embedding an installation code directly into your site's HTML so you don't have to worry about interfering with the site's source code or the system affecting your site's performance. It is also compatible with the most popular content management software out there including Wix, WordPress, Magento, Joomla, Google Tag Manager, and Shopify.
Their how-to-guides and support categories are perfect and can take anyone through installation. It also contains information about accessiBe's technology, how to customize, and how to go about handling and reporting malfunctions. AccessiBe's development team is also available to provide technical support. They now provide monthly compliance audit reports with the emergence of AccessiBe's ace. One thing though, even with the FAQs and installation guides that their website provides, the customer support could be better with the provision of phone numbers.
It is also important to note that AccessiBe does not directly provide a warranty should you get served. However, they help with the statement of performance. They ensure your safety by providing steps to go about your case and send you a proof of your website's accessibility. Here…
| How-to instructions | Live chat | Phone | Email | Address |
| --- | --- | --- | --- | --- |
| Yes | Yes | No | Yes | Yes |
Why AccessiBe? Pros and Cons
While AccessBe innovation posits itself at the forefront of automated accessibility compliance, it comes with its own limitations which I think could be improved over time. Let's look at some of the positives and negatives:
PROS:
Automated accessibility solution to ADA, Section 508, WCAG 2.1 AA or EN 301549 compliance

Continuous compliance every 24 hours regardless of updates and changes made

Customizable interface according to user's preference (e.g. language, font size, color contrast, etc.)

Compliance without affecting the performance of the site

Simple installation and enough guides for support

Accessibility statement
CONS:
Toolbar alone does not provide 100% compliance

No phone support
The Final Verdict On AccessiBe
There are many web accessibility solutions vying for your dollar, so it takes a special service to stand out from the crowded field and prove itself worthy of your money. The generic accessibility plugins out there won't take you further than 15-20% accessibility compliance, and while manual accessibility service is a recommendable option, it is highly expensive and takes weeks to get done while still falling out of compliance if not properly maintained. All of these could be taking around $5,000 – $50,000/year!
Focusing on the AccessiBe automated solution, a system that only requires about 48 hours from installation to making adjustments to your website. The solution ensures 24/7 compliance, even for websites that update daily. It allows users to personally customize colors and contrast, modify fonts and font sizes, and play with the spacing between words. Additionally, it runs up to ten different international languages including English, French, Arabic, Spanish, and German, all without altering the site's design or performance.
The AccessiBe solution incredibly provides alt text for users of screen readers or visually impaired people, focus and keyboard navigation for users with dexterity or cognitive impairments and a built-in dictionary that provides a full description of words/expressions, without transferring to an external website.
That's over 45 features to play with!
However fascinating, the AccesiBe automated solution does not cover all the accessibility questions. Although the solution will easily fix issues involving common components its encountered on different websites such as menus, forms, buttons, dropdowns – because it is a Machine Learning based technology, the same reason it will fall short in fixing issues with very specific components like quizzes or ticketing feature on a website because it's simply not used to them. Hence, these components must still be made accessible manually on websites that have them.  Other technological limitations are that it won't create captions for non-text content (videos or audios) on the site and won't automatically make PDF files or Word documents on the site accessible. All these updates must be done separately and manually.
Finally, the AccessiBe solution is no cure-all. Significant manual remediation is almost always necessary to make a website actually accessible but as a starting point of your website remediation, it will definitely minimize the density of your issues to a large degree, even more, especially if you've been hit with a demand letter. This is because it is the automated solution that ensures the highest degree of accessibility compliance to international standards and laws (WCAG 2.1 – AA level, ADA Section 508, and EN 301 549), at a quick pace, at any given time for $490/year. Really handy for small businesses.
Although it won't usurp human-developed and tested accessibility, the AccessiBe solution still proves itself worthy of your money with its turnaround period, its customizable accessibility features (you want to check the quick navigation feature) that are stable enough to fully work on any website/platform, its ongoing checks, and an unbeatable success rate. 
Facebook
Twitter
Linkedin
Email