PROS:
Advanced automated accessibility solution
Comprehensive automated and manual fixing 
Continuous compliance regardless of updates
Customizable toolbar
Does not affect the site's performance
Accessibility certification and statement
Good support and warranty
CONS:
Heavy plans
A bit expensive for the number of page views
AudioEye Review
What is AudioEye?
AudioEye is a hybrid web accessibility solution provider with different digital solutions to make the web content accessible to individuals with disabilities and fully compliant with the accessibility standards.
AudioEye resolves web accessibility issues through its comprehensive multi-tier approach to make digital assets fully compliant with WCAG 2.1 AA, Section 508,  Americans with Disabilities Act (ADA), etc. To make the website accessible, they provide a toolbar overlay, perform manual and automated testing, remediate to remove errors, and ongoing compliance monitoring.
AudioEye web accessibility service is structured according to your website and accessibility requirements. A typical AudioEye service couple tools with accessibility experts that work on the site. They test while utilizing assistive technology to identify and fix accessibility barriers, and cover ongoing compliance by providing regular test results and technical assistance. AudioEye also allows your IT team to take charge of accessibility compliance by providing free tools to identify and fix accessibility issues. 
Its accessibility toolbar works in a familiar way. It monitors for errors and appears on your website, providing usability features that can be used by website visitors to personalize their digital experience in a manner that best suits them. While having it on the site is a good idea, the toolbar alone doesn't make your site accessible. 
Let's explore the multi-tier hybrid approach.
AudioEye Service(s) and Features
AudioEye's solutions basically involve both automated solutions and the manual effort by performed by a team of accessibility experts who make adjustments to remove barriers to accessibility, bringing your website to full compliance with regulations. 
Thanks to AudioEye, you can now take charge of your site's accessibility for free! With AudioEye Pro, they have provided tools that can be used by your IT team to identify and fix your accessibility errors. This opportunity is however limited.
The Pro service allows for the use of AudioEye's Accessibility Builder, a google chrome extension/accessibility scanner that helps to identify accessibility issues and provides an automated accessibility report. It provides an accessibility score, highlights all the pages containing the said error, pin-points the relevant WCAG guideline the issue is violating, and description of errors to guide manual fixing. The limitation here is that you can only test a single website domain at a time.
The AudioEye Pro usually comes with a customizable on-screen accessibility toolbar (comes with the Visual Toolkit) that website visitors can use to personalize their website experience. Although what you'll get with the toolbar is limited, the toolbar provides a 24/7 help desk to help them report any accessibility barriers on the site. 
The AudioEye accessibility toolbar works fine on mobile or computer and consists of assistive tools that can be engaged, individually, or in combination with other features. Let's try the toolbar on AudioEye's website…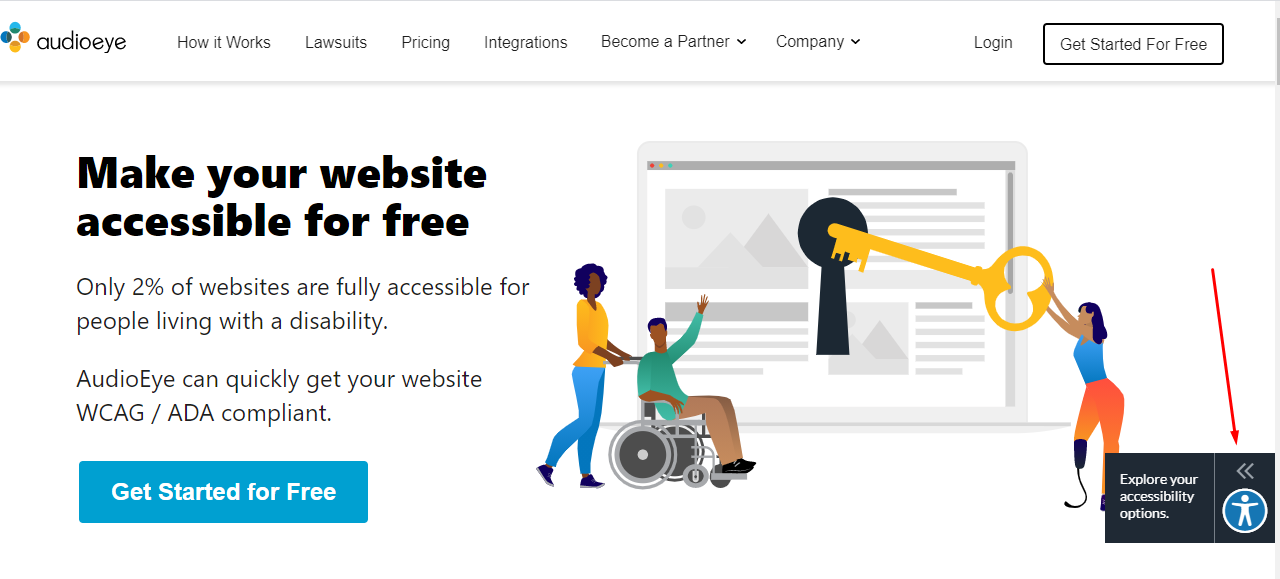 Upon entering the AudioEye website, users can find the internationally-recognized accessibility icon "man in blue" at the corner of the screen. It marks the entrance to the AudioEye accessibility toolbar and allows a user to make the web page suitable in a manner that is best for them.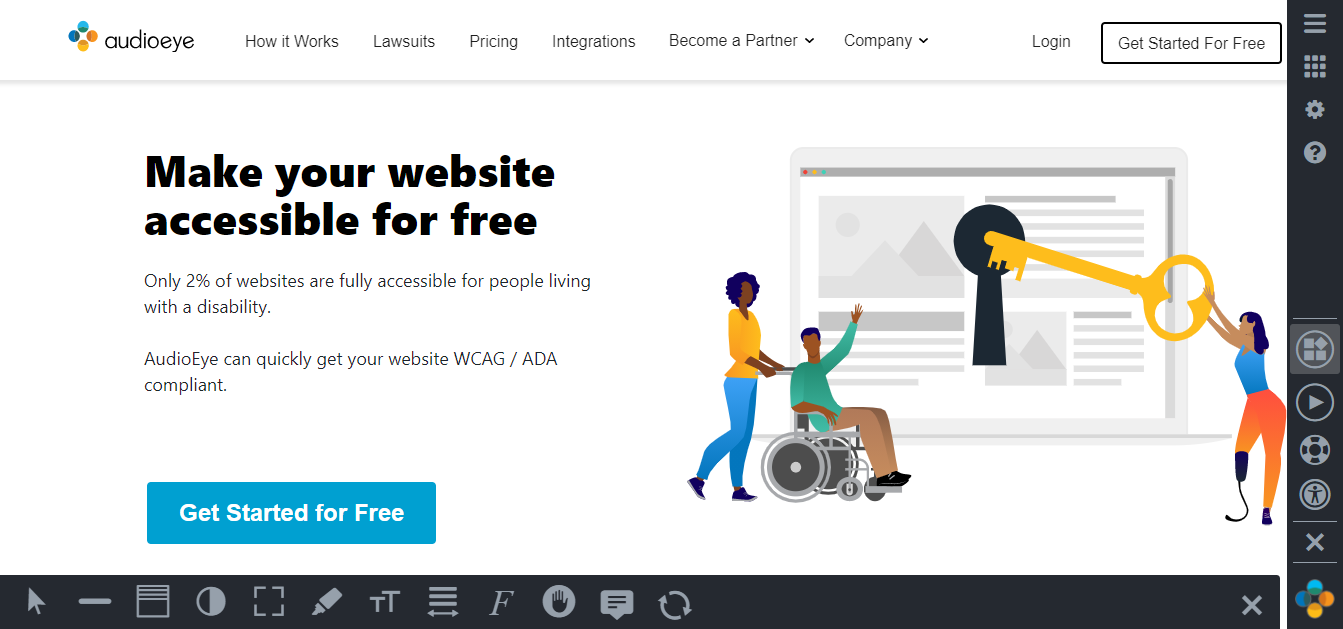 Let me show you how it works by combining basic functions.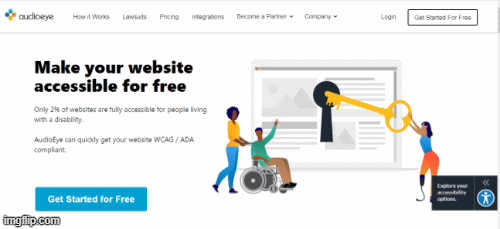 I just made changed contrast of the website and font type at the same time. The toolbar has features such as:
Player technology works like a screen reader

Visual focus

Pause animations and flashing objects or GIFs

Adjust font sizes

Customize word and line spacing 

Contrast modification

Remembers customer preferences

Help desk

Provides an accessibility statement
The accessibility toolbar is even more robust with AudioEye's Managed and Enterprise plans. This however doesn't mean it can make your website accessible on its own. No toolbar can!
The AudioEye Pro (automated scanning and toolbar) is good when you decide to take on accessibility yourself but the truth is it won't make your site 100% compliant. This is because automated accessibility testing is limited in identifying all accessibility barriers on the site. Manual expert review is required to check issues that automated checks can't detect.
For those that seek to outsource web accessibility, you have AudioEye Managed and Enterprise plans, the perfect hybrid solutions for WCAG and ADA compliance.
The AudioEye Managed plan is an end-to-end accessibility service but is limited by the number of monthly pageviews per customer. As a fully managed plan, it provides:
automated and manual assistive technology testing
accessibility audit report
automated and manual remediation
ongoing compliance monitoring (could be daily, weekly or monthly)
robust accessibility toolbar (with page elements menu and customization)
automated-testing and remediation tools
training and resources
24/7 help desk
AudioEye certification
accessibility statement
accessibility claims commitment (warranty)
The AudioEye Enterprise is pretty much a more robust version of the Managed service. It is a customized and consultancy form of accessibility service for large businesses with no limit on the number of website pageviews. The Enterprise plan is specially designed to offer the highest level of legal protection against non-compliance risk. You get a custom testing and remediation plan, on-demand support, customer success manager, and a dedicated expert in case your organization is entangled in a web accessibility lawsuit.
The AudioEye certification comes after the completion of your remediation as only comes under the Managed and Enterprise plans. This is basically AudioEye acknowledging your website continues to fulfill the ongoing requirements of the AudioEye trusted process.
AudioEye also provides static and dynamic document remediation services. They provide a comprehensive solution for documents that cannot be converted to HTML, and high-volume, transactional documents without changing the original structure of the template. Document remediation involves repairing issues such as color contrast, fonts, table formatting, spacing, and more to ensure your PDFs are usable and fully accessible.
AudioEye Pricing
The AudioEye Pro service is now free (usually around $10 – $15/month), so that leaves us with the only two charged AudioEye services- Managed and Enterprise.
Your cost with AudioEye Managed varies according to website size and requirements. AudioEye provides a 30-day free trial for all its Managed plans which combines automated and manual efforts. The managed plans only cover one domain and start at $39/month for websites with up to 2,000 page views per month after trial but you can take advantage with 2 months free on its yearly plan that cost $399. Larger websites with up to 20,000 monthly page views can outsource their accessibility compliance to AudioEye with $99/month after trial. The largest Managed plan covers websites with up to 200,000 monthly pageviews for $599/month and $5,999/year, also with 2 months free.
The Enterprise plan is bespoke and requires AudioEye to work out a custom pricing for your enterprise-grade websites with multiple domains.
AudioEye Platform and Support
AudioEye's support is actually very good even though it varies according to plan. AudioEye's experts author remediations on the AudioEye Manage and Enterprise plans.
The accessibility toolbar can be quickly be installed by inserting a risk-free line of code. The proprietary JavaScript makes maintaining accessibility on existing sites possible and supports major content management software (CMS) that allows inserting code into it such as WordPress, Wix, Duda, Magento, Squarespace, Shopify, Weebly, among others.
Alongside the testing and remediation tools, the Pro plan gets weekly website accessibility monitoring, email support, online FAQs, and a 24/7 help desk on its limited toolbar. In addition to the Pro support, Managed subscribers get access to an on-demand webinar library, accessibility warranty, and a regular monitoring frequency. Large websites on the Enterprise gets it all support, including an expert advisor for legal consultation and an exclusive web accessibility training.
Overall, customer support is top-notch. Here:
| How-to instructions | Warranty | Phone | Email | Address |
| --- | --- | --- | --- | --- |
| Yes | Yes | Yes | Yes | Yes |
Why AudioEye? Pros and Cons
AudioEye combines advanced automated testing with manual accessibility testing, auditing, and remediation, maintenance, and monitoring to achieve 100% compliance with digital accessibility regulations. Let's look at some of the positives and negatives:

PROS:
Advanced automated accessibility solution

Comprehensive remediation via automated and manual adjustments 

Continuous compliance regardless of updates

Customizable toolbar (e.g., font size, color contrast, etc.)

Compliance without affecting the performance of the site

Accessibility certification and statement

Good support and w

arranty
CONS:
Heavy plans may not be suitable for some website
A little expensive for the number of page views per month
The Final Verdict On AudioEye
AudioEye has seemingly found an edge over its competitions. Its comprehensive hybrid accessibility solution surpasses fully automated solutions and is levels ahead of most other hybrid solutions that provide accessibility audits and offer an advanced accessibility toolbar.
Their suite of products- toolbar overlay, accessibility builder (a Chrome Extension) for testing is designed to help identify and remove accessibility barriers and enhance the user experience for people with disabilities. With the manual remediation at code-level and continuous monitoring, AudioEye gives your organization the best possible assurance of compliance with regulations.
Using the AudioEye builder and toolbar tools you'd get with the Pro plan and fixing errors yourself is fine but may come with its own problems. More so, the tools are not all you need for full compliance. The builder, an AI/machine learning technology, scans for errors but the score is not an indication of compliance. The toolbar overlay however is limited. Besides, you can't detect and fix all of the accessibility issues automatically. AudioEye Pro service may be feasible but the big question is always going to be your team's capability to manage ongoing accessibility compliance.
It will be important to note that the AudioEye toolbar alone cannot provide compliance. 
With an exceptional support strategy (training, reports, monitoring, certification, warranty, etc), AudioEye experts identifying errors using assistive technologies and manually fixing simple details such as audio descriptions, forms, etc is what makes the difference with the AudioEye Managed and Enterprise plans. AudioEye also remediates document and analyze mobile app as a custom service.
AudioEye Managed plan is a solid one but a bit pricy when compared to similar offerings. As if that is not enough, the Managed plans are not properly broken down to help businesses. Imagine jumping from 2,000 page views per month for $39/month to a plan of 20,000 page views per month for $99/month.
Outsourcing your compliance with AudioEye is good business. Websites with about 2,000 page views per month benefit the most. Those with around 10,000 or 50,000 monthly page views per month will have to cough out a price for plans they won't be fully maximizing.
Again, you are by yourself with the Pro packages. The Managed and Enterprise plans are more reliable and require AudioEye to remediate your digital assets to meet WCAG 2.1 AA, ADA, and Section 508 regulations.
Do I recommend it? YES. 
Facebook
Twitter
Linkedin
Email