PROS:
An automated solution to ADA, Section 508, and WCAG 2.1 AA compliance
100% compliance through a hybrid solution
Auto-remediation for continuous compliance
Customizable toolbar
Does not affect the performance of the site
Compatibility with modern CMS
Accessibility certificate
Warranty of up to $50,000 (USD)
CONS:
Expensive with high recurring subscription pricing
Toolbar alone cannot provide compliance
No live chat for quick support
AudioEye Review
What is AudioEye?
AudioEye is a hybrid web accessibility solution provider with different digital solutions to make the web inclusive enough to accommodate individuals with disabilities.
AudioEye resolves website accessibility issues through its automated and engineering-generated solutions to impact compliance. One of the ways it does this is through AudioEye Managed software, its leading-edge software and end-to-end Managed service for digital accessibility. 
The AudioEye Managed automated technology provides the foundation for barrier-free access to the web by analyzing your site, performing ADA compliant website tests, and automating a number of fixes. This is then combined with manual testing and fixes by their accessibility experts who also remediate your website to ensure it is accessible, even to assistive technologies. AudioEye also continually track compliance and provide a report, making sure you can always correct necessary issues to remain compliant.
As part of its automation technology, AudioEye activates accessibility via its interface through which disabled people or anyone can use to personalize their digital experience and consume information in a manner that best suits them. The entire remediation will ensure compliance with WCAG, Section 508, and Americans with Disabilities Act (ADA) while the functionalities of the suite will be providing user-friendly web access and digital experience to people with disabilities.
AudioEye Service(s) and Features
AudioEye's solutions to digital accessibility basically involve both automated solutions and manual accessibility adjustments performed by a team of accessibility experts who make adjustments to remove barriers to accessibility, bringing your website to full compliance to regulations. 
AudioEye provides an AudioEye Pro and AudioEye Manage. Pro is a fully automated technology that is installed by embedding a script on your website. AudioEye's machine learning then evaluates your website by testing and scanning to discover and fix low-level accessibility issues instantly. It provides tools for your development team to make remediations manually based on the bi-weekly report provided and also deploys the help desk for end-users to report accessibility and usability issues with always-on monitoring and bring these pertinent issues impacting actual users to awareness. 
For the more advanced AudioEye Manage, their accessibility experts complement automated testing and detect access barriers and higher-level issues in order to author remediations. Manage is the perfect hybrid solution and is more detailed. AudioEye's certified subject matter experts and assistive technology testers, including individuals with disabilities, perform remediation and validation, making use of assistive tools provisioned and deployed through the accessibility software. They identify and fix simple details such as audio descriptions, forms, etc.
On completion, AudioEye certifies that your site, acknowledging it continues to fulfill the ongoing requirements of the AudioEye trusted process and provides a custom accessibility certification and accessibility statement accordingly. AudioEye solution ensures your website or web app is accessible and will continuously track for WCAG and ADA compliance in an entirely automatic way via its ongoing automated conformance evaluation scanning and regular accessibility testing tool to also provide a 2-weeks conformance report with which they can use to fix your website's accessibility barriers.
The AudioEye Accessibility Toolbar is available to all end-users from your website and it provides fully customizable experience through which users, including disabled people, can tailor the webpage to their individual needs, regardless of the language preference, or preferred platform or access (mobile or computer). It consists of assistive tools each of which may be engaged, individually, or in combination with other features. Let's see the effect…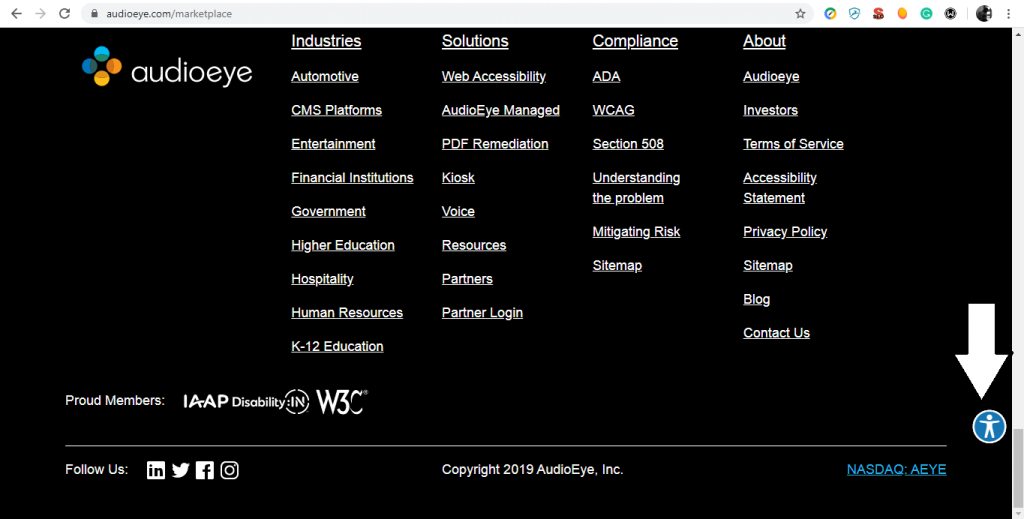 Upon entering the AudioEye website, users can find the internationally-recognized accessibility icon "man in blue" at the corner of the screen. It marks the entrance to the AudioEye Accessibility Toolbar and allows a user to make the web page suitable in a manner that is best for them.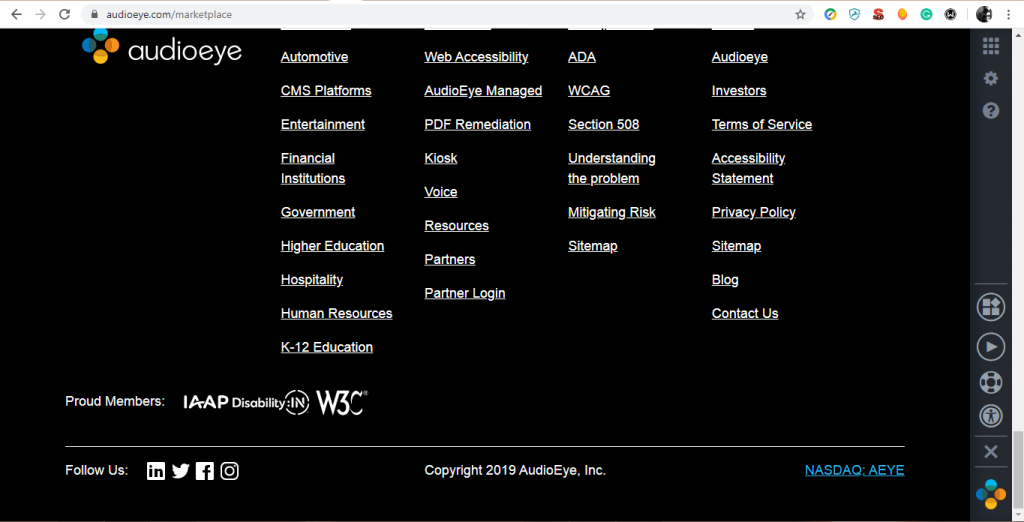 Features include Site Menu, Page Elements Menu, Visual Toolkit, Player, Help Desk, Certification, etc.
Even though AudioEye has made a demo video, here: AudioEye Toolbar Video Description, let me show you how it works by combining basic functions.
I just made use of the reader function that allows web users to change how they view website pages. They can change the font, customize word and line spacing, and zoom in and out.
The toolbar has features such as:
Player technology works like a screen reader

Keyboard friendly menu enable page-to-page navigation

Allows users to access the web with voice command

Allow for hiding animations and flashing objects or GIFs

Adjust font sizes

Customize word and line spacing 

Zoom in and out

Contrast alteration

Validated on all major browsers, including mobile browsers

Remembers customer preferences

Help desk

Provides an accessibility statement
AudioEye also provides static and dynamic document remediation services. They provide a comprehensive solution for documents that cannot be converted to HTML, and high-volume, transactional documents without changing the original structure of the template. This is usually done through a harmony of automated and manual remediation techniques,  repairing issues such as color contrast, fonts, table formatting, spacing, and more to ensure your PDFs are fully accessible and are in compliance with ADA and WCAG 2.1 Level AA guidelines.
AudioEye Pricing
AudioEye offers a starter package- a quick-fix browser tool, developer tools, and full accessibility report which you can access via your website URL. The AudioEye Pro is pretty straightforward for businesses with lesser budgets. For about $10 – $15/month, you can get the accessibility toolbar, live-scanning tools, access to the training library, conformance reports among other tools your development team can use to make remediations manually based on the report provided.
The charges for the AudioEye Managed varies according to website requirements (simple websites will cost less and more dynamic ones will cost more). The AudioEye team takes charge of your remediation with the Managed service and provide you with an accessibility statement, a warranty, and AudioEye Protected emblem. The Enterprise plan is the most bespoke plan and it covers the accessibility statement, a warranty, software, remediation, ongoing monitoring, AudioEye Protected emblem, and live help. Similarly, the complexity of your website or digital asset will determine the timeline of your accessibility. 
Be sure of this fact- you are by yourself with the Starter and Pro packages. The Managed and Enterprise plans are more reliable and require AudioEye to remediate your digital assets to meet WCAG 2.1 AA, ADA, and Section 508 regulations.
AudioEye Platform and Support
AudioEye's digital accessibility platform is easy to deploy since the software will be made available in an object code format.  Since you are solely responsible for the installation and implementation of everything in connection with your website, you can automate your accessibility compliance through the secure, proprietary JavaScript that makes achieving and maintaining accessibility on existing sites possible. Lower-level issues are addressed programmatically by the fully automated AudioEye Pro in 24hours while their development team and engineers author remediations on the AudioEye Manage for as long as it takes (since manual remediation is involved, it is normal your remediation may take a few months)- Managed can take about 120 days/4months.
If you're wondering, AudioEye supports modern content management software (CMS) that allows inserting code into it such as WordPress, Wix, Squarespace, Shopify, Weebly, among others.
AudioEye Managed gets the biggest support due to its high-level plan. You can get access to continuous fixes and up to $50,000 in warranty.
Audio provides 24/7 Help Desk for the AudioEye Pro and its bigger plans, a lot of video demonstrations including a detailed installation video. Overall, customer support is top-notch. Here:
| How-to instructions | Live chat | Phone | Email | Address |
| --- | --- | --- | --- | --- |
| Yes | No | Yes | Yes | Yes |
Why AudioEye? Pros and Cons
AudioEye combines advanced automated testing with manual accessibility testing, auditing, and remediation, maintenance, and monitoring to join the very few automated solutions that can boast of guaranteeing full compliance. Let's look at some of the positives and negatives:

PROS:
Automated accessibility solution to ADA, Section 508, and WCAG 2.1 AA compliance

Provide compliance (100%) via automated and manual adjustments 

Continuous compliance regardless of updates (auto-remediation)

Customizable toolbar (e.g. font size, color contrast, etc.)

Compliance without affecting the performance of the site

Compatibility with modern CMS

Accessibility certificate

Warranty of up to $50,000 (USD)
CONS:
High recurring subscription pricing

Toolbar alone cannot provide compliance

No live chat for quick support or installation instructions
The Final Verdict On AudioEye
Amongst the automated solutions providing full accessibility compliance, combining both automated and manual efforts, AudioEye has very few rivals. Their suite of products is designed to remove web barriers, enhance the user experience for people with disabilities, and provide sustainable accessibility solutions for digital content. 
They software-scan website and web app to identify and resolve a good amount of issues automatically, then AudioEye's development team further performs manual accessibility testing, also making use of various assistive technologies.  The reports and recommendations from these audits are then used to perform full remediation of the web content ensuring they align with WCAG 2.1 Level AA and Section 508 regulations.
The AudioEye accessibility software provides a customizable user experience to all site users and it can work across multiple platforms. The Toolbar has the keyboard friendly menu functions to enable page-to-page navigation, skip to the main link to make navigation easier, has large and clear focus indicators, provides alt text to properly describe images, a screen reader for those who prefer audible experiences, and provides a nice voice-over to allow users to access the web with a voice command.
Although one can argue it doesn't have the most features in the market, The toolbar has just enough with allowance for modification of font sizes, the spacing between words, letters, or rows, or even change colors and contrast and fix headings that are out of order.
It will be important to note that the AudioEye toolbar alone cannot provide compliance. In fact, it can only go as far as 20% automatically.
The more reliable plans- Managed, will have AudioEye's implementation engineers help to reformat links to give proper contextual information. They eliminate the keyboard trap and also ensure the web page announces important alerts and messages. They also immediately address issues of legal demand letters and ADA-related requirements with its speed-to-compliance operations.
AudioEye's recurring fee even after your compliance in the first year is a big concern but their ongoing monitoring for compliance and warranty should you run into trouble easily making them one of the market leaders among the hybrid web accessibility solution providers.
Do I recommend it? YES.