Access ramp and disabled access lifts are provided in buildings to facilitate universal access. Similarly, digital properties (websites, applications, documents, etc) must be accessible to people with disabilities to enable them to independently participate fully in all digital aspects of life.
Accessibility can be expensive! This is not even a debate. The only reasonable, cost-effective way to get by in terms of ROI is by being proactive about the approach. This is by designing and developing your website following the Web Content Accessibility Guidelines (WCAG) 2.0/2.1  A/AA. Just like building code facilitates universal access by governing the construction of new public facilities, the WCAG guidelines represent the international standard for web accessibility.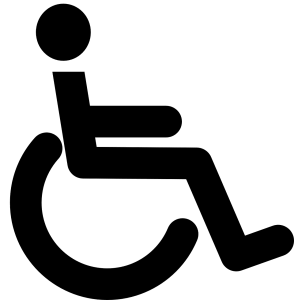 Now, making your site accessible brings many advantages, all of which can help grow your business. Apart from the significant fact that you would be preventing loss due to legal fees, including the annoying settlement costs, having accessible digital assets has an impressive spillover effect. It can either increase or decrease your site's usability across the board, as well as capture or irk low-bandwidth users. Your accessible site can make or mar your brand image, woo, or deter users with disabilities and the aging populace together with their relatives. This is apart from the fact that making your ICT accessible would allow your organization to work with US Local, Municipal, and Federal government agencies, governments of EU member states, and other countries that have digital accessibility laws with a wide reach that covers vendors, contractors, and partners of these agencies.
Before we dive in, it is crucial to note that for digital accessibility to have a business case, it must either be saving a reasonable amount of money or earning it. This article only presents the most durable cases that represent value when you give disabled access by making your website accessible to individuals with disabilities.
Here we go.
1
Stay Within Legal Requirements
You are legally required to be compliant! Section 508 covers Information and Communications Technology such as websites, multimedia, documents, and many more in America. Be sure to check if your market is affected by the article.
While we can not outrightly claim to make your website accessible or providing disabled access can spring up your return on investment (ROI) immediately, given the increasingly high chance of getting sued for not having an accessible website and with settlements as high as hundreds of thousands of dollars, the decision becomes an easy one to make. America's drastically rising federal lawsuits filed in response to web inaccessibility is a good case, you as well want to stay compliant with EN 301 549 if you serve European federal agencies. At the same time, the upcoming AODA, among other Canada accessibility legislation, comes with big bucks as noncompliance fees as many countries move to eliminate barriers persons with disabilities face when accessing ICT. Hey! And you would still have to make the website accessible.
In other words, one thing is sure with accessibility – waiting for a lawsuit before beginning your accessibility journey takes more resources than it needs to. You would be spending more money and time as well as suffering damages to your brand reputation. 
Simply put, making your website accessible saves you money by reducing your legal risk.
2
Capture Persons with Disabilities and Improving Brand Image
When done right!
Disabilities figures around the world are too huge to ignore, and so is their buying power. About 15% of the world's population lives with a form of disability. 20% of the American population suffers from various types of impairment, including mobility, sensory disability, and cognitive disorder. This group has $175 billion to spend in discretionary spending, According to the DoJ report.
So what do I mean by when done right? 
The cold truth is your audience with disabilities might not necessarily know your site is an accessible alternative to your competitors. This is what you have to leverage by creating marketing campaigns around your effort around accessibility.
On creating or improving your website's accessibility, you can successfully make a business case for your effort by marketing directly to the disabled community. When you publicize it well, you can surely capture people with disabilities, including their family and friends, who are likely to use the website. Eventually, you would be adding new customers, increasing long-term value, and increasing your brand image or reputation.
3
Capture Aging Populations and Improving Brand Image
Again, when done right.
Like the disabled population, America's Baby Boom generation (born between 1946 and 1964) is estimated at 73 million, representing 20% (percent) of the American population. The economically powerful age group in the U.S. holds $2.6 trillion in buying power. The report also confirmed that the second largest age group is more than twice as likely as any other age group to prioritize product labels that provide the information they can better understand.  
Don't be surprised the most economically influential generation may as well not know your site is designed to accommodate them compared to your competitors. Apart from the fact that they are more likely to prioritize products and websites that support them, their spending habits have changed. They are now making more purchases online via computers, smartphones, and other devices, which is great for an age group responsible for more than half of U.S spending.
Again, creating marketing campaigns and business plans aimed at seniors aged 56 and above! You won't only be preventing your customers from going over to a competitor; this will see you add new customers, increasing your chance of retaining their family and friends, and growing your brand image. Penetration.
Search engines love/fancy accessible sites but hold on. Having an accessible website can increase traffic, but it can only lead to value when the site can convert traffic to a business.
Making your website accessible means effective use of headings, unique page titles, clear and descriptive link texts, provision of text alternatives, focus control, better error handling, better form labels, creating easy navigation, and more, which also cut across SEO (Search Engine Optimization) best practices. This means when accessibility is combined with usability principles (link to What is Usability? How Does it Relate to Accessibility article), the accessible website will become more functional, provide a better user experience, increased usability, and can be more easily crawled by search engines, become more relevant, competitive, and better ranked in SERPs (search engine results pages). 
While this is only a fragment of the WCAG techniques, it sure can lead to an increased audience, but mind you, the real value of benefits is the ability of the website to convert that traffic into money.
5
Because Providing Accessibility is the Right Thing To Do
The destination!
Think about it, if the PR is properly done, providing disabled access and user-centered design fits justly within Corporate Social Responsibility.
If you can manage to send a positive message about your organization's social responsibility toward those it serves, you will be ensuring your reputation stays positive. Hence, a better chance to attract and retain customers and employees and a better relationship with the media.
And if making your website accessible will increase your general audience, sway a bulk of people with disabilities and the aging population to prioritize trying or using your website for products and services (when targeted marketing effort is carried out to discuss your efforts around accessibility), there will be an increase in sales or conversion which then translates to a good Return on Investment (ROI) on accessibility.
With digital accessibility, always remember the ROI first of all lies in doing it right the first time. When this is done, let the marketing campaign begin!. We have summarized all of the above in a simple infographic…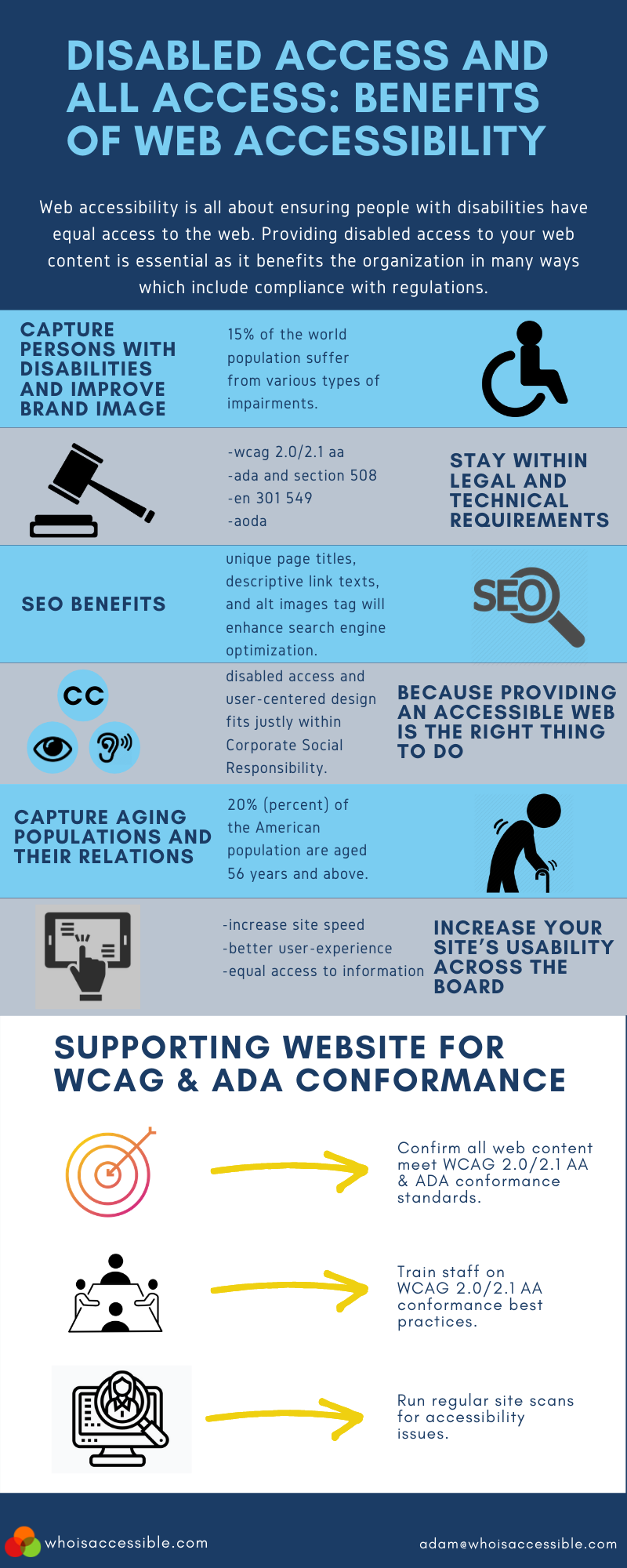 Description
Title: DISABLED ACCESS AND ALL ACCESS: BENEFITS OF WEB ACCESSIBILITY
Web accessibility is all about ensuring people with disabilities have equal access to the web. Providing disabled access to your web content is essential as it benefits the organization in many ways which include compliance with regulations.
CAPTURE PERSONS WITH DISABILITIES AND IMPROVE BRAND IMAGE
15% of the world's population suffer from various types of impairments.
STAY WITHIN LEGAL AND TECHNICAL REQUIREMENTS
WCAG 2.0/2.1 aa
ADA and Section 508
EN 301 549
AODA
SEO BENEFITS
unique page titles, descriptive link texts. and alt-image tags will enhance search engine optimization.
BECAUSE PROVIDING AN ACCESSIBLE WEB IS A RIGHT THING TO DO
disabled access and user-centered design fit justly within Corporate Social Responsibility.
CAPTURE AGING POPULATIONS AND THEIR RELATIONS
20% (percent) of the American population are aged 56 years and above.
INCREASE YOUR SITE'S USABILITY ACROSS THE BOARD
increase site speed
better user-experience
equal access to information
SUPPORTING WEBSITE FOR WCAG & ADA CONFORMANCE
Confirm all web content meets WCAG 2.0/2.1 AA & ADA conformance standards.
Train staff on WCAG 2.0/2.1 AA conformance best practices.
Run regular site scans for accessibility issues.