Design for all, design for one!
Conceived in 1994, the World Wide Web Consortium (W3C) is an international community of member organizations that articulates web standards and guidelines so that websites look and work the same way for everyone. Its mission is to develop standards, web languages, protocols, and guidelines that ensure the web's long-term growth.  
W3C develops these technical blueprints and guidelines through several processes and then generates standards, which are also known as recommendations. These standards are therefore important to ensure the web works equally well for everyone, regardless of their location or technology.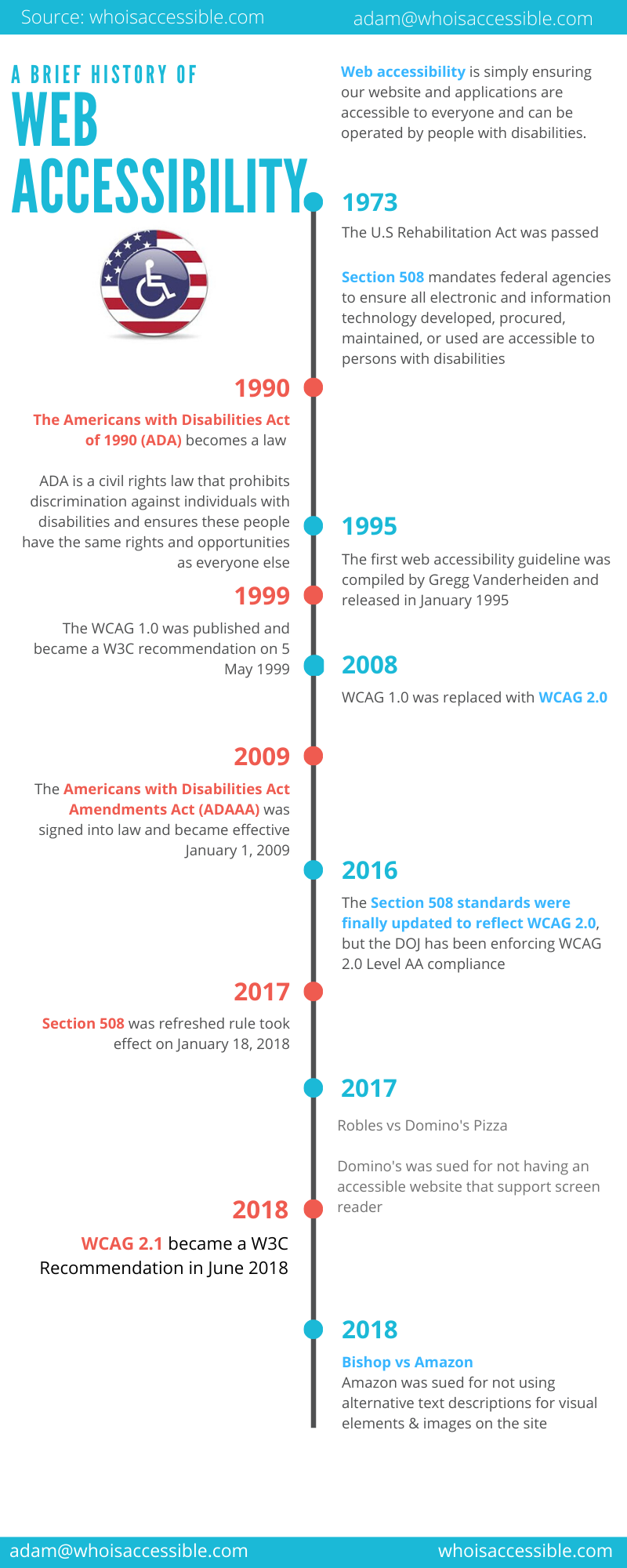 Infographic of the History of Web Accessibility 
Text Description of Infographic 
Web accessibility is simply ensuring our website and applications are accessible to everyone and can be operated by people with disabilities.
1973: The U.S Rehabilitation Act was passed
Section 508 mandates federal agencies to ensure all electronic and information technology developed, procured, maintained, or used is accessible to persons with disabilities.
1990: The Americans with Disabilities Act of 1990 (ADA) becomes a law
ADA is a civil rights law that prohibits discrimination against individuals with disabilities and ensures these people have the same rights and opportunities as everyone else.
1995: The first web accessibility guideline was compiled by Gregg Vanderheiden and released in January 1995.
1999: The WCAG 1.0 was published and became a W3C recommendation on 5 May 1999.
2008: WCAG 1.0 was replaced with WCAG 2.0.
2009: The Americans with Disabilities Act
Amendments Act (ADA) was signed into law and became effective on January 1, 2009.
2016: The Section 508 standards were finally updated to reflect WCAG 2.0, but the DOJ has been enforcing WCAG 2.0 Level AA compliance.
2017: Section 508 was refreshed rule took effect on January 18, 2018.
2017: Robles vs Domino's Pizza
Domino's was sued for not having an accessible website that supports screen readers.
2018: WCAG 2.1 became a W3C Recommendation in June 2018.
2018: Bishop vs Amazon: Amazon was sued for not using alternative text descriptions for visual elements & images on the site.
Out of its commitment to making the web inclusive by promoting a high degree of usability for people with disabilities, W3C created the Web Accessibility Initiative (WAI) as an initiative in 1997. 
WAI also develops its work through W3C's consensus-based process, by involving web accessibility stakeholders from industry, universities, disability organizations, government, and accessibility consultancies, among other experts. 
WAI has several working groups and interest groups working on guidelines that relate to the several different components of web accessibility. Among these groups is the Accessibility Guidelines Working Group (AG WG) which enacts guidelines and provides technical reports relating to the accessibility of web content. One of WAI- AG WG guidelines and standards is WCAG- a specification of guidelines for making web content accessible to people of all abilities, including people with disabilities.
The W3C standards focus on improving issues around accessibility, privacy, security, and internationalization while helping to balance speed, fairness, and quality on the internet. The guidelines ensure websites can work on any browser and can be accessed via smart devices such as mobile phones, screen readers text browsers, and other devices. As website owners, they help us to help our website and web application users. All at no cost.
W3C guidelines are largely the reason the web works so efficiently today and will work even better in the future if adhered to; by web developers, designers, and users. For web accessibility, these developers will rely on components such as:
Web content (text, images, forms, and multimedia)

User agents – software used to access web content (multimedia players, plug-ins, assistive technologies, etc.)

Authoring tools – software used to produce web content (code editors, document conversion tools, content management systems, etc.).
1
The WCAG Levels and Guidelines
The Web Content Accessibility Guidelines (WCAG) were first published as a W3C recommendation in 1999 as WCAG 1.0, a set of guidelines or specifications of recommendations for making web content more accessible. Web content here refers to any information you may find on a website; including text, images, video, forms, sound, code, or markup that defines a structure, or presentation, regardless of the site they were produced.
The WCAG working group (WCAG WG) published WCAG 2.0 in 2008 as an extension of WCAG 1.0. However, in 2018, additional recommendations were published by the WCAG working group and WCAG was updated to 2.1. 
The WCAG 2.0 and WCAG 2.1, however, are both relevant and referenceable technical standards in that they both cover a wide range of recommendations for making Web content more accessible. These guidelines are organized under 4 principles: 
Perceivable – web content must be presentable to users in ways they can perceive.

Operable – all users regardless of their disabilities must be able to navigate the user interface.

Understandable – web content should be easily readable and understandable by users.

Robust – web content must be interpretable by all users, including assistive technologies.
These guidelines are further reiterated by the W3C who warned that the basis for determining conformance to WCAG 2 is the success criteria from the WCAG 2 standard.
Meanwhile, for each of the WCAG 2.0. Guidelines 4 principles, there are testable success criteria, which are at three levels: A, AA, and AAA.
[Want to know how web accessibility standards differ? Read this 👉Section 508 vs WCAG]
2
WCAG 2.0 Guidelines Levels A, AA, and AAA
Now that we've established that the WCAG 2.0 guidelines exist to help make your site and app accessible to anyone and everyone so that people with disabilities can also get the most out of your content and access the information you want them to know, for each of those WCAG 2.0 guidelines, testable success criteria are administered so WCAG can be used where requirements and compliance testing are necessary. 
To meet the needs of various groups and distinctive situations, three levels of WCAG conformance are construed: A (minimum), AA, and AAA (maximum) with the WCAG 2.0 Level AA being the standard accepted, realistic, and most flexible level of conformance.
Not complying with this level of the standard could alienate users with visual, dexterity, cognitive, or even hearing impairments and land you in legal trouble…we'll get to this point later. Hence, since every person who visits your site is different, it is important to consider users who may need modifications or accommodations. So let's get started with the WCAG 2.0 AA accessibility checklist.
3
Ensuring WCAG 2.0 Level AA Compliance
Web accessibility is the inclusive practice of ensuring users with disabilities can access the content. It ensures your website and web applications are accessible to everyone and can be operated by anyone.
Developers hence must not assume everyone can experience the site the same way as they do, and consider users experiencing some type of impairment or disability, whether situational, temporary, or permanent. This way, websites, and web applications will be correctly designed, developed, and edited, all users will then have equal access to information and functionality.
Like the intermediate WCAG (AA) compliance level as shown, addressing accessibility will ensure people with disabilities are not denied the simplest conveniences and things will be better for everyone.  Conformance will also allow over 1.3 billion people with disabilities globally (15% of the world population), who were previously excluded from easily using your digital content can enjoy the internet like everyone.
It also helps an organization meet different accessibility laws such as the Americans with Disabilities Act (ADA), Section 508, European Union Standard- EN 301549 among international accessibility standards, thereby protecting your organization tens of thousands of dollars in increasingly emerging lawsuits and protecting your reputation.