PROS:
Custom web accessibility tools
A manual and automated solution for full compliance
A tailored solution to each business needs
Ongoing compliance monitoring
Customizable interface to the user's preference
Custom accessibility statement generator
CONS:
Accessibility toolbar alone cannot provide compliance
Few resources to boost support
Monsido Review
What is Monsido?
Founded in 2014, Monsido is a prominent one-stop platform for complete web optimization, accessibility, and maintenance. They provide tools for Web Accessibility, Content Quality Assurance, Data Privacy, SEO, Website Performance, and more. 
For their web accessibility solutions to achieve accessibility compliance., Monsido provides an automated accessibility testing tool and an automated accessibility toolbar. The testing tool is used to automatically scan your website for accessibility errors against the Web Content Accessibility Guidelines (WCAG 2.1 AA) standards. The on-screen accessibility toolbar presents a set of tools that website visitors can apply to change the appearance of the site. It provides features to alter contrast, increase size, spacing, or type of fonts, pause animations, etc.
Other than providing help to seamlessly integrate accessibility into your development lifecycle with its tool, Monsido also provides accessibility training and PDF remediation services. Let's evaluate Monsido's web accessibility solutions.
Monsido Service(s) and Features
Monsido basically provides a series of web accessibility tools including a web testing tool and a website accessibility toolbar to enable organizations to improve digital presence. 
Monsido's web accessibility testing tool provides an automated audit of the site to discover accessibility issues. The tool provides an overview of the website's condition against the international web accessibility standard- WCAG 2.1 AA, as well as recommendations on how to address those issues. Beyond testing live websites, the tool can be used to evaluate the website during the development process to ensure accessibility issues are detected in time for quick resolving. Monsido's tool also provides a dashboard overview of accessibility issues, allows for tracking of progress, and allows access to extensive support through resources and expert help. 
Monsido's evaluation tools to determine website accessibility compliance includes PDF scanner and Color Contrast Checker. Powered by CommonLook, a leader in document accessibility compliance, the accessibility add-on tool scans digital PDFs to resolve issues such as proper tagging of images, tables, forms, and other non-textual objects to make your documents compliant with the ADA Title III, Section 508, EU Web Accessibility Directive- EN 301 549, and other accessibility standards. The Color Contrast Checker is a tool that quickly tests the contrast of your background and text for accessibility and WCAG compliance. This is particularly useful for users with difficulty reading and color-blinded users. Monsido's Accessibility Statement Generator is one of my favorites. It helps organizations display their commitment to achieving web accessibility through the easy-to-create WCAG-compliant accessibility statement.
Other than the testing tool, Monsido's Compliance Shield offers a suite of automated tools that can be used to make targeted improvements immediately for improved user experience. PageAssist is an accessibility toolbar while PageCorrect gives website owners the ability to fix issues directly on the Monsido platform.
The Monsido PageAssist is a classic toolbar overlay that can be added to the website to allow visitors to change the way they experience your site. The add-on feature complements your web accessibility efforts by offering accessibility features to improve usability and access to content. PageAssist provides features such as: 
Contrast modification

Enlarged cursor

Highlight elements such as links, headings, and buttons

Word spacing

Text magnifier

Hide animations and images

Turn CSS on/off

Reading guide
Let's access the PageAssist toolbar on the Monsido website…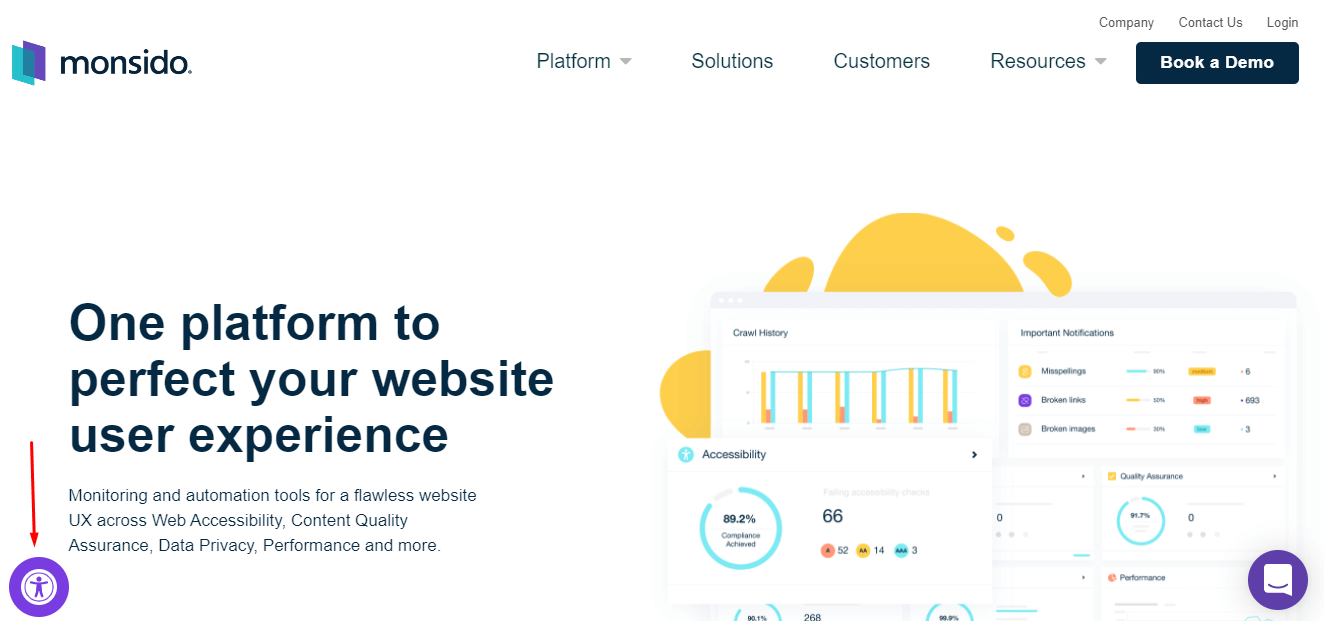 Monsido's PageAssist toolbar is provided at the bottom left side of the web page with an accessibility icon.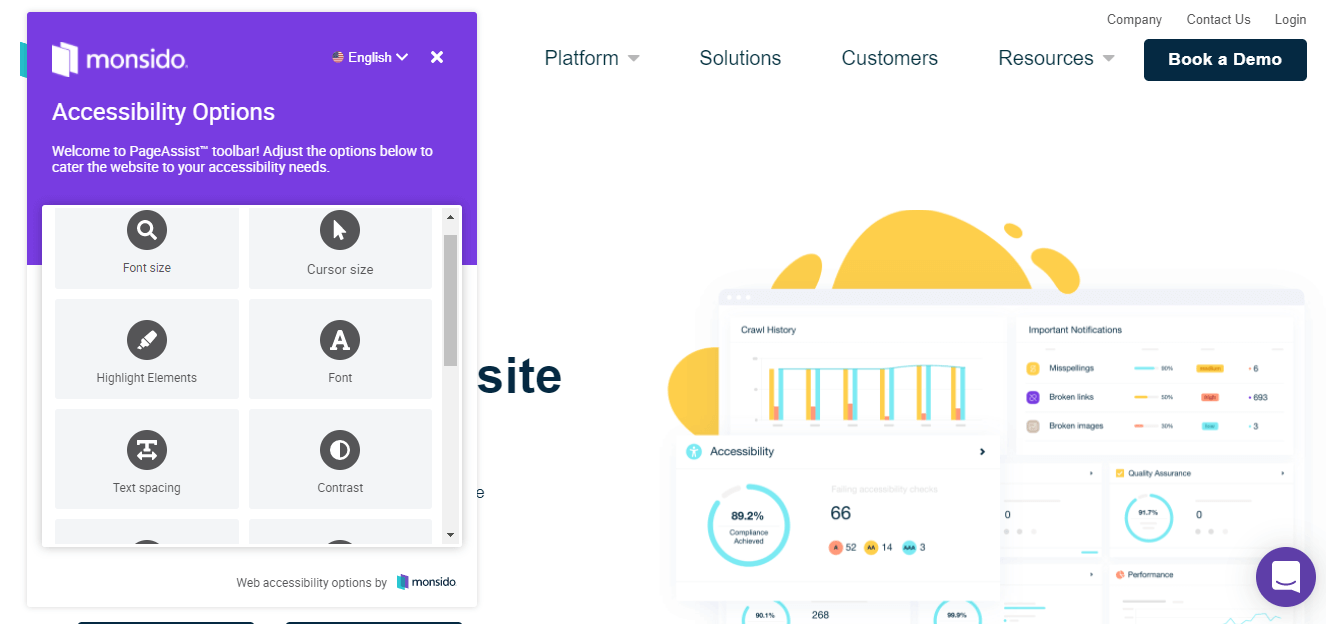 PageAssist accessibility toolbar is opened in the image above providing features to modify web pages and content. Let's make use of the contrast feature on the toolbar…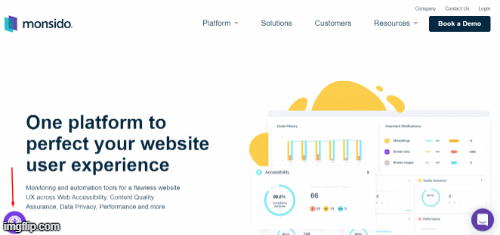 Monsido PageCorrect is a platform that allows web managers to address accessibility and quality assurance issues without needing to log in to your content management system (CMS). The tool allows you to fix missing ALT (alternative) attributes and improperly used HTML header elements, fix misspellings, and repair broken links and images, etc.
Monsido Pricing
Monsido has different pricing for its various tools (Automated accessibility audit tool and Compliance Shield) and services. The services are usually tailored to the organization's accessibility requirements (comprehensive audit, remediation, training, or consultation).
Monsido Platform and Support
Monsido's Accessibility solution allows you to build accessibility into your development cycle through automated assessment against WCAG, the result of which you can use to remove errors. Monsido's accessibility testing tool allows your I.T team to access top-level support to resources and accessibility expert help through a built-in Help Center. They help you understand compliance violations and how to remove them in line with the industry's best practices.
On reaching out, Monsido's specialists will add your site to their platform to scan it (can be tailored to your needs) to identify accessibility issues on the site and run you through the impact and how to move forward. 
PageAssist can easily be installed like any other accessibility toolbar- by embedding a Javascript installation code into your site's HTML. The toolbar overlay is easily customizable and does not affect the speed of your page.
Here…
| How-to instructions | Live chat | Phone | Email | Address |
| --- | --- | --- | --- | --- |
| Yes | Yes | Yes | Yes | Yes |
Why Monsido? Pros and Cons
Monsido offers a range of accessibility software solutions along with manual expert intervention in audit, on-demand remediation, consulting, and training to ensure your digital properties are accessible to persons with disabilities and compliant with standards. Let us examine some identified pros and cons:
PROS:
Custom web accessibility tools

A manual and automated solution for full compliance

A tailored solution to each business needs

Ongoing compliance monitoring

Customizable interface to the user's preference

Custom accessibility statement generator
CONS:
Accessibility toolbar alone cannot provide compliance

Few resources to boost support
The Final Verdict On Monsido
Monsido is one of the fast-growing names in the accessibility industry with its all-in-one software solution for starting, improving, and perfecting website accessibility compliance. 
The notable one being the automated testing tool that identifies accessibility and quality assurance issues while providing insightful information. Monsido also provides comprehensive manual audit service along with automated testing, with a report and support that guides your team through the remediation process and ensures compliance with accessibility standards and legal requirements. The website scanning tool certainly helps build accessibility into your process, and at the same time useful for ongoing compliance monitoring by allowing you to quickly identify and fix low-level compliance issues to minimize risk.
Like any other automated accessibility testing tool, Monsido's website scanning tool has its limitations-it cannot fully test for all of the WCAG 2.1 success criteria. It is important to note that subscribing for automated scans and remediating based on it is enough for accessibility compliance. 
Another notable tool from Monsido's Compliance Shield is the accessibility toolbar – PageAssist. The toolbar overlay allows your website visitors to change fonts, space, and increase text, alter contrast, among many other accessibility features to enable them to experience the website in a way that best suits their individual needs.
Compliance Shield tools (PageAssist and PageCorrect) are not designed to be solely used for website compliance and shouldn't be. Rather, support remediation effort and improve accessibility and user experience.
Monsido's toolkit has the suite of tools and features to take you far in improving website user experience and perfecting your journey to compliance but the ideal thing is to audit your site to identify the accessibility status and remove barriers for WCAG 2.1 and ADA compliance.
Facebook
Twitter
Linkedin
Email