PROS:
Free automated accessibility solution
A customizable toolbar
Does not affect the performance of the site
Accessibility statement
CONS:
Does not make a website accessible
Only limited to website
Does not protect against a potential lawsuit
No ongoing compliance monitoring
Only integrates with WordPress websites
enable Review
What is enable?
Making the rounds among automated website tool-based overlays or accessibility plugins is enable, an open-source software (free plugin) for WordPress sites, and a Google Chrome plugin.
enable's free accessibility plugin is a pseudo-assistive technology with a number of accommodations that your website visitors or anyone with a disability is supposed to use to make changes to the website to suit their disability needs. The tool-based overlay provides features that could benefit people with impairments such as highlight links, magnified black or white cursor on the web page, accommodation to magnify and contract the web page, increase and decrease of fonts, alteration of contrasts, etc.
The good part is the enable accessibility solution wants you to know "installing the plugin is not a substitute for making accessibility modifications in the body of the website". Let us gradually understand their offering.
enable Service(s) and Features
enable is strictly an automated website accessibility solution that offers free tool-based overlay for WordPress website or a Google Chrome accessibility plugin.
That fact that the enable plugin as gained ground and becomes desirable to small and medium businesses is not rocket science. The plugin is free, fast, and easily customizable without any necessary expert knowledge, and doesn't require download. Once set up, enable toolbar will instantly provide accommodations to website users from the front-end to make modifications that suit their impairment(s), hence increased usability and accessibility compliance.
The automated accessibility solution functions like other popular and free tool-based overlays we're familiar with such as Adally. Let's access the accessibility widget on enable's website.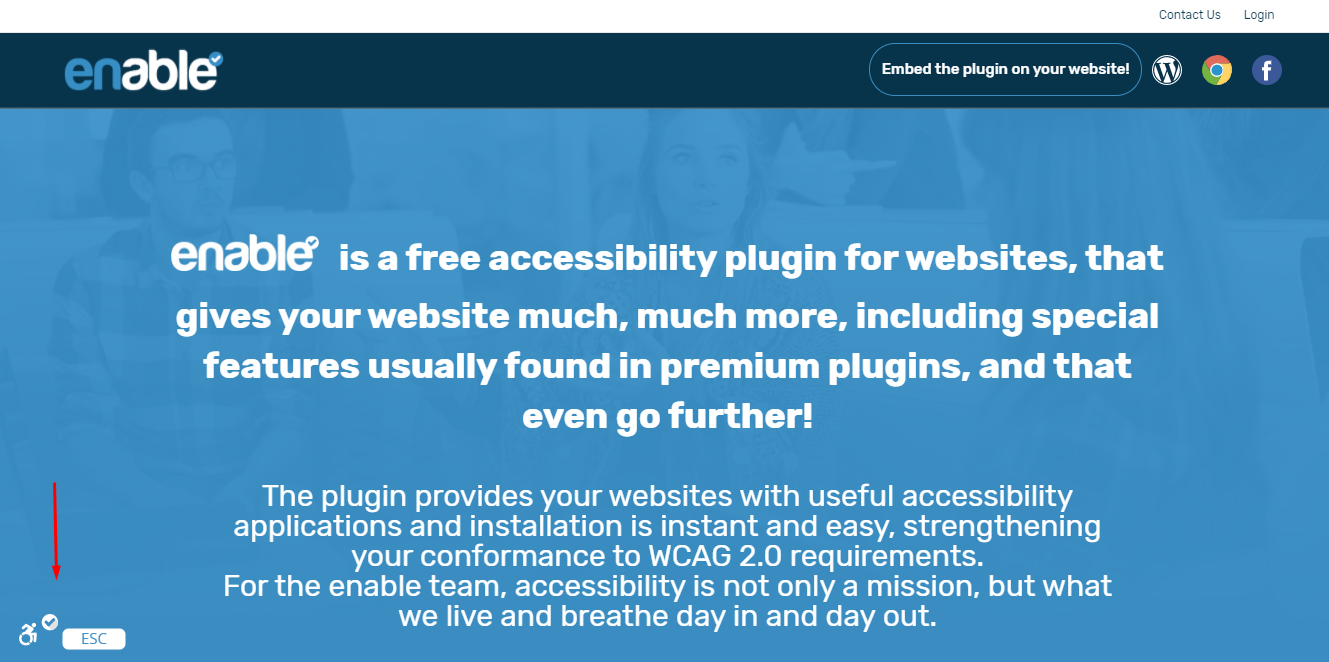 enable toolbar is provided at the bottom-left corner with an accessibility icon. The toolbar provides features that web users, including persons with disabilities, can use to modify the web page outlook.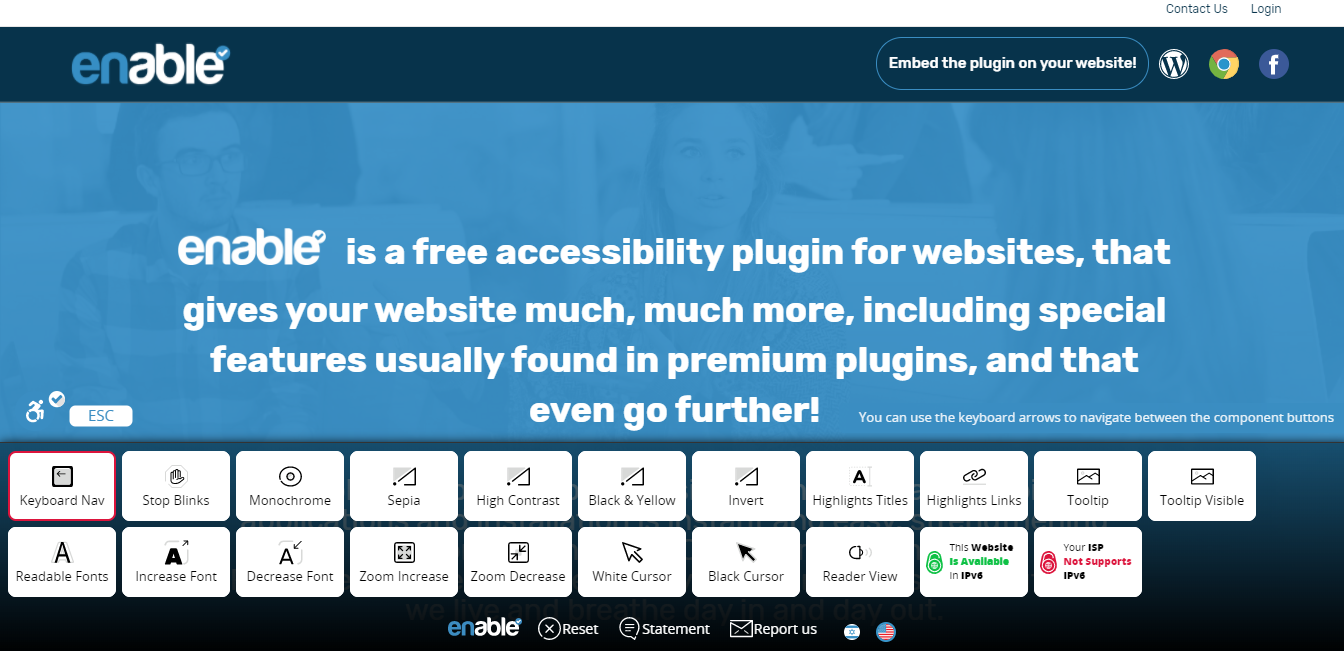 The enable accessibility toolbar is opened in the image above and we can now make use of the features. The widget has about four different contrast feature, let's make use of a contrast feature and increase font at the same time…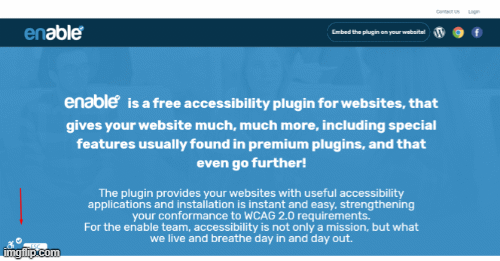 The toolbar has features such as::
Screen reader with speed adjustments

Keyboard navigation

Cursor modifier

Adjust the text size

Contrast and color modifier

Pausing animations and flashing GIFs

Adjust font legibility

Highlight link, and titles

An accessibility statement

Built-in feedback form
Nothing new here. enable expects businesses to embed the plugin in order to better the experience of people with disabilities. While the toolbar can allow modifications, it doesn't scan to ensure ongoing compliance monitoring. Unlike more advanced toolbars like UserWay or AccessiBe, enable does not auto-scan or auto-remediate. 
NB: Before I break the effectiveness and efficiency of the enable solution in the final verdict section, it is important to confirm enable's affirmation that having the accessibility plugin on your site should not replace accessibility modifications at the code-level of the website. Hence, they use words like "strengthening your conformance to WCAG 2.0 requirements."
enable Pricing
enable's website accessibility plugin for WordPress and accessibility toolbar extension for Google Chrome are free with no restrictions or limitations on the number of websites. Free as in $0.00.
enable Platform and Support
enable accessibility toolbar can easily be downloaded and added as an extension for Google Chrome. One can also install the toolbar-overlay by adding and activating it on WordPress. It automates accessibility accommodation by embedding a few lines of code directly into your website's HTML without interfering with the source code. enable toolbar apparently does not integrate with other popular content management software such as Wix, Squarespace, Magento, HubSpot, Shopify, and Weebly.
As a free toolbar, all website owners need to do is to download and install on the website. Although installation can be pretty straightforward, a well-detailed guide won't do any harm and can come handy for non-technical site administrators. Nonetheless, enable attend to technical issues, bugs, or malfunctions via web inquiry.
Here…
| How-to instructions | Live chat | Phone | Email | Address |
| --- | --- | --- | --- | --- |
| No | No | No | Yes | No |
Why enable? Pros and Cons
enable solely employs the automated plugin approach to website accessibility but it confirms this way should not substitute making code-level modifications in the website for true accessibility solution to make your website fully accessible and compliant with regulations. Let's highlight some of the positives and negatives:
PROS:
Free automated accessibility solution

A customizable toolbar that improves usability(e.g. font size, color contrast, etc.)

Does not affect the performance of the site

Accessibility statement
CONS:
The toolbar-overlay does not make a website accessible

Only limited to website and not mobile applications

It does not protect against a potential lawsuit

No ongoing compliance monitoring

Only integrates with WordPress websites
The Final Verdict On enable
enable offers an automated method to accessibility with its free toolbar-overlay. Here though, like most of its pairs, only provide accessibility solutions for websites. Even worse, only WordPress websites. Hence, clearly not for organizations with multiple digital assets such as native mobile applications.
Focusing on the toolbar, the accessibility plugin easily provides accommodations that allow users to alter the color contrast of the website, and add a focus indicator although the majority of those usability features can be found in the web user's browser accessibility menu. That aside, the toolbar is at its best, a band-aid over a gaping wound, and doesn't solve your accessibility issues. It won't provide ALT image texts where missing, it cannot add missing complex keyboard interactions, and could sometimes make web experience worse for the user when it doesn't flow well with the entire experience. More so, since it is not AI-powered (see Allyable) and with no set of rules, enable accessibility plugin cannot discover technical problems and hence, can't fix them. 
enable's free accessibility plugin for websites may successfully address a limited scope of accessibility issues but won't make your website meet the WCAG 2.0 AA, Section 508, or EN 301 549 requirements and definitely not compliant with the Americans with Disabilities Act (ADA) or any specific web accessibility law.
Failing to make your website compliant is one, staying compliant is another. enable's website accessibility plugin does not have the capacity for ongoing scans and auto-fixes, unlike advanced solutions. Even this is debatable among the so-called AI-powered tools. Hence, should be about building your organization's accessibility capacity or in any case, paid for.
Good thing is that enable solution has been careful about is their communication. They use words such as "strengthening your WCAG 2.0 conformance" and advocate for making accessibility modifications in the body of the website. Could be that they are trying to tell businesses to make their website accessible by writing code that is accessible on its own and then install the enable toolbar. One can only hope their customers understand the cryptic message.
Facebook
Twitter
Linkedin
Email