You probably are new to web/digital accessibility and have many questions unanswered on a not-so-easy journey to making your site accessible and compliant. If your question relates to the below and more, this article has covered you. 
The infographic below provides a simple guide to helping you understand what web/digital accessibility compliance is: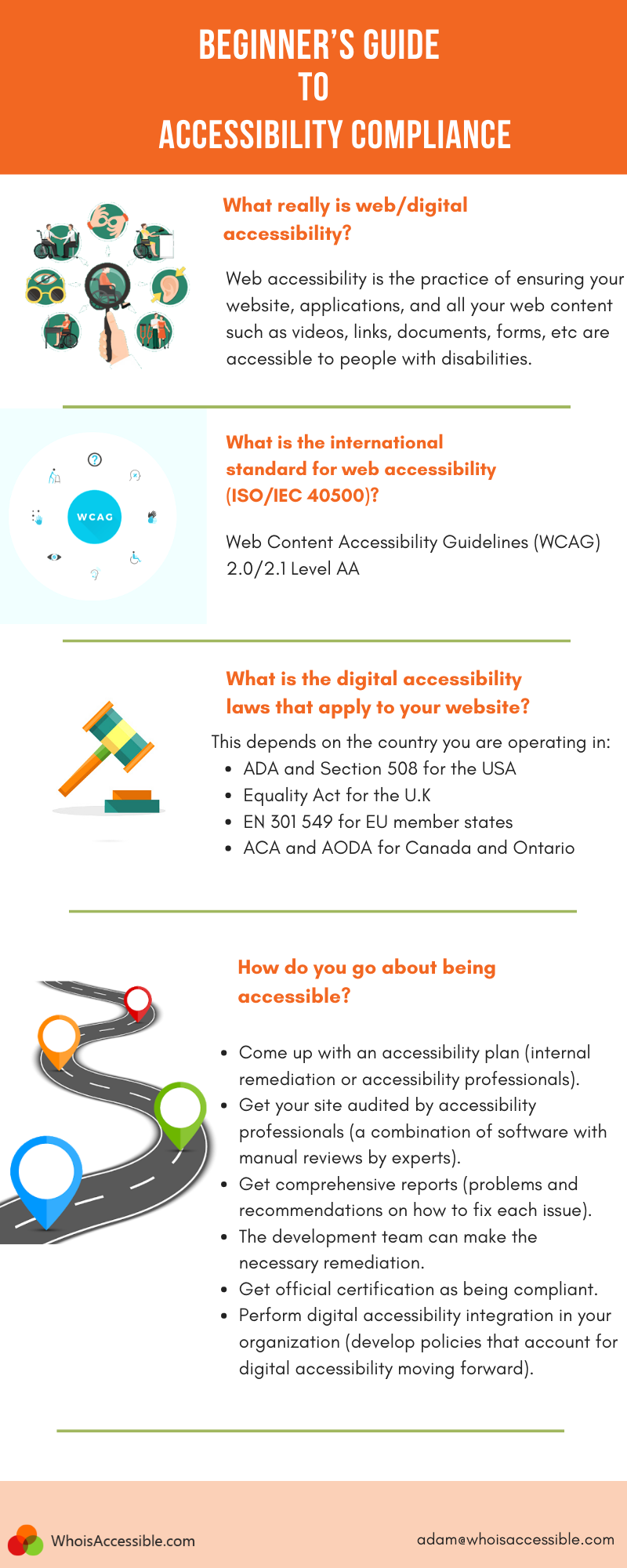 Infographic Title: BEGINNER'S GUIDE TO ACCESSIBILITY COMPLIANCE
What really is web/digital accessibility?
Web accessibility is the practice of ensuring your website, applications, and all your web content such as videos, links, documents, forms, etc, are accessible to people with disabilities.
What is the international standard for web accessibility (ISO/IEC 40500)?
Web Content Accessibility Guidelines (WCAG) 2.0/2.1 Level AA
What are the digital accessibility laws that apply to your website?
This depends on the country you are operating in:
ADA and Section 508 for the USA
Equality Act for the U.K.
EN 301 549 for EU member states
ACA and AODA for Canada and Ontario
How do you go about being accessible?
Come up with an accessibility plan (internal remediation or accessibility professionals).
Get your site audited by accessibility professionals (a combination of software with manual reviews by experts).
Get comprehensive reports (problems and recommendations on how to fix each issue).
The development team can make the necessary remediation.
Get official certification as being compliant.
Perform digital accessibility integration in your organization (develop policies that account for digital accessibility moving forward).
Welcome! Let's get into this proper!
1
What do you know about web/digital accessibility?
Let's start with the basics…
What is Web Accessibility or Digital Accessibility?
Web accessibility is the practice of ensuring your website or web applications and everything on it are accessible to people with disabilities. This includes all web content such as text, audio, videos, links, documents, forms, etc. 
In 1999, the World Wide Web Consortium (W3C), through its working group, the Web Accessibility Initiative (WAI) released the Web Content Accessibility Guidelines (WCAG 1.0) – the first version of the international standard for web accessibility.
WCAG is built on four principles to ensure that websites are accessible to everyone. It states that they must be Perceivable, Operable, Understandable, and Robust. Learn more about the P.O.U.R WCAG principles in this article.
WCAG 2.0 was released in 2008 and an updated version (WCAG 2.1) in 2018. Both versions set the acceptable compliance standard of Level AA (Intermediate). You can learn more in our extended guide –  How W3C and WAI Standards Help Create Accessible Designs.
Pro Tip: Web/digital accessibility is the practice of making your website and its contents accessible to everyone, including people with disabilities. The Web Content Accessibility Guidelines (WCAG) is the international standard for web accessibility.
2
Which web accessibility laws and regulations apply to your website?
About one billion people live with some form of disability. For context, that's 15% of the world's population. These individuals also have the right to equal access to your website, mobile app, or other digital technology. 
As a result, several countries have enacted accessibility laws to protect the human rights of people with disabilities and to ensure they can enjoy equal access to content on the web. 
In the U.S.A., for example, the Americans with Disabilities Act is a non-discrimination law that protects 20% of the American population who have disabilities. 
Also, Section 508 of the Rehabilitation Act is a digital accessibility law that mandates US government agencies and their vendors to ensure all information communication technologies and products, including websites, are accessible.
Similarly, among the EU member states, the European Accessibility Act and EN 301 549 are digital accessibility standards that aim to remove access barriers to products, services, and information for people with disabilities.
Canada's web accessibility laws include the Accessible Canada Act (ACA) and the Accessibility for Ontarians with Disabilities Act (AODA). Germany has the Gesetz zur Gleichstellung von Menschen mit Behinderungen (Behindertengleichstellungsgesetz – BGG) or the Act on Equal Opportunities for Disabled Persons.
Countries with digital accessibility laws all reference WCAG) 2.0/2.1 Level AA to make digital content accessible. Each country has its respective deadline and penalties for non-conformance.
Pro Tip: The European Union, the United States, Canada, Germany are some of the regions/countries with web accessibility laws. These laws all heavily reference the international web accessibility standard – WCAG.
3
What's the best approach to building an accessible new website or app or making existing web products accessible?
The best and most cost-effective approach to web accessibility is the proactive method. It's best when done as part of standard development and quality assurance practices. It is important to also conduct regular usability testing with accessibility testing tools. This way, you can ensure an accessible design and development. 
On the contrary, if you already have a website running and you're looking to provide accessibility to the disabled population (ADA accessibility) and compliance with regulations, then congrats! You made the right call.
Pro Tip: Embed accessibility when building and testing your web products. Doing so not only improves access for people with disabilities, but also ensures you remain compliant with web accessibility laws. 
4
How important is it to make my website accessible and WCAG 2.0 Level AA compliant?
It is good you want to make your website accessible. Providing disabled access has many benefits. These include expanding your target audience and avoiding potential accessibility lawsuits and non-conformance penalties.
More so, a website that's inaccessible to people with disabilities is unethical, discriminatory, and generally bad for business
Pro Tip: An inaccessible website or web product puts your organization at risk for non-compliance lawsuits and could damage your brand's reputation.
5
But is your organization already litigated? Facing a deadline to be compliant with the regulation that demands your website must be WCAG 2.0/2.1 AA compliant?
Don't panic. You have to be WCAG 2.0/2.1 Level AA compliant. How do you go about it? I'll break it down. Ask yourself, 'Can my IT team of developers and QA put together an assessment and make necessary changes?' If yes, great!
If your team still requires training on the subject of digital accessibility, it makes sense to outsource to web accessibility solution providers when you have a deadline. You still have to read on to know the process.
First, be certain of the accessibility regulation and deadline that applies to your website – the compliance standard and compliance deadline. Afterward, define the scope of the accessibility project. Finally, adopt accessibility in your organization's internal web/application development and testing process.
Pro Tip: An in-house team of accessibility developers or an outsourced web accessibility expert can help you become and remain compliant with web accessibility laws. 
6
Digital/Web Accessibility Assessment
This is the first step in fixing your inaccessible site or app. It involves evaluating your website to identify barriers that are preventing individuals with various forms of disabilities from accessing it.
Use a trusted automated website accessibility testing tool to audit your site. These tools test against the WCAG 2.0/2.1 standards. Follow up with manual expert testing with assistive technologies to detect critical accessibility issues the automated testing software may have missed. 
Manual tests help you experience and assess the site's content to identify barriers to users with disabilities. After the evaluation is complete, you can generate an audit/assessment report.
It should detail the issues found with in-depth analysis and remediation suggestions to make your website accessible and WCAG-compliant. See our WAVE Accessibility evaluation report to know what to expect.
Pro Tip: A combination of automated accessibility testing and manual testing is the best approach to finding and fixing accessibility issues on your website. 
7
Digital/Web Accessibility Remediation
Remediation is next when you have your accessibility audit or assessment report. If possible, train your developers and quality assurance engineers on best accessibility practices. Otherwise, outsource the entire remediation process to a reputable accessibility expert to guide your team on what to do.
Usually, your assessment report should prioritize the errors and be informative enough to highlight the most critical errors and order of remediation.
In any case, the accessibility expert helps you prioritize issues, create actionable tasks for remediation guidance, assist developers with complex issues, and provide testing instructions to ascertain that each issue has been fixed.
Pro Tip: Train an internal team of web accessibility developers or hire a reputable accessibility expert to find and fix accessibility issues on your website. 
8
Digital/Web Accessibility Validation
Your digital accessibility project must begin and end with an audit. You've assessed and fixed your accessibility issues. But the real solution comes from verifying that your product really is accessible to people with different types of disabilities and complies with WCAG 2.0 Level AA standards.
For your validation assessment, I recommend a full reassessment (accessibility testing tools and experts) to identify accessibility issues that may have been overlooked or caused while fixing an accessibility issue.
Iterations of various tests and fixing are carried out between the Expert-in-Residence and your development team. Get and correctly fill out a Voluntary Product Accessibility Template (VPAT) and Accessibility Conformance Report (ACR) to demonstrate how accessible the site is according to WCAG 2.0 Level AA and regulatory standards.
This will, of course, depend on your preference and needs e.g. VPAT is required by U.S. federal Agencies while organizations in Germany, countries in the EU, and government organizations in the U.K. must publish accessibility statements published on their websites.
Pro Tip: After fixing accessibility issues on your website, get an accessibility statement (VPAT/ACR) to prove your website meets accessibility standards. 
9
Now that your website is ADA accessible, what's next?
Your website can eventually become inaccessible if you do not regularly update it to meet current regulatory standards. This is why you need to set yourself up for success in the long term by training your team of designers, developers, content creators, and QA on maintaining accessibility compliance.
Doing so builds accessibility into your development process and ensures that your projects prioritize accessibility from the get-go. It also ensures that you maintain your websites for accessibility and monitor your compliance level. 
Pro Tip: Accessibility is a continuous process, not a one-off thing. Regularly monitor and update your website for accessibility as often as required.