You probably are new to web/digital accessibility and have many questions unanswered on a not-so-easy journey to making your site accessible and being compliant. If your question relates to the below and more, then this article has got you covered. Read on.
What is really is web/digital accessibility all about?

What are the web accessibility guidelines?

W3C? WAI? WCAG? WCAG 2.0 or WCAG 2.0 Level AA? WCAG 2.1 or WCAG 2.1 Level AA? Section 508? EN 301 549? AODA?

What is web accessibility compliance and why is it important?

Litigated or not? How do you go about having an accessible website and being compliant?

Any help or can it be outsourced?

How do you stay compliant?
Welcome!
1
Do you or your organization have little knowledge about the concept of web/digital accessibility?
What is Web Accessibility or Digital Accessibility? Web accessibility is the practice of ensuring your website, applications, and all your web content such as videos, links, documents, forms, etc are accessible to people with disabilities.
It involves optimizing websites and apps to be perceivable, operable by all users, understandable, and robust by being compatible with assistive technologies used by disabled users. To make this possible, the World Wide Web Consortium (W3C) through its working group, the Web Accessibility Initiative (WAI) established what would then be the international standard for web accessibility (ISO/IEC 40500)- the Web Content Accessibility Guidelines (WCAG). Although WCAG 1.0 was first published in 1999, it has been updated to WCAG 2.0 in 2008 with Level AA as accepted standard, and WCAG 2.1 with Level AA as standard in 2018. You may want to check on our extended guide-  How W3C and WAI Standards Help Create Accessible Designs.
Okay, so you know about digital accessibility and WCAG 2.0/2.1 Level AA as the international standard for web accessibility.
2
But are you aware of the digital accessibility laws and regulations that apply to your website – that should be an overall goal for your organization?
Because it is unfair to discriminate against individuals living with a form of disability, in many instances, is why it is important your website, mobile app or other digital technology provide access to the world disability population (15% and growing due to aging and the increase in chronic health conditions). 
To protect the human rights of people with disabilities, and to ensure they can enjoy the same access to information as those without is why countries around the world have non-discriminatory and accessibility laws. 
In the U.S.A, for example, the Americans with Disabilities Act is a non-discrimination law against people with disabilities ( (20% of the American population) while Section 508 of the Rehabilitation Act is a digital accessibility law that mandates government agencies and its vendors to ensure all ICT, including websites, are accessible. Similarly, among the EU member states, the European Accessibility Act is a non-discrimination law that removes barriers to products, services, and information for people with disabilities while EN 301 549 is a standard for digital accessibility. Canada with ACA and AODA, Germany, and other countries of the world that also have digital accessibility laws have referenced the international standard – the Web Content Accessibility Guidelines (WCAG) 2.0/2.1 Level AA to make digital content accessible. Likewise, each country has its respective deadline and penalties for non-conformance.
3
Are you building a new website or app or you already have a digital property running?
The best and most cost-effective approach to web accessibility is when done proactively, especially when taken to be part of standard development and QA practices, conduct usability testing, and make use of accessibility testing tools. This way, you can ensure an accessible design and development. 
On the contrary, if you already have a website running and you're looking to provide accessibility to the disabled population (ADA accessibility) and compliant with regulations, then congrats! You made the right call.
4
No litigation. But how important is it to make my website accessible and WCAG 2.0 Level AA compliant?
It is good you want to make your website accessible. Providing disabled access has many benefits that include opening your website to a large chunk of the population and avoiding the potential for the ever-growing legal issues or non-conformance penalties. More so, running a website that's inaccessible to people with disabilities is unethical in the real sense of doing business.
You now know failure to have an accessible website and app puts our organization at risk for legal action and damage to brand reputation, to say the least.
5
But is your organization already litigated? Facing a deadline to be compliant with regulation that demands your website must be WCAG 2.0/2.1 AA complaint?
Don't panic. You have to be WCAG 2.0/2.1 Level AA compliant. How do you go about it? I'll break it down.
Ask yourself, can your IT team of developers and QA put together an assessment and make necessary changes? If yes, good. Read on.
If your team still requires training on the subject of digital accessibility, it makes sense to outsource to web accessibility solution providers when you have a deadline. You still have to read on to know the process.
Before we begin, you must be sure of the accessibility regulation and deadline that applies to your website- compliance standard, and date of compliance. Afterward, you define the scope of the accessibility project and finally adopt accessibility in your organization's internal web/application development and testing process.
6
Digital/Web Accessibility Assessment
This is the first step in fixing your inaccessible site or app. It involves evaluating your website to identify barriers that are preventing individuals with various forms of disabilities from accessing the site. 
Accessibility audit of your site must first of all be carried out using automated website accessibility testing tools that test against the WCAG 2.0/2.1 standards and backed up with multiple manual expert testings with assistive technologies to detect critical accessibility issues automated testing software cannot detect. The manual test is majorly to assess and experiences the site content like a disabled user to identify issues. On completion of the evaluation, an audit/assessment report declaring the result of such evaluation and detailing comprehensive, page-by-page analysis with documentation of areas in need of remediation and how to make your website accessible and WCAG compliant. See our WAVE Accessibility evaluation report to know what to expect.
7
Digital/Web Accessibility Remediation
Remediation is next when you have your accessibility audit or assessment report. I encourage you to provide web accessibility training for your team if under no pressure otherwise, you either outsource the entire remediation or better still, your solutions provider will always recommend a temporary accessibility Expert-in-Residence to provide guidance to your team.
Usually, your assessment report should prioritize the errors and be informative enough to highlight the most critical errors and order of remediation. In any case, the Expert-in-Residence will guide you in prioritizing issues and sequencing fixes. They should also help create actionable tickets for remediation guidance, assist developers with complex issues, and provide testing instructions to ascertain that each issue has been fixed.
8
Digital/Web Accessibility Validation
Your digital accessibility project must begin and end with an audit. 
You've assessed and fixed error to the best of your knowledge. But the real solution comes from verifying the accessibility of the website or application to people with different types of disabilities and compliance to WCAG 2.0 Level AA standard and identified regulation.
For your validation assessment, I recommend a full reassessment (accessibility testing tools and experts) in order to identify accessibility issues that may have been overlooked or caused while fixing an accessibility issue. Iterations of various testings and fixing are carried out between the Expert-in-Residence and your development team. You should get an Accessibility Conformance Statement or Voluntary Product Accessibility Template (VPAT) to demonstrate how accessible the site is according to WCAG 2.0 Level AA and regulatory standards. This will, of course, depend on your preference and needs e.g. VPAT is required by U.S Federal Agencies while organizations in Germany and EU countries and public sector bodies in the U.K must have accessibility statements published on their websites or mobile applications.
9
Now that your website is ADA accessible, what's next?
It takes an improper update for an accessible website to fall out of compliance. This is why you need to set yourself up for success in the long term by training your team of designers, developers, content creators, QA on maintaining accessibility compliance. This will build accessibility into your development process, ensure accessibility is incorporated from the beginning of future projects, and ensure accessibility maintenance or ongoing monitoring compliance. The only true way to provide accessibility for the disabled and ensure accessibility compliance.
Let me leave you with this summarized, easy-to-share infographic on how to go about your accessibility compliance.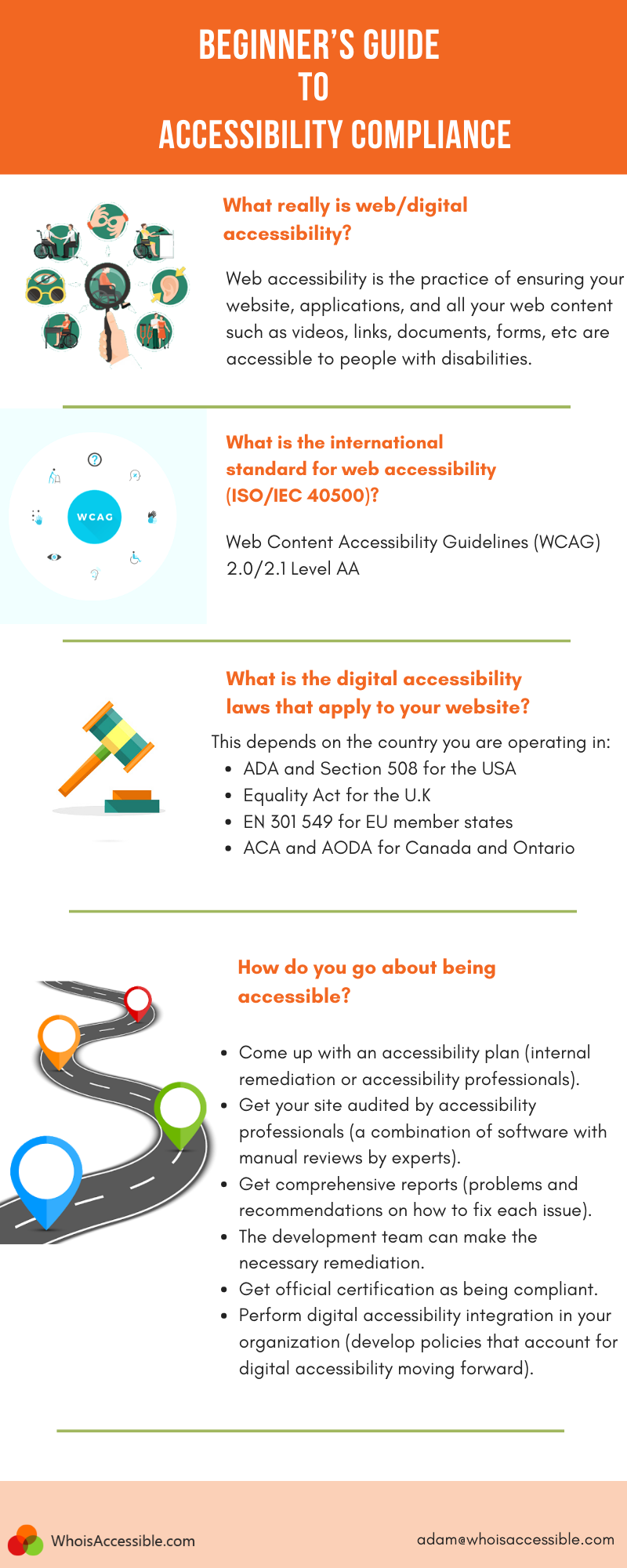 Description
Title: BEGINNER'S GUIDE TO ACCESSIBILITY COMPLIANCE
What really is web/digital accessibility?
Web accessibility is the practice of ensuring your website, applications, and all your web content such as videos, links, documents, forms, etc are accessible to people with disabilities.
What is the international standard for web accessibility (ISO/IEC 40500)?
Web Content Accessibility Guidelines (WCAG) 2.0/2.1 Level AA
What is the digital accessibility laws that apply to your website?
This depends on the country you are operating in:
ADA and Section 508 for the USA
Equality Act for the U.K.
EN 301 549 for EU member states
ACA and AODA for Canada and Ontario
How do you go about being accessible?
Come up with an accessibility plan (internal remediation or accessibility professionals).
Get your site audited by accessibility professionals (a combination of software with manual reviews by experts).
Get comprehensive reports (problems and recommendations on how to fix each issue).
The development team can make the necessary remediation.
Get official certification as being compliant.
Perform digital accessibility integration in your organization (develop policies that account for digital accessibility moving forward).
Brought to you by Whoisaccessible.com
Contact us: adam (at) whoisaccessible.com