PROS:
An automated solution to ADA, Section 508, and WCAG 2.1 AA compliance
Accessibility audit to identify barriers to compliance
Customizable interface to the user's preference
Top of the market pricing
Accessibility statement
Compatibility with many CMS
Strong user support
CONS:
Toolbar alone cannot provide 100% compliance
No ongoing compliance monitoring
Little accessibility resources
HikeOrders Review
What is HikeOrders?
HikeOrders may be one of the new ones amongst the accessibility solutions providers but have risen to prominence. They provide an automated solution and offer a manual accessibility audit service. Can they call them a hybrid solution?
HikeOrders basically have two products (okay three) with different types of services. They have automated and manual accessibility solutions that can easily be combined for your website or web application. The manual part is simply an accessibility audit on your website, done by their accessibility experts who then create a complete report along with the recommended fixes. The automated solution is an automated suite to your website, a toolbar that provides the front-end accessibility options on your website through a line of code. This accessibility suite features over 30 accessibility tools that make websites user-friendly to all, including people with disabilities. It includes text modifier, screen modifier, contrast, dictionary amongst other useful tools that are beneficial for people with different types of impairments (except users with total blindness) to access web content conveniently. The third is a free browser plug web users can use to customize the website to your needs. HikeOrders combines the manual and automated services in an attempt to ensure your website is in compliance with Section 508, WCAG 2.1 Level AA, and Americans with Disabilities Act (ADA).
HikeOrders Service(s) and Features
HikeOrders primarily offers both automated toolbar (Accessibility Enabler) solution combined with manual accessibility audits performed by a team of accessibility experts to identify all barriers people with disabilities face when they access your website and provide a complete web accessibility audit report along with recommended fixes.
The preliminary audit involves scanning your website with accessibility software to check for basic issues and barriers to accessibility after which manual expert review is done using assistive technologies among other tools to detect persisting compliance issues. This will usually involve compliance testing, assistive technology compatibility testing, and usability testing.
On completion of the audit and provision of reports (usually based on a specific timeline), you can have your team of developers and designers resolve the accessibility issues on your website and web app based on the report with support from HikeOrders' assigned expert to remediate your digital assets to WCAG 2.0 AA compliance. The latter will, of course, depend on time and available resources. 
HikeOrders' automated solution instantly improve the accessibility of any website via an important accessible feature (accessibility toolbar) which is used to modify the type of font, size of font among other functionalities to make the website inclusive enough to accommodate people with disabilities.
Like we've seen with accessibility widgets, HikeOrders' automated tool works by installing a single line of JavaScript code on your website without changing the existing codes. The accessibility enabler toolbar is then added in the frontend for users after the script performs checks on your website making it super simple for users to make adjustments and manipulations according to preference. I have a word of caution though, this toolbar alone can only strengthen your WCAG 2.1 level AA compliance and can't guarantee 100% compliance to accessibility standards.
HikeOrders' automated tool, called Accessibility Enabler provides a customizable interface through which disabled people or anyone at all can adjust the webpage to preference and providing a quality web usage experience. HikeOrders' Readmate browser plugin works pretty much the same way as the Accessibility Enabler only without some key features which have to be paid for.
The accessibility enabler has about thirty (30) accessibility features including:
Screen readers adjustments (screen mask, screen ruler)

Smart navigation and filtering of content

Blink blocking to allow for pausing animations and flashing lights or GIFs

Contrast alteration and color mode

Adjust font type

Adjust the text to be readable with font size, line, and word spacing

Volume booster 

Access accurate ALT tag

Highlight link, font, and headers

Language alternation with over 80 built-in languages in the interface

Built-in dictionary

Cursor alternation (black or white cursor)

Font magnifiers

Provide read-only mode

Built-in feedback form and guide to learn more

Provides an accessibility statement
Let's see the effect of HikeOrders' Accessibility Enabler toolbar…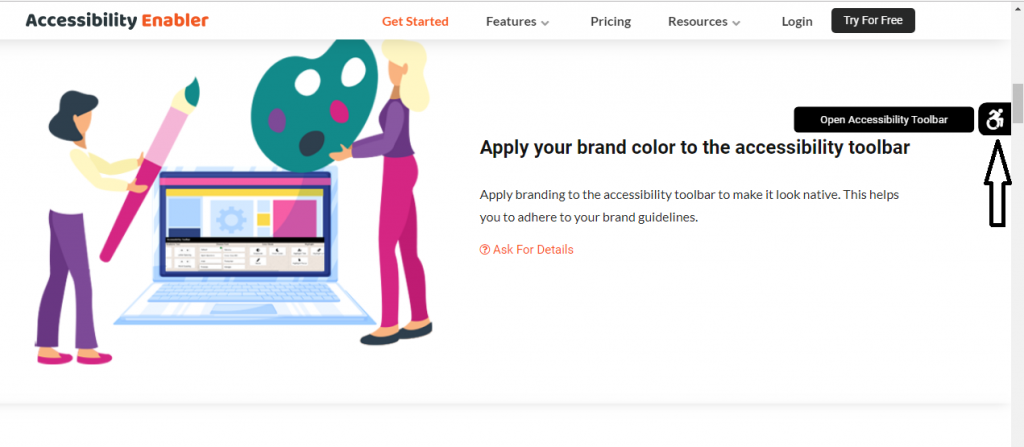 HikeOrders' Accessibility Enabler Toolbar sign is like the regular accessibility icon, and it is usually located on the right side of the web page. The toolbar feature menu gives simple options that allow the user to make the web page suitable, according to preference.

The Accessibility Enabler feature is opened and the user can now alter features to preference. 
Like the automated toolbar we are used to, HikeOrders' is also adaptable and workable with room for selecting the accessibility toolbar location and customize the trigger button by applying your brand color. It also gives room to customize your accessibility statement among other features.
Let's alter the font type and size features…
When you combine manual audit and remediation with the Accessibility Enabler, your website is bound to be 100% compliant with WCAG 2.1 Level AA, ADA, and Section 508 standards.
HikeOrders Pricing
HikeOrders also offers multiple plans for all of its services. HikeOrders' Accessibility Enabler pricing package is simple, almost unbeatable and it ranges according to website pages or monthly web visits. Starting from $6/month for websites with 10,000 page views equally 5 credits according to their system ($60 annually which is way better and can be purchased at a time) with the 3-day trial (no credit card required), the small plan might just be what you need for accomodating users with visual acuity among other types of disabilities. HikeOrders have provision for websites with a different number of page views (60,000, 300,000 page views per month) up to about 900,000 page-views/month (its largest plan) for $360/month and $3600 annually. Good deal, if you compare the pricing to most automated widgets out there.
HikeOrders offers multiple plans for its accessibility audit and the range of solutions and duration of the audit is strictly based on the plan. The price for the audit starts from $700 for up to 5 pages and a unique form to about $6,000 for auditing up to 40 pages and 10 simple/complex forms. One thing is for sure, irrespective of the plan you choose to go for, your website can be audited against ADA, Section 508 and WCAG 2.0 Level AA standards.
HikeOrders Platform and Support
For website accessibility audit, it is only natural you get in touch when you have a list of pages/URLs you want to audit to save cost. Their accessibility experts will audit and get in touch with a complete report along with the recommended fixes. Your development team can be sure of their support if they are in need of any clarification.
HikeOrders' Accessibility Enabler installation is equally simple since it is automated. Once you've made a payment, you'll have to embed an installation code directly into your site's HTML and automate your accessibility compliance. Their web accessibility experts and web engineers will then review your website and make adjustments, without modifying your coding or extracting any data from your website.
Much like Equalweb, HikeOrders also supports many content management software (CMS) that allows inserting code into it, including Wix, Woocommerce, WordPress, Magento, Joomla, Drupal, Squarespace, Google Tag Manager, Shopify and many more.
HikeOrders' support is almost flawless. It is nice you can find many FAQs, their how-to-guides, troubleshooting, and their support categories are enough to take anyone through installation although it could be better with video description. They also have email, address, and phone number in case you want to jump on a call.
Here is the summary of their support…
| How-to instructions | Live chat | Phone | Email | Address |
| --- | --- | --- | --- | --- |
| Yes | Yes | Yes | Yes | Yes |
Why HikeOrders? Pros and Cons
As long as the accessibility widget goes amongst automated web accessibility solutions providers, HikeOrders' Accessibility Enabler is up there among the best for its dynamic and unique features. Let's check out some of the positives and negatives:

PROS:
An automated solution to ADA, Section 508, and WCAG 2.1 AA compliance

Accessibility audit to identify barriers to compliance

Customizable interface to user's preference (e.g. language, font size, color contrast, etc.)

Top of the market pricing compared to other accessibility solutions

Accessibility statement

Compatibility with many CMS

Strong user support
CONS:
Toolbar alone cannot provide 100% compliance

No ongoing compliance monitoring

Little accessibility resources
The Final Verdict On HikeOrders
There are two notable approaches to solve barriers to web accessibility and HikeOrders almost provide these two but we can't classify their solution as a hybrid of manual and automated. The way it goes about these two forms of solutions is pretty simple. Its internal development team of accessibility experts provides accessibility audits by thoroughly scanning and testing your web pages, and provide a detailed report on accessibility issues and proposed way to go about solving them. All of these take about two weeks, depending on your selected plan. 
The flagship product, the Accessibility Enabler is not complex either. HikeOrders provides a front-end widget for web users to change the look and feel of the site based on their settings in the accessibility toolbar. The plugin allows users to highlight links, modify fonts and font sizes, the spacing between words, letters, or rows, or even change colors and contrast.  More so, it can work across multiple platforms including mobile phones. The Accessibility Enabler generally improves web accessibility for users with disabilities – providing features for users with dyslexia, the elderly, users with situational impairments, those with low hearing, including users that are visually impaired and those with mobility impairment.
HikeOrders' plugin has a notable feature that stands out. It allows for easy accommodation with the accessibility preset. Users can choose any number of presets and apply them with a single click and in a few seconds without having to go through individual functionality. This feature allows users to automatically make website dyslexia-friendly, adult-friendly, etc. This is probably the easiest automated toolbar can get!
The toolbar also does not cover the whole screen, can be customized to your brand color, and is very much compatible with a screen reader. I can almost say it combines the functionalities of Equalweb and Make-Sense toolbars.
For as low as $6 per month, the lowest price in the market, users can access over 80 languages of the world (also the highest yet). With a built-in dictionary and easy navigation and quick links, you will be helping users make the web theirs. 
A valid argument you can have against HikeOrders, like other automated web accessibility solutions (see UserWay, its closest comparison) is that they don't remediate, and the ongoing compliance is questionable. The toolbar alone can only bring your website close to WCAG 2.0 AA compliance. The positive being that when combined with remediation based on the manual accessibility audit, HikeOrders toolbar not only provides an effective solution for people with different disabilities to have meaningful and worthwhile experience using the web but also achieves 100% compliance and guaranteeing protection against a potential lawsuit.