PROS:
Automated pathway to accessibility compliance
Provide full compliance after manual remediation
Provide ongoing monitoring and report
Customizable interface according to user's preference
Compliance without affecting the performance of the site
Responsive user support
Accessibility statement
CONS:
No 100% compliance unless combined with manual adjustments
uRemediate only provides a few features
Toolbar features are slow to implement
User1st Review
What is User1st?
To ensure the web is accessible to users with visual, hearing, cognitive, dexterity, or any form of impairments, businesses and organizations must first be ready to put users first in the quest for making their respective digital space accessible.
Although User1st has been around for well over a decade, its prominence around automated web accessibility solutions is lesser. User1st is one of the flag bearers of automated accessibility compliance. They take accessibility solutions through three stages; the first is to analyze your website's accessibility and identify errors that don't currently meet legal guidelines by taking your website through automated accessibility testings and scans on all web content using its customized tools. After auditing to identify where all the accessibility errors are on your site through the automated and manual processes, they apply the appropriate attributes in the HTML on the front end. This involves implementing a solution, fixing accessibility issues by providing accessibility accommodations for users through front-end on your site at the browser level, and strengthening compliance with WCAG 2.1 Level AA and Americans with Disabilities Act (ADA) regulations. User1st also provides ongoing monitoring by monitoring and managing your website's accessibility using its custom testing tools and error remediation blueprint as a long-term accessibility solution for simple, streamlined WCAG, and ADA compliance.
To make integration easier for your organization/business, User1st provides accessibility training and certifications. Let's take a deeper look at their offerings.
User1st Service(s) and Features
User1st offers three digital accessibility products/options by default:
uTester accessibility plugins
uRemediate automated services (HTML solution)
uShift Program accessibility Services (bespoke)
uTester Accessibility Plugins
The User1st's uTester Developer Plugin or Google Chrome extension is a free, easy-to-use, robust, automated informative accessibility testing platform for identifying HTML-based web content that does not comply with Web Content Accessibility Guidelines (WCAG) 2.1. The uTester ADA Website Compliance Checker performs checks, consistent regression, flagging both static and dynamic website content that is inaccessible to people with disabilities. It represents a blueprint for developers to check accessibility errors against compliance laws, fixing errors, and achieving website accessibility to a degree.
The uTester ADA Website Compliance Checker or uTester Chrome extension does not identify all accessibility issues. As a matter of fact, it can only test for a few testable WCAG criteria, say 30-40% issues.
uRemediate Automated Services
Just like its uTester Developer Plugin for testing, User1st's uRemediate is as comprehensive as it is flexible to your needs. The User1st flagship product is a semi-automated accessibility remediation solution that enables developers and site administrators to seamlessly integrate it into their existing platform either before or after web applications are developed. The uRemediate solution is installed by embedding a line of code on your website without altering the source code of digital content or applications and it runs on the web user's local browser without requiring integration or download. It will then perform checks on the website based on the identified errors and enable the front-end automated solution, strengthening the compliance of your digital assets with the WCAG 2.1 Level AA standard and Section 508 guidelines. The uRemediate light version is free while the licensed version is fast and easily customizable (accessibility statement, company logo, etc), and once set up, it will instantly provide accommodations to end-users. 
Like we've seen of automated web accessibility solutions, User1st's automated toolbar has a customizable interface that enables disabled individuals or anyone at all to adjust the webpage to suit user's experience. 
Features include:
Keyboard and smart navigation

Screen readers adjustments

Contrast alteration

Stop or pause GIFs or moving elements

Font magnifiers and highlighting

Help layer 

Built-in feedback forms

Accessibility statement 
In case you're wondering, uRemediate is also customizable to your website requirements.
Let's see the effect on a simple website that employs User1st's AI solution…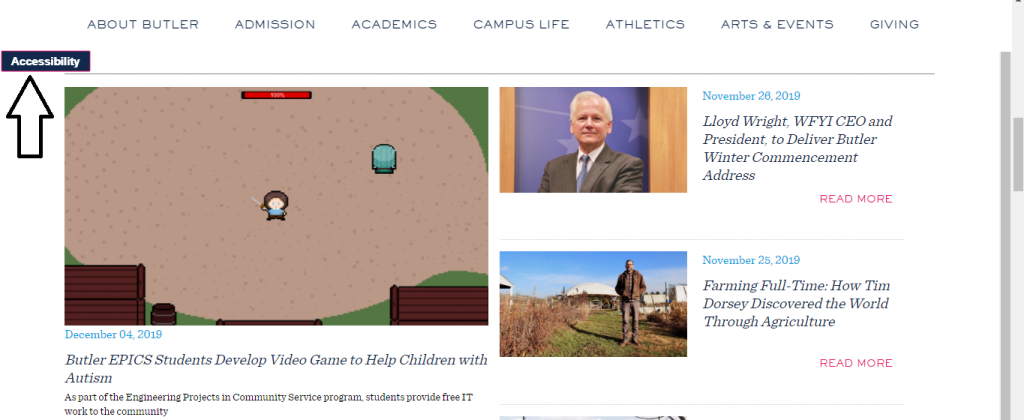 When you enter BUTLER University, users can find the accessibility box around the top-left corner. This accessibility options menu allows the users to make changes to web display, suiting their impairment.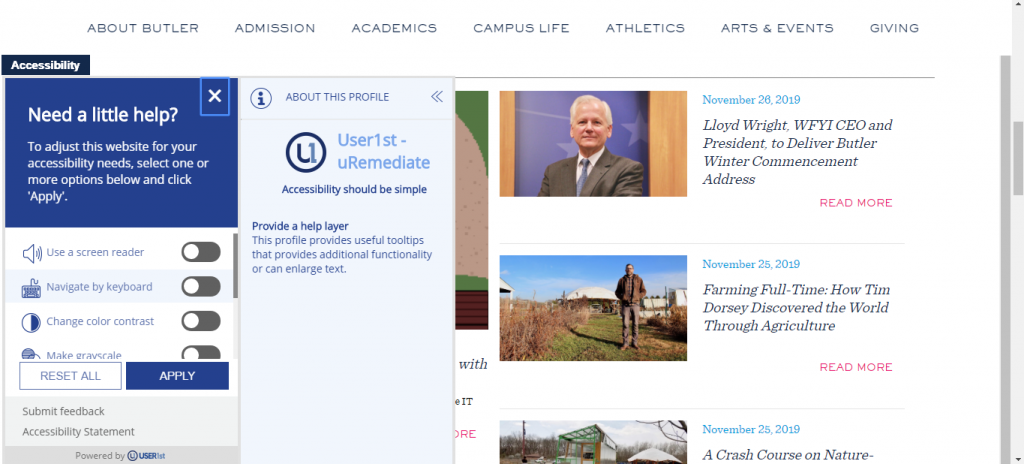 The accessibility box is opened and features can now be initiated according to the user's preference. 
Let's play with the contrast menu and the screen display magnifier…
uShift Program
The uShift Program basically involves accessibility integration into your development for your organization's self-sufficiency. It combines the two major User1st tools, along with its training and tailors them to your organization's digital accessibility requirements. 
User1st provides ongoing compliance monitoring via its testing and assessment service. This is majorly done with the use of uTester automated web accessibility testing tools which checks accessibility errors against industry standards and compliance laws while they provide a centralized dashboard, uMonitor to track these new errors across all of your digital assets in real-time. I believe this is a win-win since you'll be getting an audit report to ensure you can flag ongoing issues and resolve these issues in-house.
Finally, User1st provides online training and consulting services. Its dynamic training is in multiple formats, containing over 20 training courses and taught by accessibility experts. The User1st online training covers a variety of general and technical accessibility topics such as the use of the User1st tools, audit, etc, and is designed to provide your developers with the technical know-how required to create and maintain WCAG 2.1, ADA and Section 508 compliant websites and web applications. The consultation service has to do with accessibility integration but it doesn't automatically cover all your digital assets since document remediation is outsourced to a third-party.  That is, they will help build your business/organization's internal accessibility policies based on time and resources, train your team on best practices, and provide guidelines for you based on legal and industry standards.
User1st Pricing
User1st does not publish its product pricing on the website but since the uTester is free, you can always hop on it by adding it as an extension on Chrome. For User1st's other products, uRemediate has a free light version with which you can start by analyzing your website by checking it against WCAG guidelines, assess your compliance and identify any elements that don't meet legal goals.
User1st Platform and Support
User1st's uTester only requires you to add it via Chrome extension while the uRemediate solution installation is very simple. It automates your accessibility compliance by embedding an installation code directly into your site with a few clicks. The toolbar also presents your organization's accessibility statement and allows for customer feedback.
User1st do not provide how-to-guides and support categories that can take anyone through installation, they also fail to highlight the content management software (CMS) their platform supports; this, because quite a lot of users don't know. They probably complement this with their quick assessment of your site's accessibility.
Here...
| How-to instructions | Live chat | Phone | Email | Address |
| --- | --- | --- | --- | --- |
| No | Yes | Yes | Yes | Yes |
Why User1st? Pros and Cons
Thankfully, User1st is not saying their automated tools alone will guarantee your website 100% compliance. They have a range of top accessibility testing tools out there and can either provide you with a prioritized audit report for your development team to remediate or you make arrangements for a full consultation. Let's look at some of the positives and negatives:

PROS:
Automated accessibility solution to WCAG 2.1 AA, ADA, and Section 508 compliance

Provide ongoing monitoring and report 

Customizable interface according to user's preference (e.g. color contrast, etc.)

Compliance without affecting the performance of the site

Responsive user support.

Accessibility statement
CONS:
Does not meet 100% compliance unless combined with manual adjustments

uRemediate only provides few features compared to its competitions

No installation guides

Toolbar features are slow to implement
The Final Verdict On User1st
With its wide range of solutions such as its uTester and uRemediate platforms, training, and strategic consulting services, User1st helps businesses/organizations to continue to identify accessibility issues, fix them in real-time, and maintain digital content accessibility, thereby bringing you close to compliance standards.
Very similar to what we about HikeOrders, the easy-to-use uTester Chrome extension, and web accessibility software perform various tests, identifying HTML-based web content that does not comply with Web Content Accessibility Guidelines (WCAG) 2.1 and flagging web content and web apps that cannot be accessible to individuals with disabilities but User1st's rapid remediation tool remain the main deal. The customizable uRemediate removes accessibility errors without modifying the source code of digital content or applications and upon integration, fixes HTML accessibility errors when users activate its features to make changes to web content. The toolbar allows users with epilepsy to adjust color contrast and stop flashes, provides keyboard navigation for users with dexterity or cognitive impairments, users with visual impairment can magnify web content, and many more that can be customized to suit user's website requirements.
Using these tools is however not all the testing that needs to be done in order to declare a website accessible. Like other automated testing tools, they can't fully test all of the success criteria. Passing an automated scan means partial conformance at best.
The User1st tools alone cannot provide more than 100% compliance so you would have to resolve other complex accessibility issues based on their recommendations (can't rely on widget alone). The overlays are excellent if you have recieved demand letters but be sure to combine with their remediation.
Along with its solution is User1st's uShift program that integrates compliance coverage and accessibility enablement into your organization. User1st also incorporates web accessibility training with consulting thereby ensuring ongoing compliance monitoring, and creating a bespoke web accessibility experience for organizations. 
If you fancy a decent automatic solution, that is, a combination of digital accessibility tools for audit and modification, I'll recommend you start by analyzing your accessibility situation and remediate your website automatically to a degree but have it in mind you'd have to hire a third-party or User1st's expert or fix your issues (from source code) in-house based on the result of the scans and even more via manual expert review. This is the only way you can achieve WCAG 2.1 AA, ADA, and 508 compliance with User1st, relying on overlays without remediation won't cut it.
Tried the User1st solution? Let's hear from you.