PROS:
Automated accessibility solution
Implementation guide
A broad range of accessibility features
Support for a wide variety of disabilities
Standby team for troubleshooting problems
Live-chat
CONS:
No customizable pricing tier
DIGIaccess Review
What is DIGIaccess?
DIGIaccess is a comprehensive AI-powered solution that is transforming web accessibility by replacing a tedious and costly manual process with its state-of-the-art automated technology.
DIGIaccess can be easily implemented by installing one line of JavaScript code on your website. It takes about 48 hours after installation for your website to become fully accessible, but the widget appears immediately.
Let's explore its features in-depth.
DIGIaccess Service(s) and Features
Touted as an upgrade in the way web accessibility is currently done, DIGIaccess utilizes AI in its process of remediating websites.
The DIGIaccess widget comes with customizable options that allow people with disabilities to choose how they interact with website content. At the point of writing, DIGIaccess has support for 9 languages in its widget.
DIGIaccess Accessibility Interface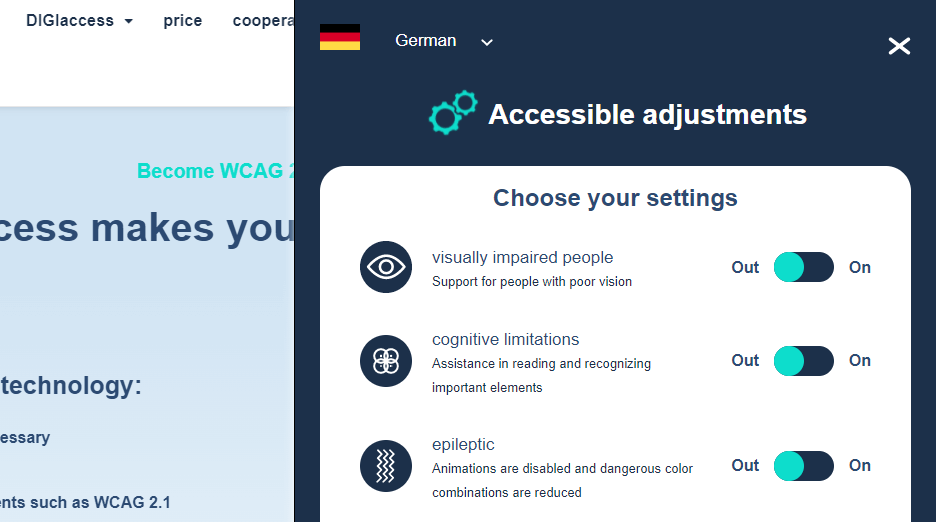 This is DIGIaccess' installable widget. Comprising a host of accessibility features, the DIGIaccess widget enables people with disabilities to adjust web content according to their preferences.
In addition to making life easy for its users, it helps them to be compliant with WCAG 2.1 and European accessibility laws.
DIGIaccess is easily installed with 1 line of JavaScript code in under 5-minutes. The widget comes with the capacity for updates and supports up to 9 languages.
The widget can be customized to fit your brand colors.
Screen Reader
Using contextual understanding and automatic image recognition, DIGIaccess scans, analyzes, and optimizes web pages to be WCAG 2.1. compliant so that people who use screen readers can experience the content of such web pages.
Features
ALT tags
ARIA attributes
Icons & Buttons
Sliders
Roles & Navigation Landmarks
Forms & Validation
Design
As with most web accessibility solutions, DIGIaccess enables users to adjust design settings according to their preferences. The interface is customizable from content to visuals.
Features:
Content & Display
Color & Contrast
Focus & Accentuation
Turn off the sound
Stop animations
Keyboard Navigation
The DIGIaccess technology evaluates website structures elements dynamically and adds keyboard-only functionality to each element. Even as websites are updated daily, it continues to optimize keyboard functionality to keep the website accessible.
Features:
Drop-down menus
Overlay window
Anchor left
Menus
Forms
Buttons
Other Features
Support for People Who Are Blind
A lot of websites lack alternative text for images and they don't have ARIA attributes for contextual and behavioral adjustments. Without this information, screen readers cannot help people who are blind. DIGIaccess analyzes all images and elements on the page and automatically fills in the missing ARIA attributes and the missing ALT texts so that blind users can use the page.
Furthermore, ARIA attributes are automatically created and stored for drop-down menus, forms, pop-up windows, icons, and buttons.
Support for People with Visual Impairments
People with vision impairments may be unable to see content, DIGIaccess enables such individuals to adjust settings to enhance their experience of websites. Changes that can be made are contrast ratios, font type, size, and spacing.  In addition, they can also magnify the cursor, highlight titles and links, and more.
Support for People with Epilepsy
It can be dangerous for people with photosensitive epilepsy to surf the internet because a fit can be triggered by sudden flashing lights, animations, or gifs. DIGIaccess provides the option to disable self-starting gifs, animations, videos, or patterns.
DIGIaccess Pricing
DIGIaccess has four pricing tiers as follows:
Default (<1,500 pages)
69 € / month
Medium (<10,000 pages)
155 € / month
Large (<100,000 pages)
195 € / month
Gigantic (<1,000,000 pages)
349 € / month
Features (included in all pricing plans)
Screen reader
Keyboard navigation
Design adjustments
Pay yearly and get a 20% discount on all pricing plans
For additional services such as accessible PDF files, translation into simple language, video subtitles, audio description, or sign videos, you can contact their sales department for quotes.
DIGIaccess Platform and Support
The options for support are quite impressive. DIGIaccess provides users with live chat, a phone number, an email address, and a contact form. It has a comprehensive support page with guides on implementation and FAQs.
| How-to instructions | Live chat | Phone | Email | Address |
| --- | --- | --- | --- | --- |
| Yes | Yes | Yes | Yes | Yes |
DIGIaccess? Pros and Cons
DIGIaccess has a variety of functions and features. More so, it has special offerings for non-profit organizations. For specialized documents like PDFs, apps, etc, businesses can contact the DIGIaccess sales team. I think DIGIaccess has a good balance of pros and cons.
PROS:
Automated accessibility solution
Implementation guide
A broad range of accessibility features
Support for a wide variety of disabilities
Standby team for troubleshooting problems
Remediates accessibility issues for a broad range of digital assets
CONS:
No customizable pricing tier
The Final Verdict on DIGIaccess
DIGIaccess makes websites accessible to everyone. Its entire process, including full regulatory compliance, is 100% automated and instant, leveraging AI-learning and image processing technologies.
DIGIaccess is committed to providing businesses with WCAG 2.1 and European accessibility regulation compliance. With its offering of a 7-day free trial and special considerations for non-profit organizations, DIGIaccess is poised to take over the European market.
The DIGIaccess widget is comprehensive, customizable, and can easily be installed on 93% of websites in 5 minutes.
It is quite affordable with four pricing tiers to accommodate a wide range of website sizes.
DIGIaccess also has a FAQs page which at least helps to give the user some guidance. It also has multilingual capabilities.
Taking stock of everything, DIGIaccess is definitely a platform worth trying out! Have you used DIGIaccess before? Drop a comment and let me know.
Facebook
Twitter
Linkedin
Email