PROS:
Supports all web systems
Improves usability
Does not affect the performance of the site
Ongoing compliance monitoring
Accessibility statement
CONS:
Does not provide 100% WCAG compliance
Does not protect against a potential lawsuit.
AI services are not 100% accurate
Max Access Review
What is Max Access?
The concept of having a sister company providing a fully automated solution is becoming a popular thing among web accessibility solutions. Special mention to the Make-Sense and its fully automated Allyable. Similarly, Max Access is a subsidiary of Online ADA, a solution that offers comprehensive automated and manual audits, and a distinctive toolbar-overlay.
Max Access is a fully automated web accessibility solution that provides a comprehensive, custom toolbar-overlay (accessibility widget) that provides usability features for users to make changes to the website. Their platform also utilizes Artificial Intelligence (AI) system for scanning, rescanning, and auto-remediating websites. Max Access offers more than regular accessibility plugins with its dashboard and reporting features. The dashboard provides page-level reports and allows your dev team to take charge of accessibility compliance. 
Accessibility menu, auto-remediation and rescans, dashboard, and report for monitoring. Fully automated moves but does full automation guarantee accessibility for people with a disability or 100% WCAG 2.0 Level AA compliance? 
Max Access Service(s) and Features
Max Access is a fully automated web accessibility solution with a comprehensive platform that more than provides an on-screen accessibility menu that gives control to your web visitors by ensuring people with a wider range of disabilities can interact with the website effectively. Max Access also auto-remediates and rescans. How it does this is very similar to what we've seen with AccessiBe. It includes two components that work simultaneously, auto-remediating to identify and fix accessibility issues on the website.
By now, we're not new to the Max Access accessibility bar. Unique in its outlook on the site but the same features as most accessibility widgets, same as we've seen with the parent company- Online ADA. Max Access accessibility toolbar is used by web visitors to adjust the website interface and content. It provides a detailed accessibility statement, offers focus indicators, adjustment for font sizing, color contrast adjustments, and an AI-driven screen reader, etc to most especially help disabled users such as the visually impaired. Even more, Max Access Plus provides multiple languages, speaking styles, and voice option features. We've seen this accessibility toolbar with Online ADA, so let's interact with it.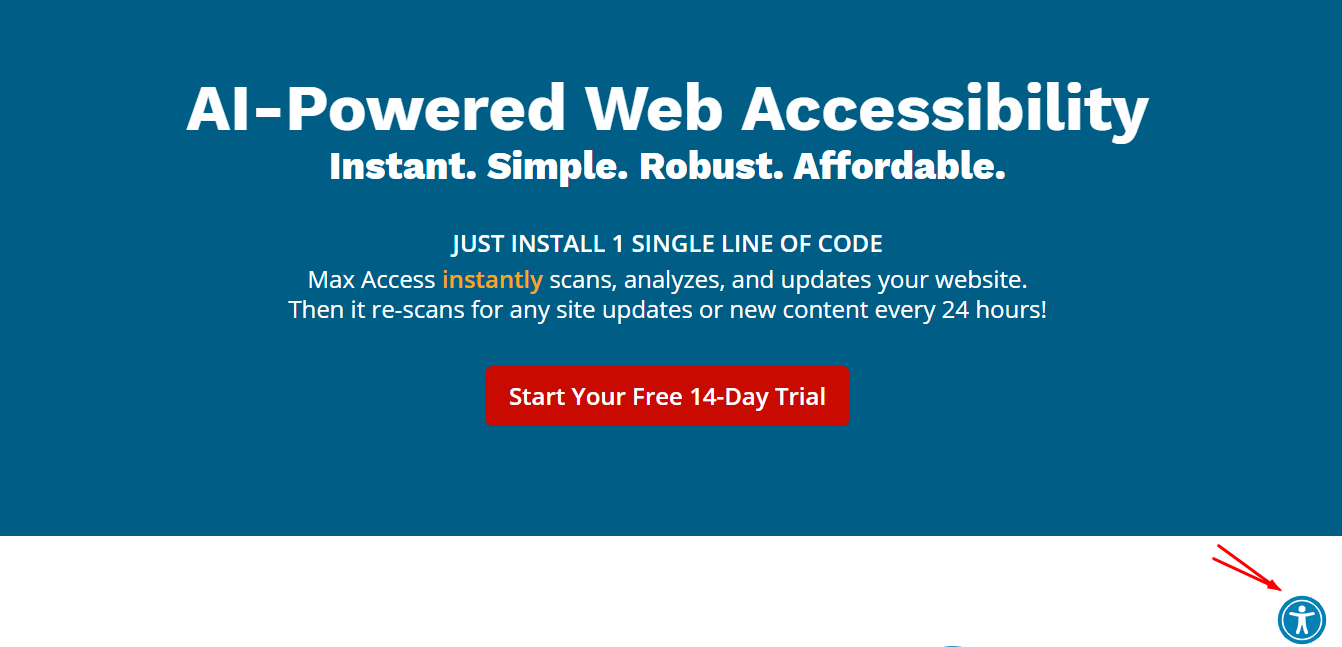 The toolbar is located at the bottom-right corner (on Max Access's website) in the usual accessibility icon we usually see for most toolbars. When interacted with, it opens for on-screen accessibility features that could improve user experience.
The Max Access toolbar is opened in the image above, let us make use of the contrast features…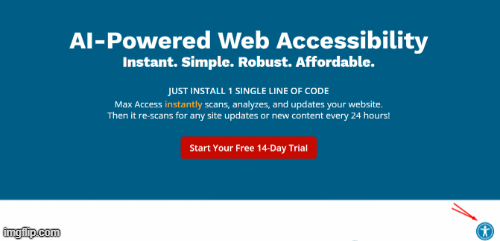 The toolbar also scans and analyzes elements on the website, utilizing Artificial Intelligence (AI) for auto-remediation of the website fixing code compliance, and providing additional user interface enhancements. It fixes elements such as pop-ups, buttons, forms, drop-downs, menus, etc. The solution also applies ARIA attributes, according to guidelines and utilizes Optical Character Recognition (OCR) image recognition technology to provide alternative text descriptions for images. All of this is done within a few seconds after the installation of Max Access on the website. The software, however, rescans every 24 hours to remediate new content on the site, hence particularly better than free accessibility plugins or most of the regular plugins out there. 
Similar to auto-remediation AI tools such as Allayble, Max Access provides dashboards and reports. When combined with its rescan functionality, this feature is especially important for ongoing compliance monitoring. This function provides detailed page-level reports on compliance before after installation of the auto-remediation tool. This way, Max Access allows your developer to easily identify issues that need to be fixed at the source code, and take maximum control by allowing for verification of ALT tags for images, and ARIA labels on the website. The dashboard also allows you to determine how the toolbar is displayed, features that affect your website, etc.
Max Access Pricing
Max Access pricing is expectedly different from Online ADA due to upgrade to the software. However, pricing is based on the size of your website but all its services include unlimited pageviews, front-end toolbar, the back-end dashboard, compliance reports, and allows for optional AI controls.
Max access Standard plan costs $37 per month and covers 1,000 unique pages but add $4 for +Plus features. Businesses with websites under 10,000 unique pages will pay $74 every month while the automated solution will cost $110 every month for those with around 100,000 unique pages. Max Access's biggest plan covers organizations with over 100,000 unique pages and costs $260 with $30 to add the Max Access +Plus features which includes 54 voice options in 27 languages.
Max Access Platform and Support
Max Access works with any website regardless of your platform or CMS and is fully customizable. It supports all web systems including Shopify, Wix, WordPress, SharePoint, Squarespace, Magento, and many more. Max Access can be instilled with a few lines of code over a few minutes, after which the tool appears on your website and provides accommodations for web users. It then instantly scans, analyzes for issues and updates your website. The software rescans every 24 hours to remediate updates or new content on the site. 
The back-end dashboard reports various accessibility issues including color-blindness reports, helping you to determine what your website looks like to people with varying levels of color-blindness. Through the management and override of ALT for images and ARIA labels features, Max Access provides room for Search Engine Optimization (SEO) and gives you control over user experience. For more support, the Max Access dashboard links to videos on WCAG requirements that can educate your I.T team on accessibility compliance. Here...
| How-to instructions | Live chat | Phone | Email | Address |
| --- | --- | --- | --- | --- |
| Yes | Yes | No | Yes | Yes |
Why Max Access? Pros and Cons
Max Access approaches web accessibility compliance with its comprehensive, fully automated software. It provides a toolbar, scans and auto-remediate, and dashboard that reports accessibility issues and allows for manual fixes. Automatically perfect, but how far can technology make websites WCAG compliant? Let's highlight some of the positives and negatives:
PROS:
Max Access supports all web systems

Improves usability with a customizable toolbar 

Does not affect the performance of the site

Ensure ongoing compliance monitoring

Provides accessibility statement
CONS:
Does not provide 100% WCAG compliance

It does not protect against a potential lawsuit.

AI services are not 100% accurate.
The Final Verdict On Max Access
Max Access has two components that work simultaneously on a website. The front-end accessibility toolbar designed for people with disabilities to make usability changes on the website, and the Artificial Intelligence system that auto-remediates and takes WCAG compliance further by fixing code compliance and other user-interface enhancements such as focus indicators. Max Access back-end dashboard component provides information about compliance and allows your dev team to override control of any AI-driven data among other features. 
Although similar in what they offer among the automated web accessibility solutions, Max Access edges its closest competition- Allyable. As usual, Max Access can only detect a reasonable portion of the accessibility and usability issues automatically, and subsequently, can only fix some percentage of the errors. The dashboard is, however, excellent for ongoing compliance monitoring as it presents accessibility information and gives total control to your I.T team on fixing some errors at the code-level and overriding AI data that does not make sense. 
The main issue with how Max Access approaches accessibility and WCAG compliance will be that all of these technologies can only auto-identify about 25 – 40% of the 2.0 AA requirements. Some accessibility issues cannot be tested automatically and would have to be discovered via manual testing, use case testing, or usability testing to discover and fix underlying errors for Americans with Disabilities Act (ADA) compliance. Can we say having Max Access's automated way alone will make your website accessible? Well, I randomly checked Max Access's parent company- the Online ADA website and will allow their message about the effectiveness of software-only solutions to answer that question…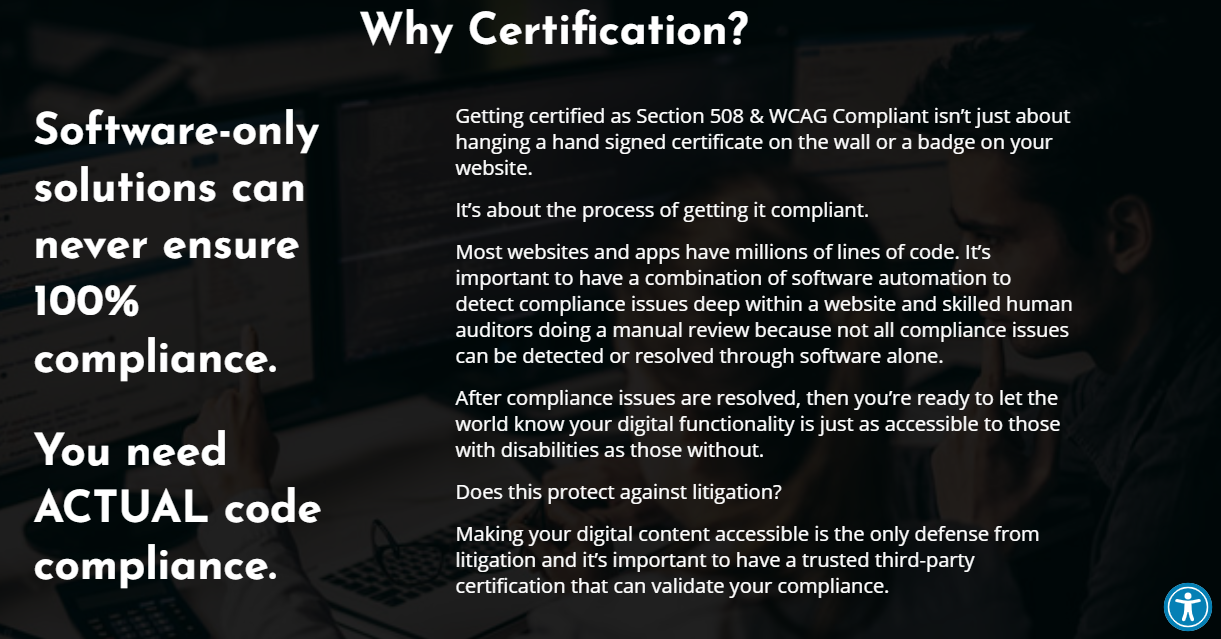 Facebook
Twitter
Linkedin
Email