PROS:
Manual remediation for 100% compliance
Free automated widget
Customizable toolbar to user's preference
Does not affect the performance of the site
Ongoing monitoring compliance
CONS:
The widget does not provide 100% compliance
Accessibility statement is not free
Adally Review
What is Adally?
Adally is another automated web accessibility tool provider that has gained popularity over the past few years. This reason is not far-fetched, Adally's provide a free homepage web accessibility scan with a report, as well as their free accessibility widget. This doesn't take anything away from their in-depth accessibility compliance scan of your website against WCAG 2.1 AA guidelines to identify the areas of your web pages that are not compliant with the international standard guidelines and as well, areas that are causing critical issues for users with disabilities. Adally's report will also provide information on what needs to be fixed and how to go about fixing these barriers to accessibility on your website.
Adally's pseudo-assistive technology, the free accessibility widget automatically works without requiring you to make any change to your website's existing code. The front-end toolbar provides features such as link and heading highlight, ability to change cursor size, screen contrast modifier, among other features users can use to make changes to the web page to enable it to suit their impairment.  
Adally's selling point will be their accessibility audit, custom accessibility statement 24/7 ADA access assistance, and ongoing monitoring after your website compliance with ADA, WCAG 2.1, and Section 508 standards.​
Adally Service(s) and Features
Adally offers a range of digital accessibility services. They provide a free homepage scan and report as well as a comprehensive website scan, audit, and report. They also help construct a custom accessibility statement for your organization, offer a 24/7 accessibility access service for users that require accessibility assistance to navigate your web pages, a free accessibility widget, and an ongoing compliance monitoring service to ensure your website does not fall out of compliance.
Accessibility Audit
Other than its popular free homepage scan to determine your website compliance against the WCAG and ADA requirements, Adally accessibility audit service involves the use of an accessibility testing tool to diagnose specific issues. Unlike the homepage scan, the automated testing will be run across lots of pages quickly and provide immediate feedback. Because no tool will be able to pick up every accessibility barrier on a website, Adally experts will perform manual checks to fully scan your website, audit places that need fixing and provide a full, custom line by line report of where the errors are on the website and how to fix the issues.
It is the report of the accessibility audit that your entire web team (or outsourced developers) or otherwise the Adally ADA compliance team of experts will use to fix the accessibility issues and remove the violations on your site to achieve complete WCAG 2.1 Level AA guidelines and ADA compliance.
Since a compliant website can easily fall out of compliance, Adally offers the same scan, audit, and report, bi-monthly, to ensure your ongoing accessibility monitoring and compliance.
Accessibility Statement and Accessibility Assistance
Adally also offers a custom accessibility statement to guide your organization's accessibility policies and plans. The accessibility statement is to distinctly clarify your commitment to making your website and digital assets to be accessible and comply with the accessibility guidelines. It also provides information on the level of accessibility compliance the website is aiming to reach with the methods to achieve such level of accessibility. 
As a solution to web accessibility, Adally's dedicated accessibility is also something of note. This service provides a toll-free number that your web users can use to access live Accessibility Care Agents at any time to personally guide them with navigating your web pages.
Accessibility Widget
Adally's free accessibility widget is equally easy-to-use. The accessibility tool can easily integrate directly with various website creation platforms and can as well be installed by embedding a line of code on your website without having to make changes to your website's existing code. Once set up on your website, the free toolbar will provide accommodations visitors of your website can use to make changes to the web page to increase the usability of the website according to their various impairments or needs. Accommodations the widget provides includes:
Keyboard and smart navigation

Contrast modification

Font magnification and alteration

Cursor alternation

Highlight link, and headers

Image titles

Stop animations and flashing objects

Screen modification
You can try it on their website but here is a simple description of a few features: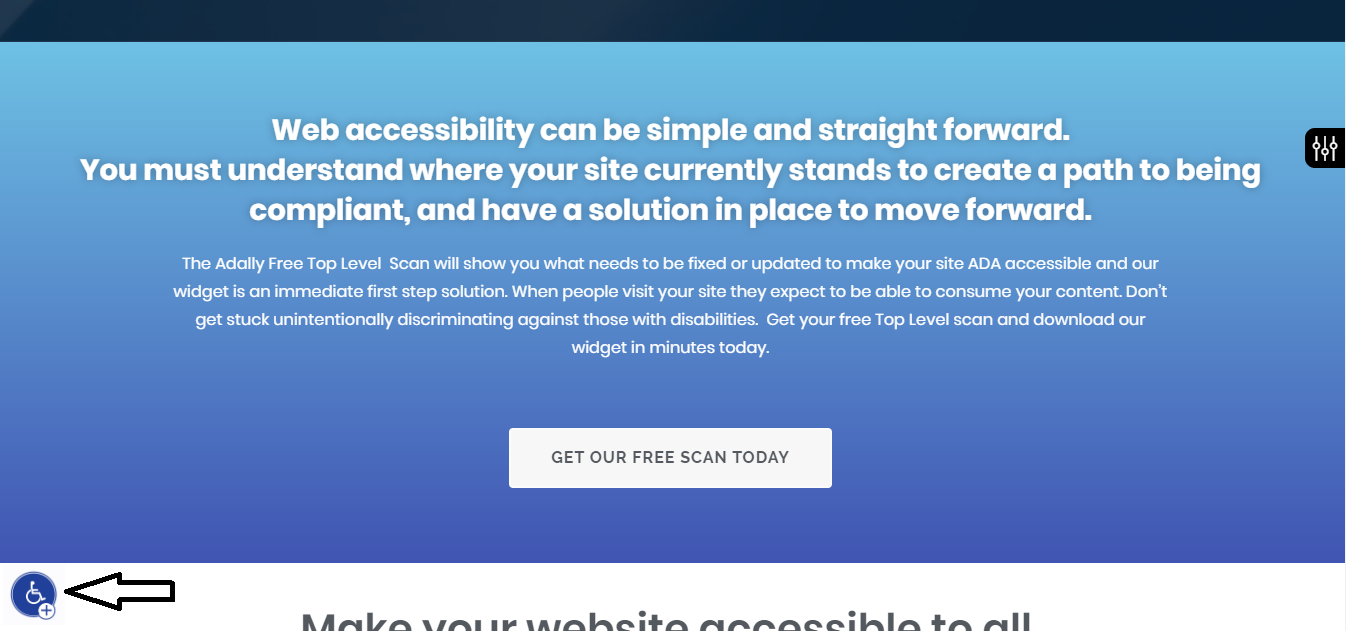 You can find the accessibility icon on the bottom left corner (in this case). When initiated, the icon will open up the widget which provides all the features a disabled user or any user at all can use to make changes to the web pages. Let's open it up.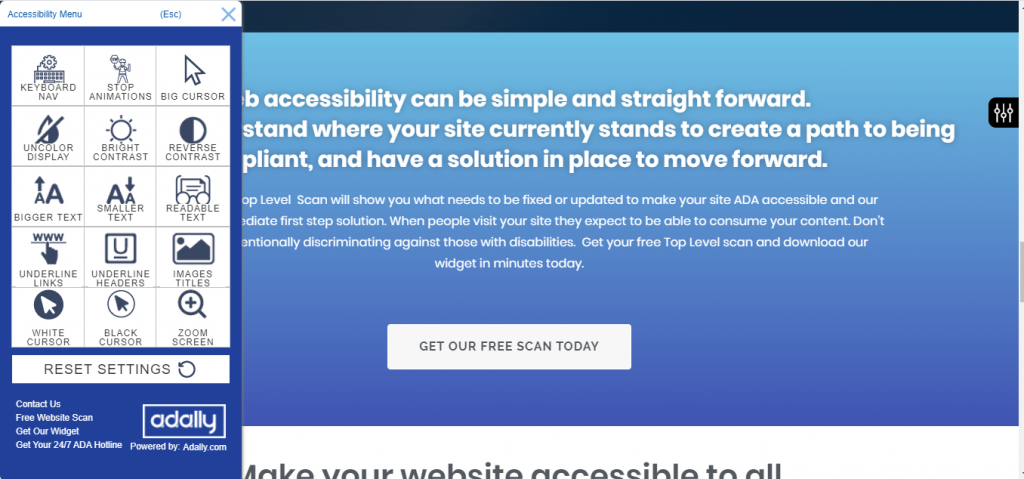 Adally's accessibility toolbar is opened, now let's try the underline the headers and links, and change contrast features at the same time…
Just some of the few features that are really useful.
Adally Pricing
Adally already offers two free services irrespective of the website or business– the free accessibility widget and the free homepage ADA compliance audit. The accessibility assistance service and the custom accessibility statement set up basically depends on your accessibility plan and your business needs. The audit and remediation represent the main form of having your website accessible and compliant while the ongoing monitoring accessibility audit will depend on the rate of change on your website or if you get litigated.
Adally Platform and Support
Adally widget installation is quite straightforward. The widget can be installed by activating it on your specific content management software (such as WordPress, Weebly, Wix, Shopify, and Square Space) with a simple code snippet.
By providing a free scan and a free accessibility widget, Adally has been tactical by following its free services up with support that comes at a cost. The bi-monthly scan (comes free for some paid solutions), the accessibility assistance, and the accessibility statement (usually comes along with the toolbar for no charge) represent the support Adally offers in terms of ensuring accessibility. In other words, paid support.
Adally has done well to provide enough channels to get in touch should you experience any unexpected technical issues, or malfunctions if the software does not perform as expected on your website.
Here...
| How-to instructions | Live chat | Phone | Email | Address |
| --- | --- | --- | --- | --- |
| Yes | No | Yes | Yes | Yes |
Why Adally? Pros and Cons
Adally tries to cover the requirements for web accessibility compliance in their own distinct way. Their accessibility audit, remediation, and free widget are rightly followed up with an ongoing compliance plan. Let's look at some of the positives and negatives:
PROS:
Manual remediation for 100% compliance

Free automated widget

Customizable toolbar to user's preference

Does not affect the performance of the site

Ongoing monitoring compliance
CONS:
The widget does not provide 100% compliance

Accessibility statement is not free
The Final Verdict On Adally
Adally joins the accessibility solutions that combine manual audits with an automated solution to make your website accessible. The most important of its solution being the manual part. The Adally audit report will detail your accessibility errors, aggregating reports of the testing tool and experts check to discover the large minority that would only have been picked up by manual checking. It also contains what you need to fix to make your website accessible and compliant. Your remediation can be carried out by your team based on recommendations or you can just have the Adally experts remove the errors at a charge. 
Adally's free accessibility widget is as good as most of the widgets out there. The toolbar integrates without requiring you to rewrite your code and it helps website visitors to improve their interaction with the web by providing accommodations to modify the screen and content contrast, underline your links and headers to make them more visible and distinct, tweak the size and outlook of the cursor, and pause animations that could seizures to epileptic web users among other features. One strange thing with the Adally widget is, unlike the closest competition, UserWay, among other automated widgets we are used to, the widget doesn't come along with an accessibility statement. Rather, Adally will have you pay for this as a separate service. I must warn though, installing the widget alone cannot make any website accessible or compliant. 
Adally's accessibility assistance service may raise a lot of eyebrows in terms of effectiveness and sustainability but it is the bi-monthly scans for ongoing compliance that underlines the brilliance of their entire accessibility solutions service for WCAG 2.1 AA, Section 508 and ADA compliance. 
In summary, Adally's innovative accessibility solutions can ensure your website can be accessible to all abled and disabled users and be compliant with the required standards with thorough remediation which they do not provide. The solution can however protect your organization from a compliance-based lawsuit with its cost-effective methods and features such as bi-monthly scans and a11y assistance. On the come up!
Facebook
Twitter
Linkedin
Email