PROS:
Supports all web systems
A customizable toolbar
Does not affect the performance of the site
Secure platform
Automated compliance monitoring
Accessibility statement
CONS:
Does not make a website 100% accessible
Won't protect against a potential lawsuit.
Allyable Review
What is Allyable?
From the stable of Make-Sense Inc, the solution behind Make-Sense accessibility solution is Allyable. Allyable is a SaaS-based automated web accessibility platform but they offer more than the toolbar-overlay (on-screen accessibility menu) all depending on your resources and accessibility needs.
Other than its accessibility toolbar and auto-remediation platform (A-WEB), Allyable offers comprehensive scanning and remediation, reporting, and accessibility dashboard (A-PORTAL) while boasting of security and privacy. Its accessibility toolbar menu is, however, the same as the parent company – Make-Sense, offering features for your site users to adjust the font size, alter the contrast of web page for the colorblind and visually impaired, and accommodation to hide disturbing animations that could trigger epilepsy, among other regular accessibility toolbar features.
Allyable and Make-Sense have got the same auto-remediation platform but what is Allyable doing separately from Make-Sense?
PS: A11y is a shortened version (numeronym) of "accessibility", not Ally but we get the message.
Allyable Service(s) and Features
Allyable is an automated web accessibility solution with an Artificial Intelligence (AI) engine that scans dynamic and static content on your site and automatically fix common errors. The on-screen accessibility menu, called A-WEB provides a number of custom end-user features and stores user preferences to improve the usability of your site to a variety of visitors. Like all toolbar-overlays, (see other automated solutions) the widget gives your web users with impairments or any other visitor of the website the ability to adjust your site to fit their needs. It's pretty much the same accessibility toolbar with that of the parent company- Make-Sense, features includes:
One-click adjustment for the visually impaired

Contrast modification for the colorblind

Increase or decrease font sizes

Cursor alternation big (black or white cursor)

Screen reader navigation

Hide animations and flashing objects

Provides an accessibility statement
You can try it on their website but here is a simple description of a few features: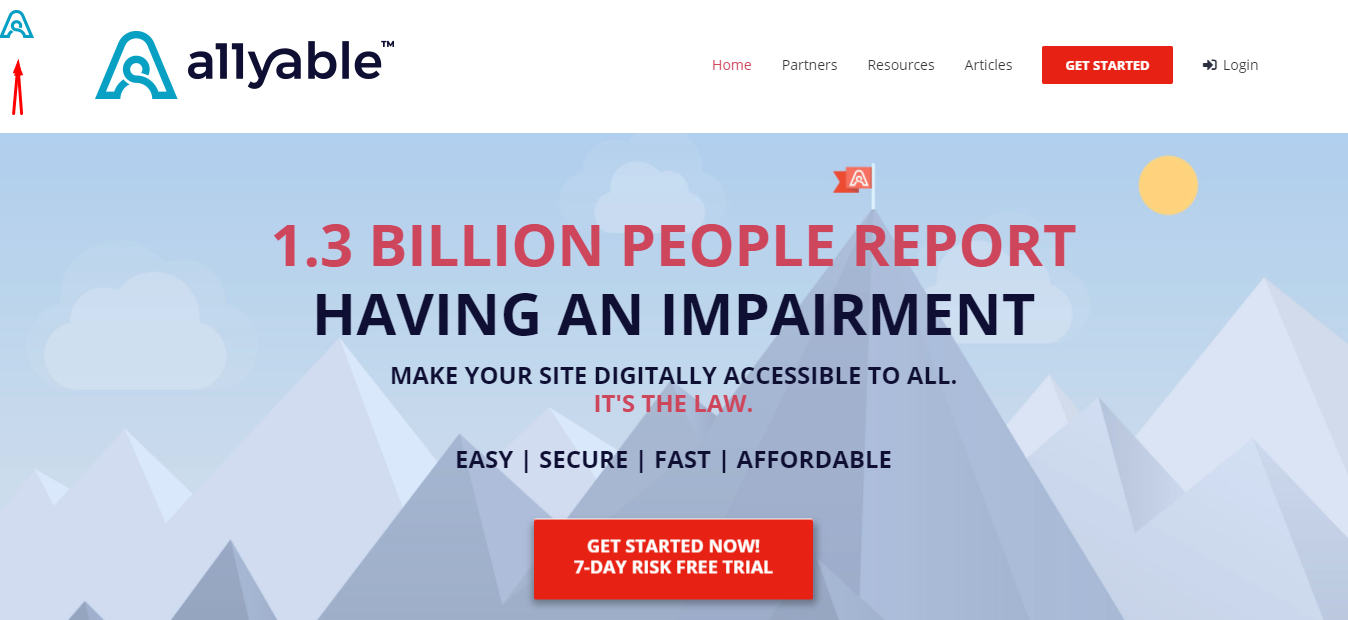 The toolbar is provided at the top-left corner in Allyable logo (on Allyable's website) and not the usual accessibility icon we usually see for most toolbars. When clicked, it opens for accessibility features that could improve user experience.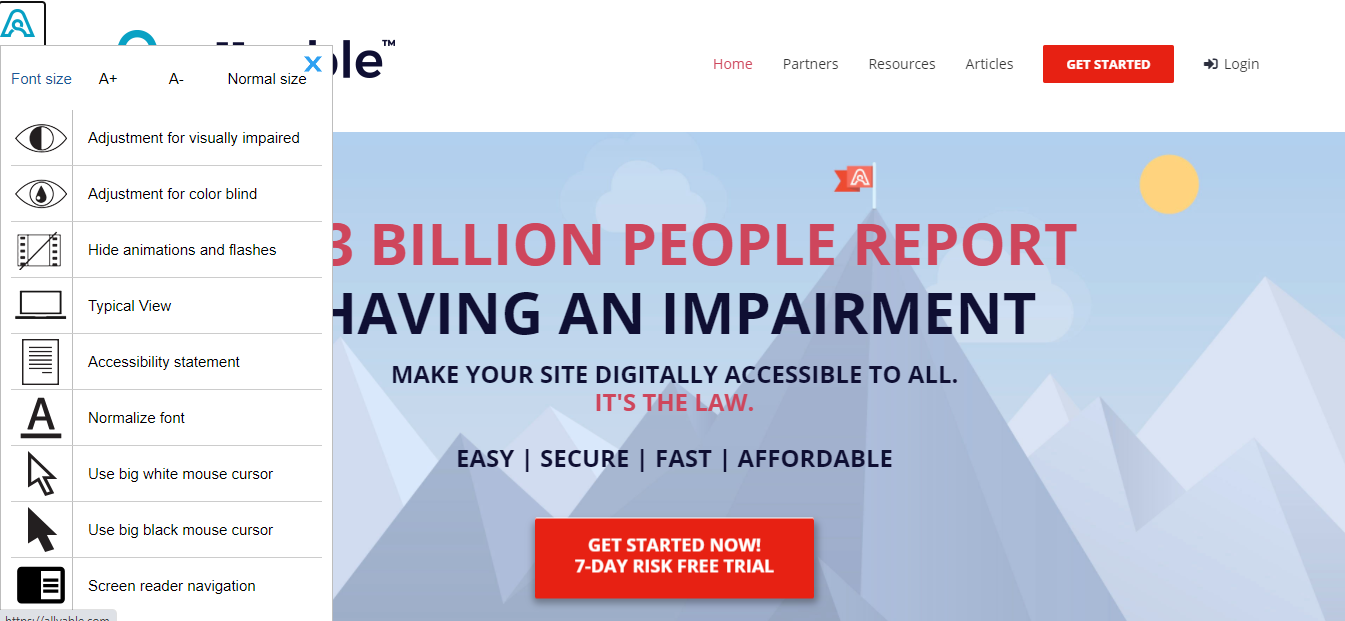 Allyable's A-WEB platform is opened in the image above and can now be used to make accessibility changes to the site. We have made use of the toolbar in the Make-Sense review but let's quickly make use of the adjustment for the colorblind feature…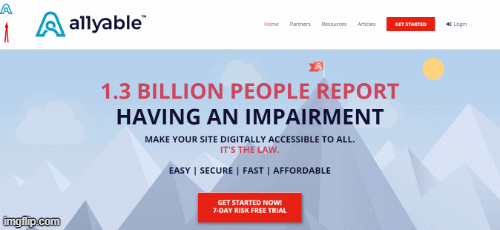 Like some of its close competitions, (Adally and UserWay) Allyable offer scans to determine your website's compliance with WCAG 2.0 AA guidelines. Although unlike some other free accessibility widgets that only provide accessibility features, Allyable's A-WEB automated platform scan the website to identify accessibility issues and get a good view of common and uncommon errors. The platform could also remediate automatically in the cloud or allow you to utilize integrations such as JIRA to ensure your I.T/dev team can be alerted about issues that need to be fixed in the source code. Allyable also has a reporting feature, an accessibility dashboard- A-PORTAL, where violations found can be fixed by using simple wizards and code remediation development tools. While the auto-remediation is questionable on all levels, the scan, reporting among other features are good positives since they ensure your team can monitor compliance through a notification and stay on top of your websites and application's accessibility.
Allyable Pricing
Allyable has four separate pricing plans that gross according to your business needs. It provides the accessibility toolbar (A-WEB), its accessibility dashboard (A-PORTAL) for one domain and user, and auto-fix remediation on its least plan, making it suitable enough for small businesses. Its pro plan offers all that of the business plan together with comprehensive audit and remediation, standard accessibility reporting, and Jira integration for a single domain.
On its enterprise plan, Allyable adds unlimited accessibility reporting, Jira integration for multiple domains, private cloud deployment, and advanced end-user permission management to what the pro plan has to offer. The platinum plan is close to the enterprise plan, only that its accessibility dashboard (A-PORTAL) now allows for multiple domains and two users.
Allyable Platform and Support
Allyable's toolbar-overlay, otherwise called on-screen accessibility menu (A-WEB) is easy to deploy and can support websites and applications of any size. The deployment can be done with a simple line of code added to your website and it is quite fast in automating your website's accessibility as you'd expect from a toolbar. It supports all web systems including Wix, WordPress, Shopify, SharePoint, Webflow, Joomla, Weebly, Drupal, and many more. Allyable's accessibility dashboard (A-PORTAL) makes it easy to understand accessibility reports for fixing issues. 
So let's get this straight, other than the toolbar menu, allyable provide tools for your accessibility scanning, auto-remediation, and regular reporting of accessibility issues to make your team keep in touch. What happens if your dev team doesn't understand the concept of web accessibility enough? May I also add that Allyable takes an awful lot of days to respond and I hope they can fix this ASAP.
Here...
| How-to instructions | Live chat | Phone | Email | Address |
| --- | --- | --- | --- | --- |
| Yes | No | Yes | Yes | Yes |
Why Allyable? Pros and Cons
Allyable uses an automated toolbar to solve website accessibility with scanning and reporting features to help organizations keep an eye on accessibility issues. If anything, they have somewhat accepted automated remediation, and the toolbar menu cannot outrightly make any website accessible to people with disabilities and compliant with accessibility regulations. Let's highlight some of the positives and negatives:
PROS:
The automated solution supports all web systems

A customizable toolbar that improves usability(e.g. font size, color contrast, etc.)

Does not affect the performance of the site

Secure platform (ISO 27001 certified)

Automated ongoing compliance monitoring

Accessibility statement
CONS:
The automated solution does not make a website 100% accessible

It does not protect against a potential lawsuit.
The Final Verdict On Allyable
Allyable provides an automated plugin to solve website accessibility, offers automated scanning and remediation, and a dashboard for regular reporting of accessibility issues so they can be fixed at the source. Attention here though, like it is with most of the automated solutions, Allyable and all of what it has to offer only attend to website accessibility, hence, won't solve the accessibility of other digital properties an organization may have such as mobile applications.
Allyable has managed to give their toolbar a benefitting name though, "on-screen accessibility menu" which is understandable especially for those that know the majority of those usability features can be found in the web user's browser accessibility menu. Notwithstanding, Allyable's on-screen accessibility menu (A-WEB) provides quick features your website visitors can use to adjust your website to fit their accessibility needs.
Their custom tool does more than provide accessibility adjustment though, it auto-remediates and also provides automated scanning and remediating functions. As it is with common automated testing tools, Allyable's can only detect a reasonable portion of the issues, and subsequently, can only fix some percentage of them. They'll get some credits for providing a reporting feature though as it helps to ensure your I.T team/developer can be notified of issues with easy-to-use dashboards and manually fix them at the code-level. While this is very good for ongoing monitoring, what happens to issues that can't be detected automatically? This represents a major setback and makes it impossible to achieve WCAG 2.0 AA or Americans with Disabilities Act (ADA) compliance.
Fixing your website manually based on the result of an automated scan does not mean a website is accessible or compliant. A manual expert check will always be needed to identify underlying usability issues. It's like testing your site against WCAG 2.0 Level AA with automated testing tools such as the WAVE accessibility tool, remediating the site based on the result of the scan, and expecting your site is WCAG 2.0 Level AA complaint. Insane right?
Automated scans only discover about 20-35% of your website issues at best, hence, it is unreliable to base a website's accessibility on its result. A good score from automated tools does not guarantee a website's accessibility, neither can automatically identifying and fixing common errors using technology to make it compliant. Until Allyable integrates human testing in their audit to enable your dev team to remove underlying issues that can not be discovered by automated testing, then, we can discuss accessibility 100% WCAG compliance.
Facebook
Twitter
Linkedin
Email