PROS:
Provide compliance (100%) after manual
Offers a tailored solution specific to each business needs
Customizable interface according to user's preference
Accessibility certificate
Re-audit and re-certification every 6 months
Litigation support
CONS:
Toolbar only provides a few features
Manual adjustments may take some time
Weak user support
Online ADA Review
What is Online ADA?
Having been around for over a decade, Online ADA is primarily a manual accessibility solutions provider but offers front-end accessibility options in the quest to make your website ADA accessible. The automated suite on your website is usually in the form of its Accessibility Toolbar. This toolbar provides the front-end accessibility options on your website through a line of code which immediately provides WCAG compliant features through this widget and allows for people with disabilities to modify features including text and contrast. For the manual solution, they perform an audit scan on your website using software to check for lower-level issues normally found on websites. Afterward, their team of web engineers and accessibility experts manually review your website or web applications looking for rare, complex, or distinct issues the automated scan simply can't resolve. The combination of these two solutions ensures your website and application are compliant with Section 508 and WCAG 2.1 Level AA, according to your business needs.
Online ADA Service(s) and Features
In its accessibility journey, Online ADA, first of all, performs preliminary audits and reports. They scan your website with their proprietary software to check for the most common, lower-level issues normally found on websites. This software single-handedly scans the website after which Online ADA adds a supplementary manual review by their accessibility experts who employ various tools to detect and resolve the persisting compliance issues. On completion of the audit, the accessibility team compiles observations into a detailed report which includes challenges and recommended steps to address each issue. Standard manual solution!
Remediation can be performed by your organization's internal development team, based on the audit report or by Online ADA's accredited agency partners. After remediation, re-auditing is carried out to certify each and every issue has been addressed and your online content is ADA accessible, WCAG 2.1 Level AA  and Section 508 compliant. Once your website is certified, Online ADA provides an accessibility badge that can be added to your website. The badge shows the time-stamped date of compliance and will link to a digital Certificate of Compliance, unique to your organization.
The automated tool also provides a front-end accessibility option on any website via an important accessible feature (toolbar) which is used to modify the type of font, size of font among other functionalities to make the website inclusive enough to accommodate people with disabilities.
Like the usual toolbars, Online ADA's automated tool works by installing the Online ADA accessibility toolbar through a single line of JavaScript code on your site. The toolbar is then added after the script performs checks on your website making it super simple for users to make adjustments and manipulations according to preference. 
The Online ADA accessibility toolbar is customizable and allows users, including people with disabilities, to modify its features to ensure they can access the web in their terms. The affordances the features allows are:
Keyboard and smart navigation

Adjust the color contrast of the content on the site

Adjust font sizes on the page (choose between default, large, and extra-large text)

Users can change the font on your site (choices include PT Serif and PT Sans)

Easy to use text-to-speech options (click text-to-speech)

Save user-preferred settings 

Access ALT tag
While providing a seamless experience for users across desktops, tablets, and mobile devices.
Let's see the effect of the Online ADA Accessibility Toolbar Pro…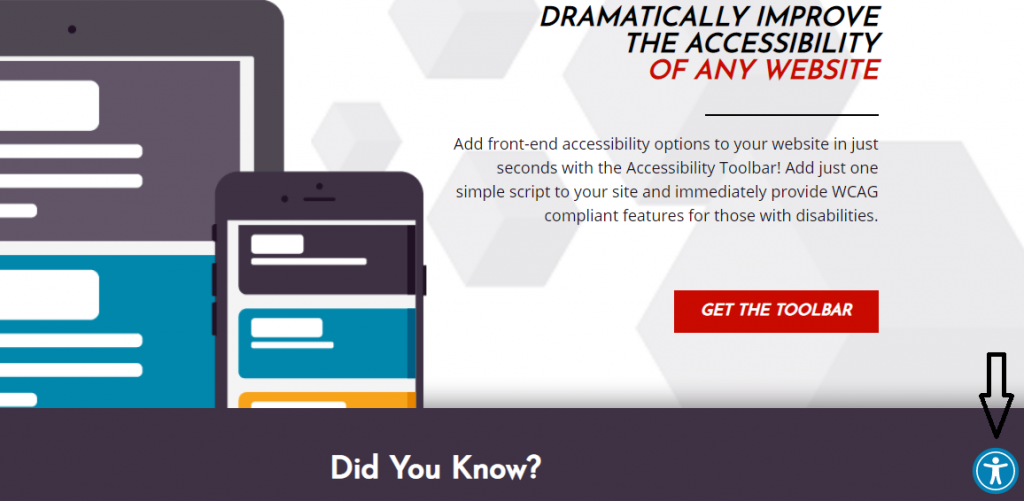 The Online ADA Accessibility Toolbar Pro sign is exactly like the regular accessibility icon, and it is usually located at the bottom right corner of the web page.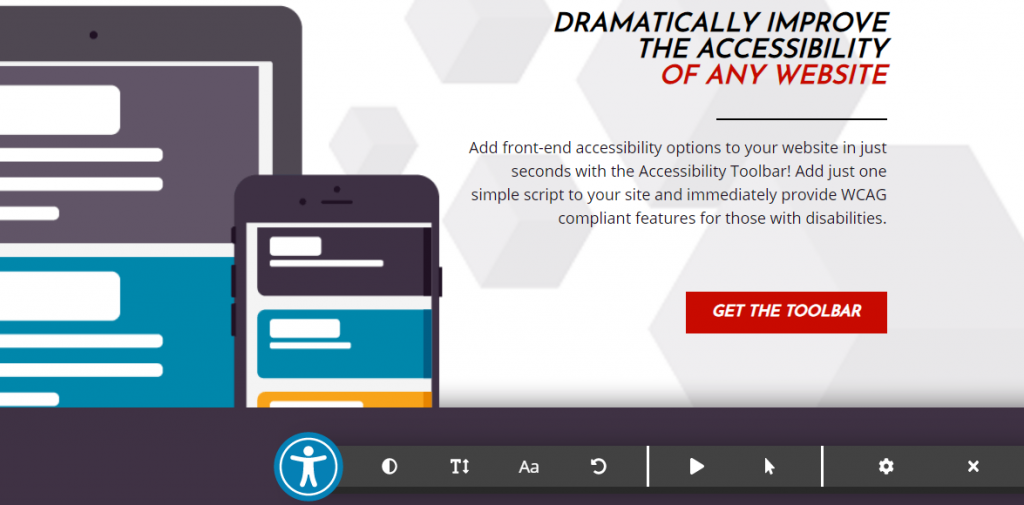 The toolbar feature is opened and features can now be initiated according to the user's preference.
One usual thing about the automated solution is the adaptable and workable accessibility feature. Online ADA's toolbar is not an exception. Let's jump on the font type and size features…
For its plan, Online ADA offers different plans for its service levels of solution and the range of solutions is strictly based on the plan. Regardless of the plan chosen, a combination of software to detect compliance issues deep within a website and expert human auditors doing a manual review is employed because not all compliance issues can be detected or resolved through software alone.
The two plans are:
One-Time Certification

Ongoing Certification and Compliance Management 
I'm sure you can tell the difference between the two tailored plans by their respective titles.
They explore the accessibility solution in form of a project to be achieved by a team of experts over a period.  The One-Time Certification is without routine maintenance afterward and would eventually retire the website content's accessibility to deteriorate with an increase, update or change in online content over 3-12months, depending on the rate of change on the website. 
However, even after the resolution of compliance issues, because websites and apps are always changing as a result of regular content updates, new landing pages, blogs, and page updates, a website can easily fall out of compliance within few months. This is why Online ADA would time-stamp your WCAG 2.1 Level AA  and Section 508 compliance certificate with the last date of confirmed compliance. The same reason is why they also offer Ongoing Compliance Management through their software platform which can monitor and provide regular reports on your current state of compliance, identifying content and other relative issues that need maintenance. With Online ADA's Ongoing Compliance Management service, you get monthly reports and manual human audits including re-certification every 6 months. These more than anything will do what you want, that is, keep your website Section 508 and WCAG 2.1 Level AA compliant. The plan you should be thinking about!
It doesn't end there!  They also offer litigation support as part of this Ongoing Certification and Compliance Management support in the event your organization receives a demand letter or sued for lack of WCAG or accessibility compliance. Online ADA will review all claims made against your site for validity and provide supporting evidence to defend against those claims.
Online ADA Pricing
Online ADA does not publish its pricing on the website. While this could mean more usability, flexibility and a quality remediation solution that fits your parameters perfectly for long-term benefits, it could also translate to high initial cost and increased waiting time due to custom-tailored programs. 
As for the separate Accessibility Toolbar Pro icon it provides, Online ADA has done well by reducing its pricing over the past few months to $15/month and $120 when billed annually for a single license and $9/month and $540 when billed annually for 5 licenses. A single website can get a one-year license term for $96 (previously $144) if you take advantage of its 20% discount while five websites can get a year bulk license for as low as $432 (previously $576) with the same discount. Either way, both license plans provide free automatic updates and unlimited tech support over 12 months while keeping the fun around your website.
Online ADA Platform and Support
Since the Online ADA's installation is a primarily manual accessibility remediation service, you have less work to do in terms of setting up the service. Online ADA's program engineers and web accessibility experts will take charge of reviewing your website and can make adjustments to make it accessible and compliant. However, for the Accessibility Toolbar Pro icon, which is somewhat automated, you'll have to embed an installation code directly into your site's HTML. Thankfully, the toolbar license plans provide unlimited support.
While you can submit a message on their website, find few FAQs, see YouTube videos trying to explain levels of WCAG, customer support could be better with the provision of installation guides and live chat for quick inquiries but there is a phone number should you want to get in touch with them over the phone to resolve any concerns in real-time and avoid the one-day waiting period for their message. 
I got one of their WCAG resources that you can access on their website sent to my mail. The summary…
| How-to instructions | Live chat | Phone | Email | Address |
| --- | --- | --- | --- | --- |
| No | No | Yes | Yes | Yes |
Why Online ADA? Pros and Cons
Online ADA performs comprehensive manual accessibility remediation and joins the contemporary accessibility solutions providers with its Accessibility Toolbar widget for user modifications to make your website and web applications compliant to standards. Great effort. Let's look at some of the positives and negatives:

PROS:
Provide compliance (100%) after manual implementation

Offers a tailored solution specific to each business needs

Customizable interface according to user's preference (e.g. font size, color contrast, etc.)

Accessibility certificate

Re-audit and re-certification every 6 months

Litigation support
CONS:
Toolbar only provides few features compared to its competitions 

Manual adjustments to fix accessibility issues may take some time

Support could take days to get the problem solved

Weak user support
The Final Verdict On Online ADA
As long as web accessibility is concerned, all that matters most is ensuring accessible design of your digital content for a positive end-user experience. Businesses or organizations may take a different route to this outcome but at least we are sure all the functionalities, contents and information of our website and web applications must be accessible to users of all abilities, including people with disabilities. 
Online ADA's module is simple and straightforward. Software-scan website to identify and solve simple issues, then provide a team of accessibility experts to perform full remediation of all web content over a period of time. Online ADA also provides a front-end widget for web users to play with and modify its features around the website, according to their preference. Although not the best out there, their Accessibility Toolbar enables keyboard navigation for users with dexterity or cognitive impairments, provides text-to-speech options, can make users with epilepsy adjust color contrast and helps people with visual impairment adjust font sizes. More so, the cloud-based service provides a seamless experience for users across desktops, tablets, and mobile devices with just one simple script to your site.
You can argue Online ADA's solution may take some time but actions required to make web content ADA accessible and achieve accessibility compliance can vary greatly from site to site. Its Ongoing Certification and Compliance Management plan ensure full WCAG 2.1 Level AA  and Section 508 compliance. Online ADA also provides you with its prestigious certificate with the last date of confirmed ADA compliance. The flagship plan provides a software platform that can monitor and provide regular reports on your state of compliance, identify content and other relative issues that need maintenance. You then get monthly reports, and manual accessibility re-audits, including re-certification every six months and assuring litigation support.
The close comparison to Online ADA would be UserWay and User1st since what they offer are audit and a toolbar and you would still have to hire a third-party or fix your issues in-house based on the result of the scans. Even though $15/month for an accessibility toolbar is a very competitive price in the market (see AudioEye), Online ADA can do better with more functionalities. 
One true thing about Online ADA's solution is its potential to provide a 100% accessible website with a manual effort (which is more important); meeting ADA compliance, WCAG 2.1 Level AA and Section 508 standards and protecting your organization against any potential lawsuit.
Facebook
Twitter
Linkedin
Email