PROS:
Automated accessibility solution to ADA and Section 508 compliance
Customizable toolbar to user's preference
Does not affect the performance of the site
Ongoing monitoring
CONS:
The widget does not provide 100% compliance
The toolbar is too expensive
W-a.io Review
What is W-a.io?
W-a- Web Accessibility is an emerging web accessibility solution provider and they offer two basic services – web accessibility service and web accessibility design services. Their web accessibility service offering is strictly an accessibility plugin which when embedded to the website provides features that users can use to make changes to the web pages to suit their various disabilities. The toolbar can easily integrate with any website without requiring altering of code and it allows your users to magnify web content, alter contrast, highlight link, and headers among other accommodations. 
The W-a technology itself does not make any website fully accessible but it represents a good way to start as it could be the reason your organization won't be paying the big bucks for not having an ADA compliant website.
W-a.io Service(s) and Features
W-a offers branding and design of an accessible website together with an accessibility plugin you can embed on your website. Both are combined for a Web Accessible Design Package.
W-a's web accessibility software is quite advanced and easy-to-use and it is installed by installing a line of code on your website. It then performs checks against the Web Content Accessibility Guidelines (WCAG 2.0) on the website and activates accessibility via its interface through which disabled people or anyone can adjust the website on any device. The W-a web accessibility tool provides accommodation for your website users while allowing you to make updates to the website at any time. It is also capable of allowing full compatibility of the interface to the host site's design, such as colors, and location of the toolbar. The web accessibility plugin provides features including:
Contrast modification

Text legibility

Text magnification and alteration

Highlight titles, link, and headers

Screen modification
Here is a simple description of how the features work: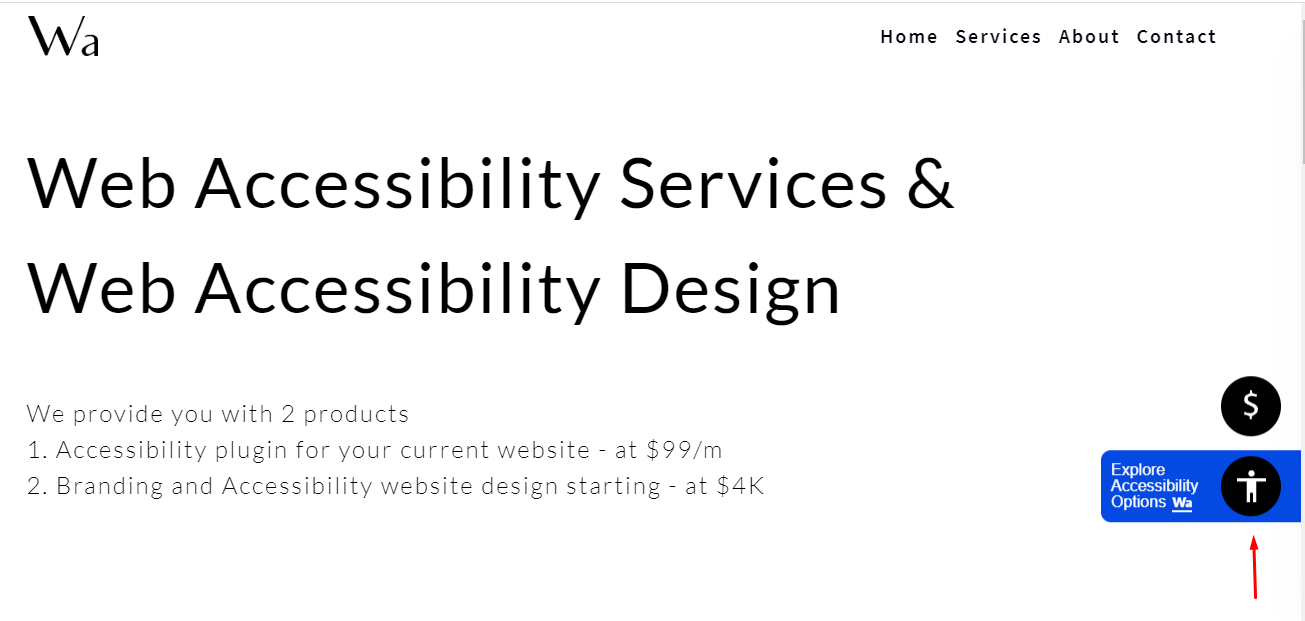 The accessibility icon is the gateway to the features and you can find it on the bottom right corner (in this case). When initiated, the icon will open up the accessibility widget which provides the features your web users can use to make changes to the web pages. Let's begin the experience.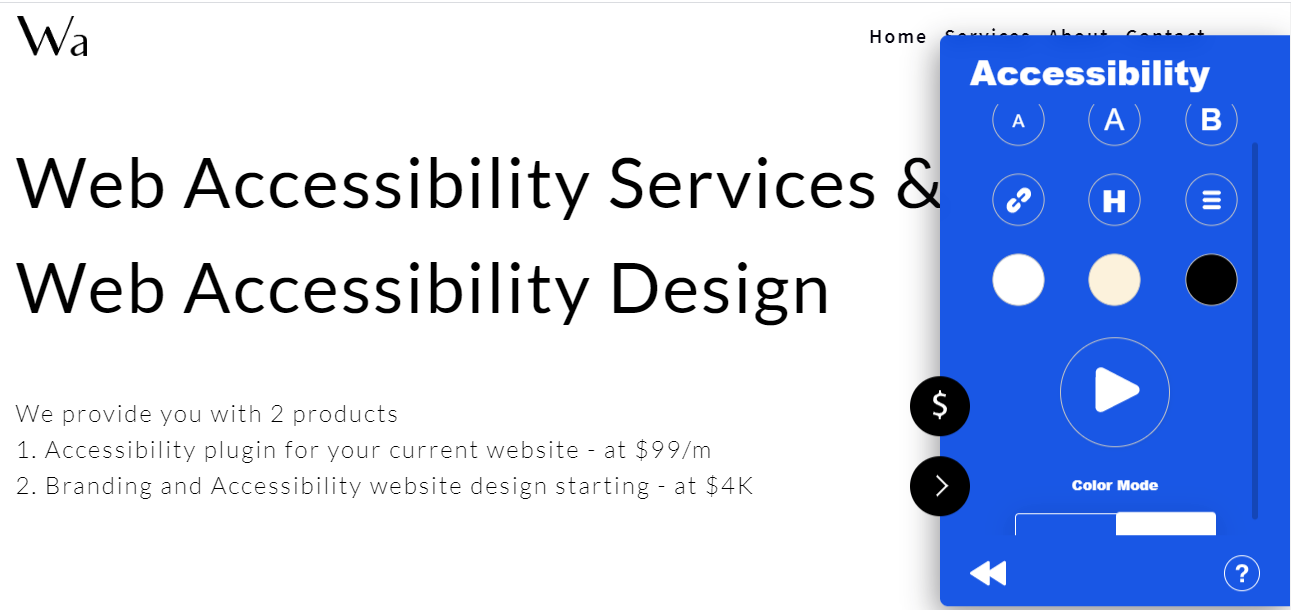 W-a's accessibility widget is opened, now let's alter the contrast and underline the headers and links at the same time…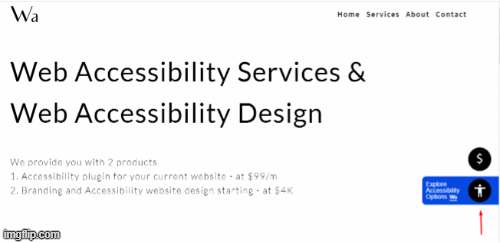 W-a.io Pricing
W-a's pricing is well specified. The non-customizable accessibility plugin costs $99 per month ($1188/year) with no chance for a refund while the customizable, premium plugin costs a monthly fee of $199 ($1428/year). If you're thinking what I'm thinking, then you know the toolbar doesn't justify its price tag for a software that doesn't provide anything beyond most of the accommodations we've seen with many free widgets in the business. W-a also offers the design and branding of an accessible website for around $4,000.
W-a.io Platform and Support
W-a accessibility widget can be easily installed by embedding an installation code directly into your site's HTML so you don't have to alter the site's source code, thereby affecting your site's performance. The ADA compliance software is also compatible with popular content management platforms such as Wix, WordPress, Shopify, Squarespace, Volution, and Magento.
Here is the summary of their support…
| How-to instructions | Live chat | Phone | Email | Address |
| --- | --- | --- | --- | --- |
| No | No | Yes | Yes | No |
Why W-a.io? Pros and Cons
W-a's solution to accessibility is a fully-automated toolbar, paired with an accessibility-considered website. But it falls too short of value for an exorbitant price. Let's look at some of the positives and negatives:

PROS:
Automated accessibility solution to ADA and Section 508 compliance

Customizable toolbar to user's preference

Does not affect the performance of the site

Ongoing monitoring
CONS:
The widget does not provide 100% compliance

The toolbar is too expensive
The Final Verdict On W-a.io
In the real sense of web accessibility, W-a only offers an automated widget in an attempt to make your website accessible. Like many accessibility toolbars, W-a's software integrates with your website without requiring you to rewrite your code and allows your website visitors to customize the web outlook to their preference. It allows accommodations to play with the screen magnification, modify the text, change the website contrast, and highlight links, titles, and headers. 
W-a's web accessibility widget won't make your website 100% compliant with web accessibility standards or legislation. True, having the toolbar on your website could the reason you would be avoiding a scathing settlement fee but the usage could sometimes cause more harm than good, or even inconvenience. The W-a's widget price tag is its undoing. A whopping $199/month for a customizable widget without an accessibility statement! I mean, Adally and UserWay's widgets serve a similar purpose for zero dollars while heavyweights – AccessiBe, Equalweb, and AudioEye charge about half or even quarter for the same or even better software. 
Even though you cannot automate your way out of web accessibility, it's not a bad idea to have an accessibility widget on your website over the course of the period you are having your website manually remediated and your code fixed. The main issue is, for a temporal fix that won't keep compliance-based lawsuits away, W-a's toolbar doesn't justify its price tag and this makes this difficult to choose it over similar toolbars in the market for almost next to nothing.
Facebook
Twitter
Linkedin
Email