PROS:
Truabilities supports all web systems
Improves usability with a customizable toolbar
Does not affect the performance of the site
Continuous auto-scans
Provides accessibility statement
CONS:
Does not provide 100% WCAG compliance
It cannot protect against a potential lawsuit.
The toolbar or the in-ad widget can get clumsy
Truabilities Review
What is Truabilities?
Truabilities is an automated web accessibility solution. They primarily offer an accessibility toolbar overlay that provides an on-screen accessibility menu for web visitors to make usability changes on the site. Truabilities got creative by providing an in-ad accessibility menu that provides the same usability features as the toolbar for the site but for advert creatives. They've managed to add accessibility audit and remediation as special services on request but, for the most part, Truabilities basically approaches web accessibility with its automated widget.
The accessibility toolbar is a pseudo-assistive technology with quite a handful of features that can only be found in a few of its likes. The toolbar or widget offers features that aid people with disabilities in interacting with web pages. The widget allows users to alter color displays and contrast, hide images and stop animations, highlight links, increase or decrease text size and spacing, and generate ALT tags for images.
How reliable is the Truabilities automated solution for website Americans with Disabilities Act (ADA) and WCAG 2.1 Level AA compliance? They've branded the widget as the first step in full compliance. Let's break it into bits.
Truabilities Service(s) and Features
Truabilities automates website accessibility via its unique widget. The on-screen accessibility menu probably only has AccessiBe and Equalweb as competitions in terms of features. The Truabilities widget provides over 20 accessibility features web visitors can use to improve the usability of the site. Like most toolbars, it provides a quick accessibility menu users with various impairments can use to adjust web content.
The Truabilities' accessibility toolbar offers site visitors a range of accessibility tools that are ready for immediate use to improve the site's usability, including:
Reading line

Contrast modification

Text magnifier

Hide animations and hide images

Enlarged cursor 

Highlight and underline links

Word spacing

Increase or decrease font sizes

Alignment of web page content 

Image list

Quick navigation (header and link structure)

Page reader for an audio narrative of the site content
Truabilities' toolbar looks quite different from most. Let's access the accessibility widget on the Truabilities website.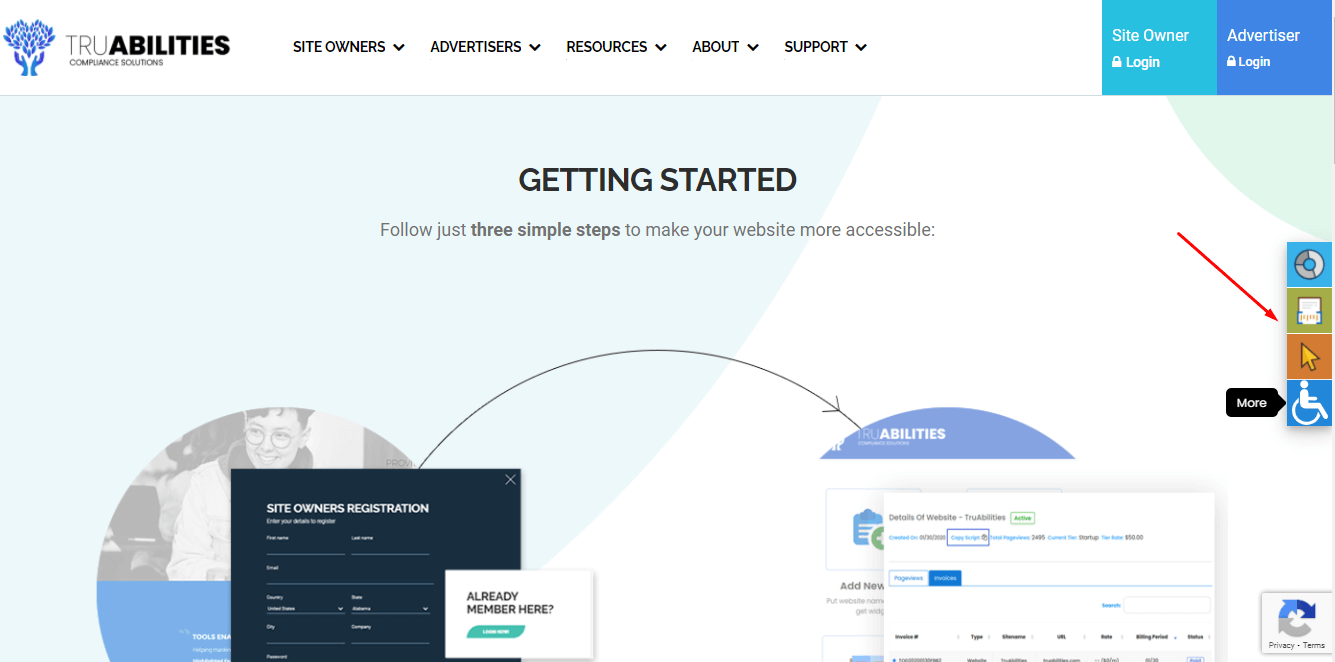 Truabilities toolbar is provided at the right side of the web page with an accessibility icon among other frequently used features. The toolbar (accessibility icon) provides usability features that your website users can use to modify the web page.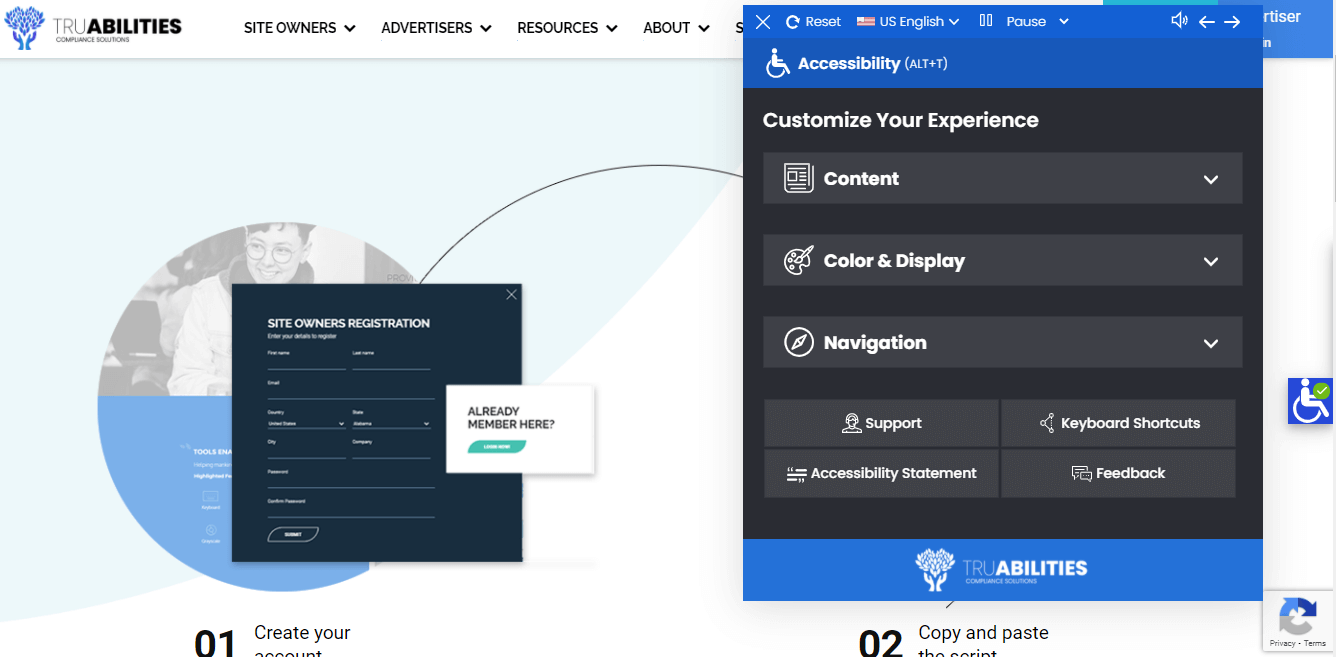 The accessibility toolbar is opened in the image above providing features to modify the content, color and display, and navigation. Let's make use of the toolbar to highlight and underline links at a time…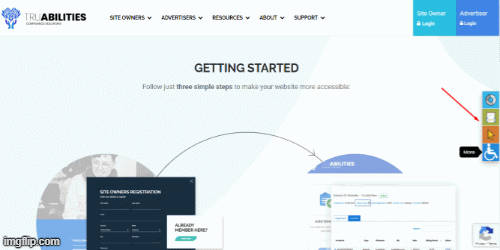 Let's talk about Truabilities' advertising product for ad creatives. Truabilities provide an in-ad widget called Accessible Display that serves the same purpose as the accessibility widget for webpages but in this case, helps users adjust the content of the ad creative such as flyers. The in-ad widget also allows to:
Adjust text size

Adjust spacing

Adjust color and display

Provide a big cursor that aid interaction
Something like this…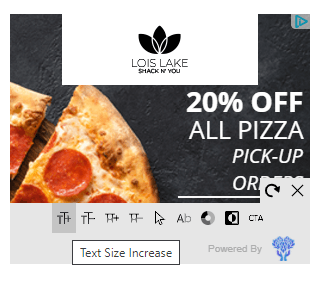 To ensure organizational accessibility success through full website compliance and ongoing monitoring, Truabilities offer website accessibility consulting- compliance audit and code remediation. This involves a comprehensive audit to identify design and development errors that affect people with disabilities and remediating to remove errors at the source to make the website fully compliant with the most accessibility regulations. This is where they acknowledge full compliance cannot be achieved via automation. The service is bespoke and based on requirements.
Truabilities Pricing
Truabilities pricing is quite expensive for what the automated solution has to offer. Pricing is based on page views (the size of your website) but all plans get the same services that include the option for those that want a fully white-labeled solution at no extra charge, an accessibility toolbar with a fully customizable page position, color, icon, etc. to enhance accessibility and aid ADA and WCAG 2.1 compliance.
Truabilities is free for small businesses that have websites with low visitation at around 100 pageviews or fewer monthly (ADD MORE). Its basic plan costs $25/month for websites with 5,000 pageviews while websites with 25,000 pageviews or less will be charged $50/month for the same service. Truabilities' medium plan is where you can easily compare with its competition. They charge $100/month for websites with 100,000 pageviews. $500 will get websites with 1,000,000 pageviews the Truabilities service for a month while websites with above 1,000,000 pageviews will get a custom pricing on its enterprise plan.
The Truabilities ad creative widget – Accessible Display is charged as a separate feature that is charged per one thousand advertisement impressions on a web page (CPM). The separate accessibility audit and remediation also comes at a custom pricing which is usually based on website accessibility requirements.
Truabilities Platform and Support
The Truabilities toolbar can be easily installed with a few short lines of code in a matter of minutes. The technology doesn't rely on cookies and won't slow page loads. Another plus is that it is designed to work with most applications (content management software) such as Shopify, Wix, WordPress, Magento, and SharePoint, etc.
Truabilities have somewhat agreed that installing their accessibility widget won't make your website or mobile application ADA and WCAG 2.0 AA accessible by calling the toolbar "first step towards compliance."
Truabilities provides a good technical support system. Their support team can easily help install or fix issues on request via telephone and web inquiry. Best to jump on a phone call if you want to get things done because response time for their web inquiry could take well over four to five days- enough for you to find another way to resolve the issue or even find another solution.
| How-to instructions | Warranty | Phone | Email | Address |
| --- | --- | --- | --- | --- |
| No | No | Yes | Yes | Yes |
Why Truabilities? Pros and Cons
Truabilities automated web accessibility with its advanced website widget (and in-ad widget for creatives) with which users with disabilities can use to solve usability errors and complement various impairments. Let's touch on why it is tagged "the first step in full compliance" through some positives and negatives:

PROS:
Truabilities supports all web systems

Improves usability with a customizable toolbar 

Does not affect the performance of the site

Continuous auto-scans 

Provides accessibility statement
CONS:
Does not provide 100% WCAG compliance

Does not protect against a potential lawsuit.

The toolbar and the in-ad widget can get clumsy
The Final Verdict On Truabilities
Truabilities is first of all an automated SAAS accessibility solution provider. They offer an automated toolbar-overlay (on-screen accessibility menu) for websites. The website toolbar and the patent-pending technology, Accessible Display (ad creative widget)  provides quite a number of usability features that users, including those with impairments, can use to make desirable changes to the web content. The website toolbar allows adjusting spacing, alteration of color, and display, among other adjustments that put the Truabilities software a level ahead of free accessibility plugins. Even with all these, one can successfully argue the same adjustments can be done using a built-in browser accessibility menu. As for the ad creatives, what's wrong with designing an accessible ad in the first place?
The issue here is that the Truabilities automated toolbar can only automatically fix a few accessibility and usability issues. Hence, won't make your website or app fully compliant with the WCAG 2.0/2.1 AA, Americans with Disabilities Act (ADA), Section 508, or any web accessibility law such as Canada's ACA and AODA. Truabilities are aware of this and that would explain their introduction of a website accessibility compliance audit and remediation services and preaching design and tool to achieve compliance.
Truabilities is in the range of Adally or HikeOrders in its solution except without defined audit service. However, it is levels below other fully automated solutions that provide a back-end dashboard for accessibility reporting and allows for code-level fixes such as Max Access. With the exception of UserWay (which has unreal pricing for its functionalities), the Truabilities accessibility widget pricing challenges the most paid toolbars we've seen.
The way forward with this accessibility solution is to make use of it as Truabilities itself has somewhat declared. The toolbar-overlay alone has a long way to go in making a website accessible. The true way is to opt for the website accessibility compliance audit, remediate your website (manually and automatically) accordingly, and maintain ongoing compliance monitoring (can also be supported automatically). They may say the toolbar is your first step in full compliance but you don't want to bet on the widget before doing the right thing.
Facebook
Twitter
Linkedin
Email