PROS:
Advanced automated accessibility solution
Full compliance via automated and manual adjustments
Accessibility monitoring for compliance
Compatibility with modern CMS
Customizable interface
Accessibility certification and statement
Accessibility certificate + Warranty of up to $1,000,000
CONS:
Toolbar alone cannot provide compliance
Few resources to boost support
EqualWeb Review
What is EqualWeb?
Just like the name implies, EqualWeb was founded almost two decades ago and has become one of the leading solutions for digital accessibility to people of all abilities, providing an equal web experience and ensuring ADA and 508 compliance.
EqualWeb is a hybrid digital accessibility solution that offers end-to-end services. They provide an advanced accessibility toolbar, automated and manual audit, automated and manual remediation, ongoing accessibility monitoring, accessibility training, and consultation.
EqualWeb's automated solution is in the form of a toolbar overlay, an on-screen accessibility menu that makes websites and web applications user-friendly to people with disabilities. The software auto-scans and auto-remediates, providing an accessibility suite include contrast alteration and screen magnifier features amongst other useful tools that people with impairments can use to access web content more conveniently.
EqualWeb also provides an automated checker with which you can use to identify common errors on your website. For their hybrid solution, together with the advanced toolbar overlay, their accessibility experts and QA team perform a comprehensive audit and remediate the site. They also cover ongoing compliance by providing regular test results and technical assistance.
When coupled with manual remediation efforts, the EqualWeb solution can provide compliance with WCAG 2.1 Level AA, Americans with Disabilities Act (ADA), Section 508, and the European Union Standard- EN 301549. These simple steps to accessibility are EqualWeb's value proposition and it could be well worth it.
EqualWeb Service(s) and Features
EqualWeb basically provides both AI automated solutions combined with manual accessibility adjustments performed by a team of accessibility experts to remove all barriers to accessibility, leaving your website 100% accessible and compliant. 
The EqualWeb advanced AI-powered toolbar overlay scans your website and auto-remediate to remove common errors. The toolbar provides functions that can be used by people with disabilities to personalize their web experience. It provides navigation, color, and content adjustments, etc.
The toolbar has over twenty (20) features including:
Keyboard and smart navigation

Screen readers adjustments

Voice commands

Pause/block animations and flashing lights or GIFs

Contrast alteration

Adjust font sizes, line, and word spacing 

Access ALT tag for images

Over 20 built-in languages in the interface

Built-in dictionary

Cursor alternation (black or white cursor)

Font magnifiers and highlighting

Built-in feedback forms

Accessibility statement 
Let's see the effect on a simple website that employs EqualWeb's automated solution…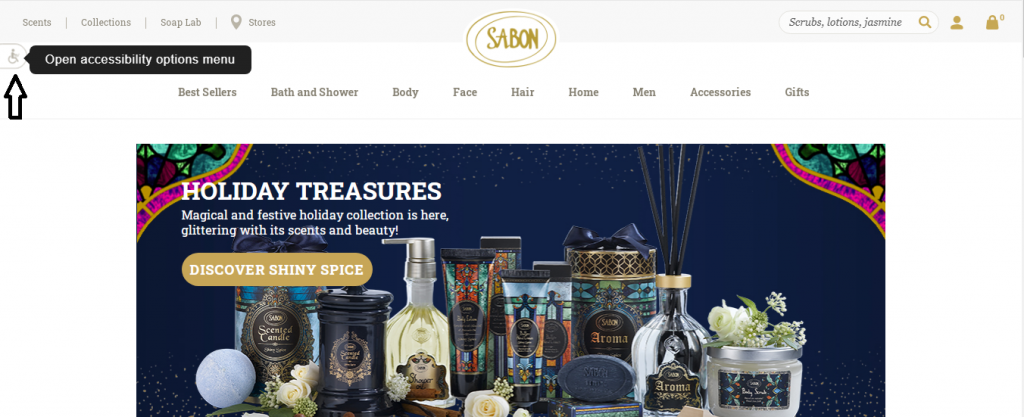 Just like the accessibility sign in buildings, upon entering Sabon, users can find the accessibility sign around the top-left corner. This accessibility options menu gives options that allow the user to make the web page suitable.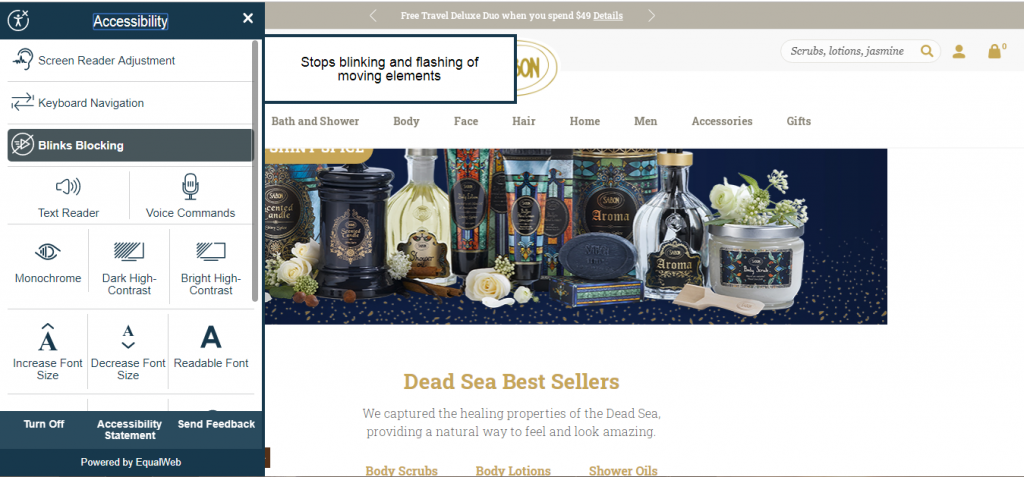 This is where everything gets easy for the web user. The features can now be initiated according to the user's preference. 
Let's open the toolbar and play with the screen display magnifier…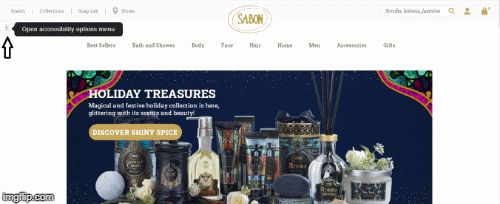 Do you see how magnified and more convenient the web page became? Just what I've been talking about!
The technology-based on unique AI algorithms rescans the site, detects updates to content and pages, and make them accessible, in an automatic way.
As expected, the range of solutions you can get with the automated toolbar is strictly based on the plan. The plan you choose to go for will determine the level of features your website can get to improve its ADA, Section 508, and the Web Content Accessibility Guidelines (WCAG) 2.1 Level AA compliance.
If you want to take on your accessibility compliance, EqualWeb also has an accessibility testing toolbar- the Accessibility Checker, a Google Chrome browser plugin that automatically scans static and dynamic accessibility issues on the site against WCAG 2.1 AA. The automated testing tool identifies issues and includes adjustments recommendations to allow you to fix manually. Together with the free (limited) widget, testing and fixing errors represent the first step in making your website accessible to people with disabilities. While they can both take you somewhere, the limited widget is already a problem. More so, the major problem is the checker can't automatically detect all of the accessibility errors for you to fix, hence, you require a manual audit. 
EqualWeb provides end-to-end accessibility solutions. They have created multiple plans for the auto-remediation with features varying according to plan which depends on the number of your website pages or monthly page views. The automated solution is advanced, AI-powered with more features to the accessibility widget and a free scan.
EqualWeb also provides a custom accessibility audit. This is an automated and manual evaluation of your site and all your digital content using automated tools and assistive technologies to discover barriers faced by users with disabilities. The comprehensive audit report with an actionable checklist of accessibility issues serves as a blueprint for prioritizing accessibility remediation and can be used to assign content, design, and development fixes to suitable teams.
The fully-managed accessibility service is the most reliable. You get the full AI remediation solution for an unlimited number of pages combined with an automated and manual audit, and custom remediation by EqualWeb accessibility experts to make the site fully compliant with accessibility standards and regulations. The EqualWeb managed service also provides you with a dedicated accessibility account manager, certification, ongoing monitoring scan, and a warranty of up to $1,000,000.
The EqualWeb accessibility monitoring services provided based on requirements such as the number of pages and frequency of updates made to the site. It is coupled with the advanced toolbar overlay with an online dashboard which allows you to edit the AI-generate alternative text for images. The scan service provides a periodic scan of your published content against WCAG 2.1 AA or Section 508 guidelines. The scheduled monitoring service provides reports of automated scans to your in-house IT team to enable them to fix while EqualWeb experts manually audit and fix remaining errors (on the premium plan).
EqualWeb also offers a standalone, custom accessibility training program to ensure your team can learn best practices on how to maintain accessibility requirements of your digital assets in the long-term. This is also essential to build accessible products, use accessibility tools, minimize the risk of litigation, and ensure ongoing compliance monitoring. Another custom service is EqualWeb's documents remediation, ranging from Microsoft Word documents, Excel spreadsheets, Powerpoint presentations, and PDFs.
Popularly known as the "shift-left" approach, accessibility consultation is essential for organizations that would like to take charge of its accessibility early in the development process and in the long-run after publishing a product. The custom EqualWeb consulting guides you through potential challenges and how to build websites or apps that are accessible from the get-go, remain and maintain compliance with WCAG 2.1 standards in the long-term, and avoid web accessibility lawsuits. The consultation takes your team through the website design or redesign process and troubleshoot development issues, builds your accessibility plan and internal policy, integrates procedures into the entire project life-cycle, and educates your content, design, and development teams.
EqualWeb Pricing
EqualWeb's automated solution pricing package is simple, almost unbeatable and it ranges according to website pages or your monthly web visits. With all of the paid plans for the automated accessibility solution, you get:
Over 20 accessibility toolbar features
Free 100 pages monitor scan
Alternate text editor
Accessibility statement
Certificate of performance
The automated plan starts from $39/month for 100 pages/10,000 monthly visits (usually $29/month) and $390/year if you take advantage of the 20% discount. The medium plan addresses websites with up to 1,000 pages/100,000 monthly visits for $490/year while websites with up to 500,000 monthly visits get the automated tool for $1090/year (usually $855 annually). EqualWeb has now included an automated plan for websites with up to 100,000 pages and up to 1 million monthly visits for a $1690 annual fee.
EqualWeb's premium plan (fully managed) is the ultimate and most recommended option as it offers 100% compliance to the U.S and EU digital accessibility standards. It covers unlimited websites pages count/unlimited monthly visits, provides full remediation (automatic and manual audit) in addition to all they offer including:
24/7 email and phone support

Accessibility editor platform

100% Compliance remediation process done by Equalweb accessibility experts

Accessibility certificate + Warranty up to $1,000,000
Accessibility monitoring is charged annually and is also based on the number of web pages. Sites with 1000 pages get a periodic scan scheduling, technical support, etc for $990 while it cost $2990 to monitor sites with up to 10,000 pages. Large websites with up to 100,000 pages can be monitored for $9990.
Documents accessibility remediation, accessibility audit, and full audit come at a custom pricing, according to your accessibility requirements.
EqualWeb Platform and Support
The installation of Equalweb's automated solution is very simple. You can automate your accessibility compliance by embedding an installation code directly into your site's HTML. EqualWeb also supports any content management software (CMS) that allows inserting code into it, including Wix, Woocommerce, WordPress, Magento, Joomla, Drupal, Squarespace, Google Tag Manager, Shopify, and many more.
EqualWeb already provides free accessibility checker and a free widget but the support varies according to your accessibility remediation and monitoring plan. The paid plan gives you 24/7 email and phone support, remediation by accessibility experts, accessibility certificate, and warranty. However, support could be better with a provision of an on-demand library in its fully managed plan (without having to subscribe for a full consultation).
Over here…
| How-to instructions | Warranty | Phone | Email | Address |
| --- | --- | --- | --- | --- |
| No | Yes | Yes | Yes | Yes |
Why EqualWeb? Pros and Cons
Equalweb can boast of guaranteeing 100% compliance because it has successfully struck a balance between automated and manual accessibility adjustments. Perfect, but I believe it could be improved over time. Let's look at some of the positives and negatives:

PROS:
Advanced automated accessibility solution
100% compliance via automated and manual adjustments
Accessibility monitoring for compliance
Compatibility with modern CMS

Customizable interface to the user's preference 

Accessibility certification and statement

Accessibility certificate + Warranty of

up to $1,000,000
CONS:
Toolbar alone cannot provide compliance
Few resources to boost support
The Final Verdict On EqualWeb
Most accessibility solutions seem to be updating and improving their service. Credits to EqualWeb, the strategy was never to eliminate humans from ensuring accessibility compliance. They have many options you can choose from since fully automated solutions will likely fail to achieve a great percentage of compliance. EqualWeb combines both options into one concrete solution without leaving loopholes for a potential lawsuit.
Taking on accessibility compliance yourself is good but may not be effective with the EqualWeb free tools. The free accessibility toolbar is limited, and the automated checker can't identify all the errors for you to fix. Hence, why you require an expert audit and manual adjustments.
Their automated solution provides a widget that allows web users to personally customize navigation, highlight links, modify fonts, and can work on any website/platform. It particularly helps users with different types of impairments that affect the use of the web. However, even the advanced automated toolbar cannot bring your website to full compliance with WCAG 2.1 AA standard.
The automated accessibility solution provides an effective aid for people with different disabilities but toolbar alone doesn't make your site WCAG-compliant.
This is why you have to go for the fully managed/full remediation service. It covers a comprehensive audits, reports, remediation, and monitoring. Usually independent on your number of pages, the fully managed service provides excellent support that includes 24/7 phone and email support, a dedicated account manager, and warranty (in case you get litigated).
One can't be surprised at their growing clientele list right?
Facebook
Twitter
Linkedin
Email