PROS:
Fast content publishing
Wide range of content development and post-development tools
Flexible integration with third-party tools
Support for multi-languages
CONS:
No free product trial or version
Unclear pricing plans
Crownpeak Review
What is Crownpeak?
Crownpeak is a cloud-based content management system that provides a safe, robust, and scalable architecture to help businesses create a streamlined customer experience across multiple channels. From global corporate sites to mobile-optimized experiences, intranets, e-commerce sites, portals, microsites, landing pages, and more, this platform allows business users to manage any digital experience.
How does Crownpeak compare to competitors? Read Accessibe Reviews and see who is the best for you 🏆
Crownpeak Features and Services
Crownpeak's mission is to enable digital marketers and business users to build, manage, and grow digital experiences that improve customer engagement and conversion through personalized engaging content. 
The top features on the Crownpeak platform are:
Hybrid Headless CMS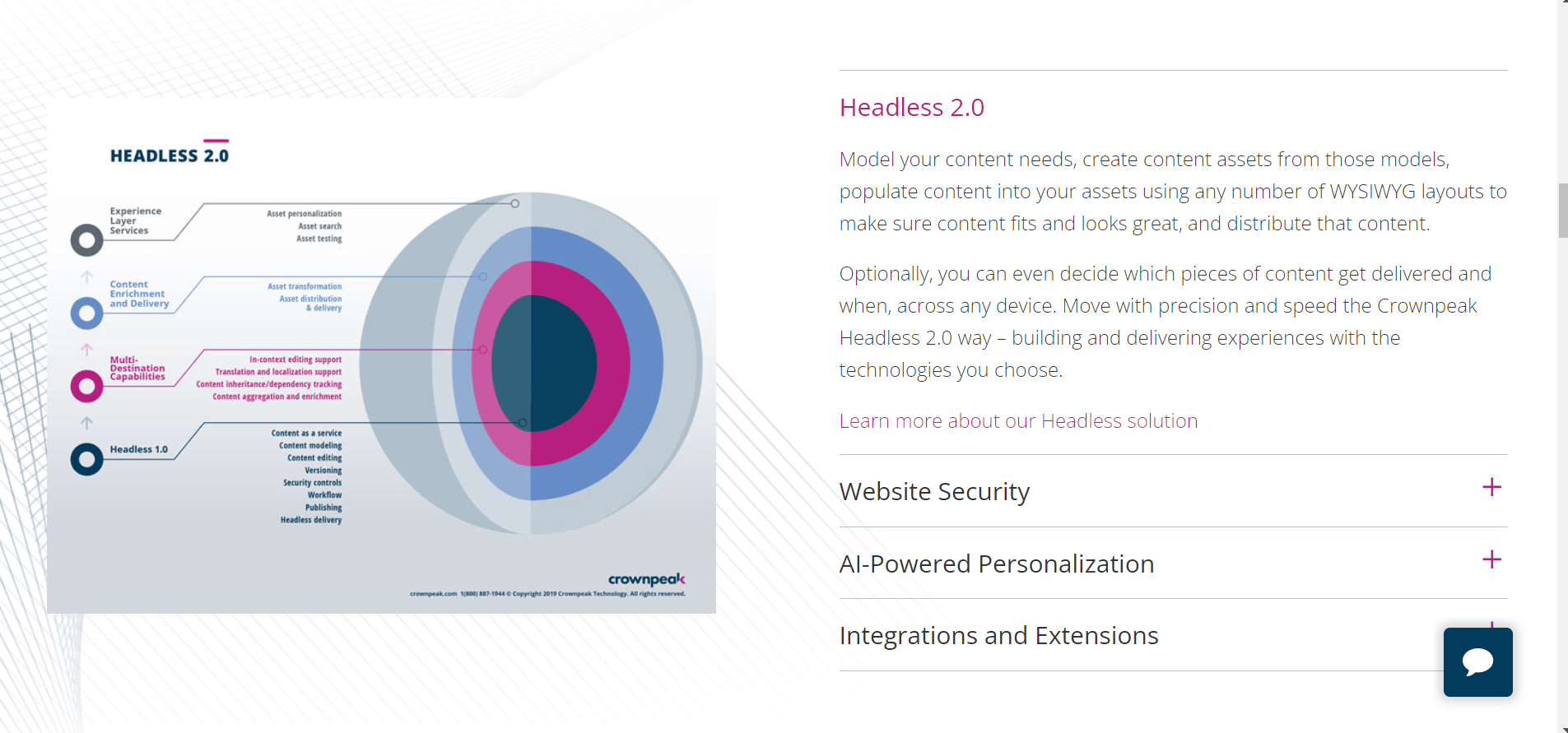 This is Crownpeak's content management tool that helps you build, scale and optimize websites with customizable content that adapts to any endpoint. 
It also supports integration with several frameworks, toolkits, and platform APIs and allows you to build upon them where you require customizations. 
The tool also helps your business reach its audience wherever they are by hosting it on a global network of 40+ data centers supported in every AWS region.
Digital Quality & Accessibility Management (DQM)
Crownpeak's DQM is a unified solution that helps your business to achieve digital accessibility and increase conversion rates.  With it, you gain access to: 
A built-in automated monitoring platform
AI-based on-page remediation and manual testing
An on-page SEO tool
Integration with your existing content workflow
AI-Driven Personalization & Experience Optimization
Crownpeak's experience optimization engine enables businesses to engage customers and increase revenue by personalizing their interactions across channels.
It uses machine learning algorithms to choose the most relevant content for each customer by scanning performance across segments. 
Privacy & Consent Management
Crownpeak's Universal Consent Platform (UCP) helps you achieve compliance by offering experiences tailored to match your site. You simply need to add a single tag to integrate it with your website. 
The platform ensures: 
Global compliance with consent laws such as GDPR, CCPA and LGPD.

Custom notices for visitors based on their geography.

Real-time compliance scans. 
Tag Monitoring & Management
Crownpeak also offers tools to help you understand the tags on your site and how they impact performance and privacy. These tools include:
Trackermap

Tag Auditor

TagControl
Crownpeak Pricing
Crownpeak does not have a standard pricing plan.
Rather, it is quote-based, meaning that the vendor creates a custom package for each client based on the features they select and the number of monthly website sessions. 
Crownpeak Platform and Support
Crownpeak offers phone and email support. However, to gain access to a customer support manager and other helpful resources such as guides and success cases, you'll need to sign up to join the Crownpeak Community. 
| How-to instructions | Live chat | Phone | Email | Address |
| --- | --- | --- | --- | --- |
| No | No | Yes | Yes | Yes |
Crownpeak's Pros and Cons
Crownpeak boasts of several useful features. You have options to watch a video explainer or request a demo from the support team to get a more detailed tour of the product.
PROS:
Fast content publishing

Wide range of content development and post-development tools

Flexible integration with third-party tools

Support for multi-languages
CONS:
No free product trial or version. 

Unclear

pricing plans.
The Final Verdict on Crownpeak
Crownpeak does an excellent job of separating areas of a website and allowing you to decide what content, widgets, and code snippets go where. The tool stands out because it helps you easily manage content without coding experience.
Also, customer experience is one of Crownpeak's strong suits. The customer support managers are attentive and vested in resolving your issues and improving your experience with the product.
However, its pricing plans are not quite clear and might be a bit costly for small businesses with small budgets. But, medium and large-scale businesses with more expansive budgets may find it quite useful.
Have you used Crownpeak before? What are your opinions about the platform? Do drop a comment and let me know.
Facebook
Twitter
Linkedin
Email